Recently in my Facebook travels I came across an intriguing new baby product:
Baby socks that don't fall off!
What? No way! I was immediately drawn in because that is a steep claim. I can't tell you how many times each day I am retrieving socks that have fallen off and tucking chubby little feet back into them. With twins it's crucial to minimize the amount of unnecessary work in a day because there's already too much to do.
I decided to put these socks to the test to see if they really did live up to their claim.
Squid Socks sent me several pairs of socks to try out with my babies. What makes these socks unique is that they have silicone dots on the inside of the cuff. This is what magically keeps them from falling off.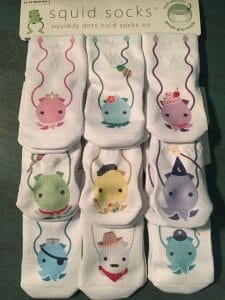 Continue reading "Parents/Nannies Rejoice! Baby Socks That Don't Fall Off + 20% Off Coupon!" →