Hi everyone and happy Tuesday! With the COVID pandemic picking up speed again (boo!), I've been receiving lots of questions about what to do if you, your family, or your nanny might have been exposed to COVID.
In this video, I cover four different possible scenarios and how to handle canceling care, paying your nanny, and when to resume child care for each scenario. I hope you find it useful!
To view the COVID-19 Return to Work/School Flow Chart that I discussed in the video, please click here.
Scroll down to check out the video and I hope that the school year has started well for your family!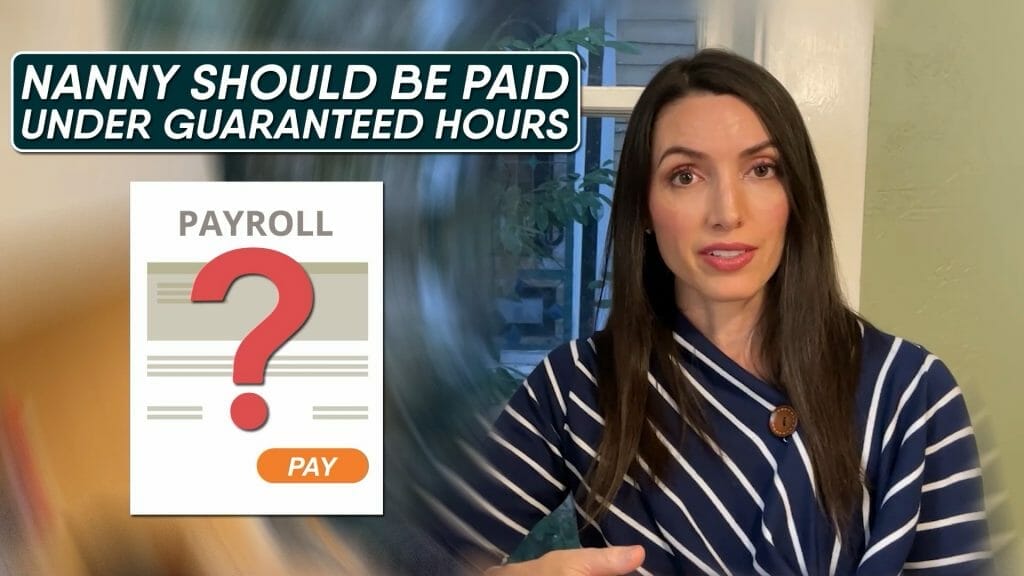 If you found this video helpful, please subscribe on YouTube and share with your friends. Also, please take a moment to check out the other videos we have published on YouTube.
I'd love to hear any comments about how I can improve these videos as well as your ideas on topics you'd like to see me cover in the future. Just comment below!

If you aren't currently a member of our community, we'd love to have you join. Nannies can join our community totally FREE and our Family/Parent memberships start at only $8.99/month!
Don't forget, you can reach me directly via email by clicking here or by calling/texting (425) 243-7032 if I can help you. Talk soon 🙂
A transcript of this video can be found below:
Hi everybody, Laura from Nanny Parent Connection here. Today I'm going to talk about what you should do if either you or your nanny gets COVID. By you, I mean your family, It could be any member of your family.
I'm going to run through four different scenarios here and we'll talk about what happens with payroll, who should do what, that sort of thing so you'll get what I'm talking about as we go on.
Scenario #1:
If the family has to call out for the day because either the nanny child or someone in the household has COVID symptoms or suspects they may have COVID, or they've been in close contact with somebody who has COVID.
You should cancel for the day, you shouldn't take any chances. Everybody should quarantine after they're able to get a test. Sometimes it can take several days to get a test result, right now things are getting busy in our area. So when you get your negative test result and it's been 24 hours since your fever has passed and your symptoms have improved, it's OK to call things back on and go back to work or to have your nanny come back into your home.
But what happens with payroll in that scenario? Well, absolutely the nanny should still get paid under guaranteed hours if the family is the one who calls out.
Scenario #2:
Your nanny calls out because they have suspected COVID, they've been in close contact with someone who has COVID, or they're experiencing COVID symptoms.
So, of course, everybody should have good communication and everybody should cancel for the day. The nanny should not go to work that day. They should get a test, so should the family members and then should quarantine while they're awaiting the result. And much like in Scenario #1, it's OK to go back to work once you have received that negative test result, once any fever has passed, and once your symptoms had improved.
What happens in that scenario? How is payroll handled? Well, Since the nanny is the one who called out, that means that should fall under their sick time.
Scenario #3:
If you have known contact with someone who had COVID-19, stay home in quarantine. You should get a COVID test, three to five days after your known exposure. Then you should quarantine until your results come back. Assuming your results come back negative, you can then safely go back to work.
Now in this scenario, if the nanny calls out, of course, that would fall under sick time, if the family is the one who has to cancel on the nannies. Just as in the other two scenarios, that should fall under guaranteed hours.
Scenario #4:
Now, what happens if the family or nanny gets COVID-19?
Well, you should isolate, canceling the day. Per CDC guidelines: you can return to work 10 days after symptoms started, assuming any fever you had has passed, any symptoms had or having had improved. You should confirm things are all good to go with a COVID test that comes back with a negative result, and by this time you're probably starting to see a pattern developed.
But if it's the nanny who calls out, that falls under the nanny's sick times. Payroll-wise, they should be able to utilize their sick time for that.
And if it's the family who calls out as a result of COVID, then they should be paid under guaranteed hours so the nanny shouldn't be out any income, because they were available and ready to work.
I've gotten a lot of questions about this from both parents and nannies. How do you handle things, so I hope this information is helpful!
Just to review symptoms of COVID include a fever of 100.4 or higher, sore muscles, fatigue. body aches, congestion, diarrhea, nausea, vomiting, loss of taste or sense of smell, shortness of breath or difficulty breathing, and can also include a runny nose or a headache.
Our local Department of Public Health has a fantastic flowchart that helps to walk through all of these scenarios, so please check out the link, I will include that information so that if you would like to print that out and have that handy in case you need a quick reference if one of these scenarios does pop up, you can have that ready to go.
Click here to view the flowchart
That's all for today everyone. Thank you so much for tuning in. I hope you come back next time if you like these videos and you want to see more of this type of content.
Please click the like button, ring the bell, subscribe and I will see you here again next time.
Thanks, everyone. Bye!