Verified Care Provider Service

Little one home sick? Daycare closed today? Don't have time to run a background check?

Find a VERIFIED care provider using our Verified Care Provider Service.

When you are scrambling to find child care, you don't have time to run a background check or verify references – you need a trusted care provider now!
All care providers subscribed to our Verified Care Provider Service have:
For Care Providers
Whether you are a full time nanny looking to pick up some additional hours or just want to have total control of your schedule, our Verified Care Provider Service is an excellent way to connect with families in need of temporary child care.
Once you are verified and subscribed to our system, you will be notified via text message the instant a parent submits a request for a Verified Care Provider. The message will contain specific details including location, pay range, # of children, and any special instructions. If you are interested, simply text or call the parent back and confirm when you will arrive. Simple and fast!
You will also receive a Verified Nanny Badge that you are free to share within our community or anywhere else you like!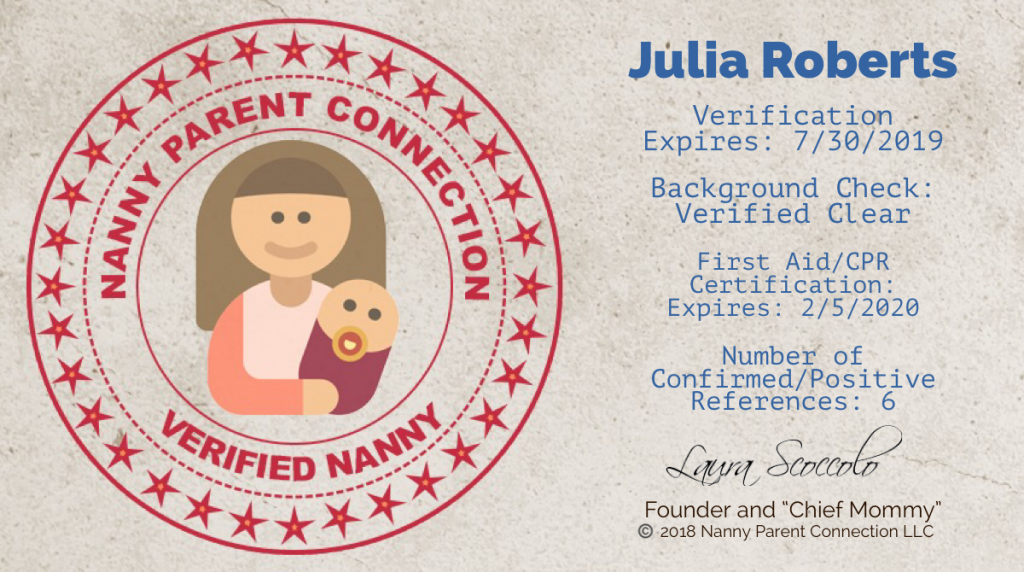 Care Provider Requirements
Prior to utilizing our system, the following requirements must be met:
Frequently Asked Questions
What is the difference between the Nanny Parent Connection – Verified Care Provider Service and some of the other companies offering temporary child care?

The biggest difference is cost or more specifically, lost income for you as the care provider. You see, most companies require care providers to work for an hourly wage that is less than the current market rate for that type of child care. Here is an example:
A local company provides on demand child care for parents with last minute needs. For one child, they charge the parent $20/hr but only pay the provider that cared for the child $17/hr. They are pocketing $3/hr that should go to the care provider!
Why settle for less? For part time child care for one child in our area, the current market rate is about $20 to $25/hr. When you provide child care through our Verified Care Provider Service, you keep all of the money that you earned.
There are several other important advantages that our system provides. Please refer to the comparison table below to learn more.
If viewing the below table on a mobile device, turn your device horizontally (landscape mode) to compare features.
Requirement to work certain # of hours/month?
Placed on "probation" or "watch list" if you have to cancel due to illness or emergency?

Limited to certain neighborhoods?

Restrictions on driving children?

Forced to work as independent contractor?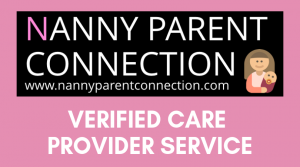 Immediately. Paid directly by parent.

Yes, variable. 12 hours/month and up.

Yes, variable. Some companies will stop placing you after only two cancellations.

Note: The $624.00 figure above was calculated assuming a care provider provided temporary, part-time child care a minimum of 4 hours/week for 52 weeks multiplied by the $3.00/hr that is being paid to the company making the connection between parent and care provider. If on average, the care provider worked more than 4 hours/week, the cost to the care provider dramatically increases.
I requested a Verified Care Provider using the below form but didn't hear from anyone. Did I do something wrong?

Probably not. If there is something wrong with your request, we will notify you via email, phone or text message. Send us an email and let us know that you didn't make a connection and we will try to help!
I'm interested and would like to become verified. How do I get started?

Great! We'd love to have you. There are several ways to get started:
Send us an email

and let us know that you are interested. We will personally walk you through all of the steps to get you verified.
Begin submitting your background check report, references or First Aid/CPR certification to us. As soon as we hear from you, we will begin tracking your progress and communicating with you to get you set up quickly.
Please note that for the time being, we are limiting this system to 160 verified care providers. If you are interested, please contact us as soon as possible so we can reserve your space.
Background Checks: How do you define a "clear" background check? I received a speeding ticket a few years ago – will that prevent me from becoming verified?

We understand that mistakes happen so a speeding ticket or accident will not prevent you from becoming verified. If there is something more serious on your background check report, please contact us to discuss.
Background Checks: I have a recent background check report but it doesn't meet the minimum requirements for the Verified Care Provider Service. What should I do?

No problem. With the purchase of your Care Provider – Annual membership, we will process a Premium Plus background check for you at no cost to you. Because we require a background check report that is less than one year old, when you renew your Annual membership, we will run another background check report for you.
References: Several parents have left positive feedback for me on the Member Feedback system. Do I still need to submit references?

Excellent! We require at least three exceptional references in order to be verified. As long as at least three different parents left feedback for you that was three stars or higher, then you are all set. If you have feedback from less than three, then please submit additional references to bring the total to at least three references.
First Aid/CPR: I received my First Aid/CPR certification online. Is that acceptable?

Yes, as long as your certification is current, we accept proof of training from both online and in-person classes. Make sure to keep your certification current so that you can continue to use the Verified Care Provider Service.
I agreed to provide child care tomorrow but now need to cancel. What should I do?

First, we hope everything is okay! Please immediately contact the parent that you scheduled the care with and let them know. Also, please contact us by sending a text message so that we can contact the parent and help find another care provider to fulfill their need. Include your name, the name of the parent that you were scheduled to provide care for, and the time that you had agreed to be there.
I just had a wonderful experience with a family and their little ones. Can I leave feedback on them? Can they leave feedback on me?

Yes! After the parent has requested Verified child care, we send them a survey to complete after the child care has been fulfilled. If the parent allows it, we will share that feedback with you and the community on our Member Feedback page. If you would like to leave feedback for the parents, simply visit the Member Feedback page and submit it there – make sure to note that you provided Verified child care for the family.
FOR PARENTS
IMPORTANT: Before submitting a request for a Verified Care Provider, please take a few minutes to read this article on how best to use this system.
If you would like to have one of our Verified Care Providers help with your child care need, simply fill out the form below and click Submit. Within a few minutes, the details of your child care need will be sent via text message to all subscribed care providers. Interested care providers can fill your child care need by sending you a text message or by calling you directly.
Remember, all subscribed care providers have:
A clean background check report on file with us. All of our Verified Care Providers are required to update their background check report annually.
At least three child care related references that we have confirmed.
Certification that the care provider is current with their First Aid/CPR training.
Also, be on the lookout for an important email that we will send you after you complete the form below. We hope that once your child care need has been taken care of, that you take a few minutes and provide feedback on the system and the care provider that you hired. We are constantly working to improve this system and your feedback is very important!
Questions? Email us at [email protected] or call/text (425) 243-7032.
Parents – request a Verified Care Provider here!
This system is active from 6:00am to 11:00pm each day. If you request a Verified Care Provider between the hours of 11:00pm and 6:00am, the request will be sent at 6:00am.