When you're a new parent, figuring out new routines on very little sleep can be challenging. Perhaps you have a childcare strategy in place by the time your baby arrives. Wait lists at daycare centers and preschools can be crazy long in Seattle (if you're panicking and need care but don't have a spot yet, we have your back!). If you are lucky enough to have found a daycare or will be starting preschool soon, make sure you have the inevitability of germs and sick days on your radar!
We have partnered with Stacey Grumet, Founder and CEO of Paper Pinecone, to learn what to expect with germs in those early care and education years. Paper Pinecone is a fantastic resource for finding the best daycare and preschool options for your family! (We also have some solutions for managing sick day childcare like a pro!)
Part I: Daycare and the Immune System
Colds. Hand, foot, and mouth. Pink eye. Lice. Stomach bugs. Ear infections. Ugh.
Your child just entered preschool and it seems like they're sick with something new every single week. Daycare and preschool are breeding grounds for viruses that spread like wildfire among children. They don't wash hands often, don't cover their mouths when they cough, and allow snot to pour out of their noses without giving consideration to the fact that a tissue could easy take care of the situation.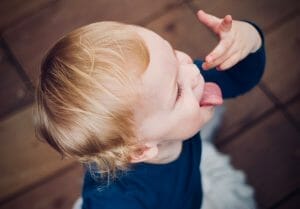 For the first year especially, your child will likely be sick often as the latest illness spreads between children. It's frustrating and you're sure to pick up a few yourself.
However, It's not all terrible news. A ten-year study out of the University of Montreal found that children who attended large childcare facilities suffered more ear infections and respiratory infections at a young age than children who weren't, however, suffered fewer than their peers when they were school-age.
So, what can you do? Continue reading "Germs at Daycare and Preschool – What to Expect and How To Find Last Minute Care" →