Hi everyone!
Today I'm excited to release Episode #4 in my new series, "From Babysitter to Nanny". In this series, I will walk you through a tutorial I've built for how to get started as a nanny.
Is this series for you? If you are looking to get into the nanny world and either a) don't have any childcare experience or b) are currently working as a sitter, part-time camp counselor, or daycare worker, this series has you covered!
In Episode #1, I covered my eight steps to becoming a babysitter which is a great place to start gaining experience. I discussed training through babysitter classes to how to find babysitting gigs all the way through setting up a digital business card and online payments to make it easier for parents to pay you for babysitting. To watch that episode, click the image below:
In Episode #2, I summarized what parents are looking for from a sitter. To watch that episode, click the image below:
In Episode #3, I discussed my top tips that you should consider as you transition to working as a nanny. To watch that episode, click the image below:
In today's video, "How To Become A Nanny – From Babysitter to Nanny Series – Ep. 4", I go over the final steps to take before you start looking for your first nanny job. Once you've taken these steps, you're ready to start looking for nanny positions!
I discuss:
– Make sure you have enough experience
– Have your resume and references ready to go (make sure your resume is in PDF format)
– Run a background check….on yourself!
– Standard pay rates (and benefits) in your area
– Usual vs. unusual job duties
– Your "care" philosophy
Pro Tip #1: A resume that highlights your childcare experience and strength is SO important these days. Don't have a resume yet? I've got you covered with a tutorial on how to write an amazing resume. Watch that video here.
Pro Tip #2: Very few nannies run a background check on themselves (which they can show to future parent employers). Set yourself apart from other nannies you might be competing against by running a background check on yourself! To check out our background check system, click here.
Click Here To Watch Episode #4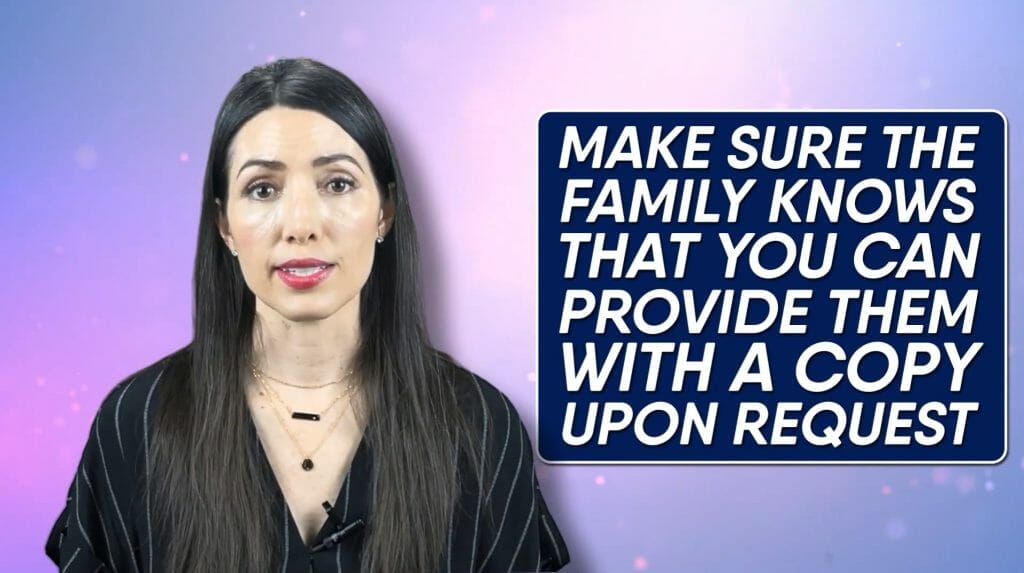 If you found this video helpful, please subscribe on YouTube and share it with your friends. Also, please take a moment to check out the other videos we have published on YouTube.
I'd love to hear any comments about how I can improve these videos as well as your ideas on topics you'd like to see me cover in the future. Just comment below!

If you aren't currently a member of our community, we'd love to have you join. Nannies can join our community totally FREE and our Family/Parent memberships start at only $8.99/month!
Don't forget, you can reach me directly via email by clicking here or by calling/texting (425) 243-7032 if I can help you.
A transcript of the video can be found below:
Hi everyone, Laura from Nanny Parent Connection here.
Welcome back to my "From Babysitter to Nanny" video series.
So far in this series, we've covered "How To Become A Babysitter", and "What Parents Are Looking For In A Babysitter" and "How To Transition To Becoming A Nanny".
Today in Episode #4, I will discuss the final steps you should take before launching your first nanny job search.
Today in this video, I'm going to discuss specifically how to transition your experience as a preschool teacher, a camp counselor, or a babysitter into becoming an actual nanny.
Step #1: Make sure you have that relevant experience
I covered this pretty thoroughly in the first three episodes, so if you haven't seen those yet check those out by clicking here. In addition to that experience, make sure you have your letters of recommendation or your references ready and prepared to start fielding calls from prospective employers. And as I mentioned in a previous video, make sure that your references have the heads up, and are agreeable to providing a positive reference for you.
Step #2: Make sure you have that CPR/First Aid certification
I require this for all of the nanny positions that I fill. You should be aware of when your certification is expiring if you already have that and if it will be expiring soon try to get that updated before starting a new position.
Step #3: Make sure that your resume is up to date
If you need some guidance on how to create a great nanny resume, make sure you check out the video I did on that topic by clicking here.
Pro Tip: Ensuret your resume is in .pdf file format. This will ensure that no matter what type of device is being used to look at your resume, the user will be able to see your resume. If it's in another format, it may not be able to be opened across all devices (i.e. Windows, Apple, etc.)
Step #4: Run a background check on yourself
I guarantee you that if you have a copy of a completed background check on yourself, the family will be really impressed with how proactive and serious you are with your nanny job search.
This will also put you in front of the pack as it comes to applicants because most nannies do not run a background check on themselves. Make sure the family knows that you can provide them with a copy upon request. This will not only save the family a step, but it will put you ahead in the vetting process, and your family will see that you have a clear background even before they call your references to confirm.
If you're not sure about how to run a background check on yourself, Nanny Parent Connection offers fantastic, inexpensive background check packages that are comprehensive, and they're very easy to run.
Step #5: Educate yourself on what it means to be a nanny
Nannies differ from babysitters in that they typically will have more experience with child care. In addition to having more years of experience they also will likely have some professional certifications, maybe even a degree in early childhood education, or some other nanny-specific trainings.
Nannies are also expected to know about all aspects of child care including meal prep, napping, bottle preparation, and also how to plan and facilitate age-appropriate developmental activities, as well as ensuring the child's emotional well-being. And very important: they also know that they should be returning the home to the original condition they found it in at the end of each shift.
Step #6: Educate yourself about pay rates
I often find that new nannies in the marketplace aren't really sure about the current going pay rates, and as a result, they could be missing out on a lot of money each year. Also, it's very important not to expect top-of-the-market pay as an entry-level nanny. While you should be paid fairly, you probably aren't going to make top dollar when you're just getting started. And remember, it's not just about the hourly rate, an industry-standard compensation package includes benefits, such as two weeks of paid time off, accrued paid sick time, paid holidays, mileage reimbursement, and sometimes even a medical stipend.
Step #7: What is your care philosophy?
Some popular care philosophies out there that parents have include: gentle parenting, attachment parenting, or the montessori philosophy. Make sure you're also open to honoring parenting styles for each individual family. It's going to be easiest to honor parenting styles for families who are close in alignment with your own approach to care.
Step #8: What job duties are you willing to do?
It's very standard in a nanny position to be responsible for anything surrounding the direct care of the child. This could include organizing play spaces, or their room, maybe even changing bed linens. Most commonly it's going to involve washing bottles, washing and tidying any dishes used during the day, and maybe also help with baby or children's laundry.
Standard nanny duties do not include pet care, family laundry, or family meal prep. And if you're willing to take on any of those household assisting duties such as family laundry, walking the dog, or maybe family meal prep, make sure that your rate is increased accordingly. This is usually at least $2 to 3 dollars per hour, sometimes more depending on the exact job duties, and the level of experience that you have. And if you're newer to the nanny industry, it's important to have these exact job duties listed in your contract to avoid any job duty creep.
Step #9: Consider taking some additional nanny or child care training courses
This will show prospective employers that you are serious and committed to making a strong transition into nanny care. Some good resources for these types of classes include the International Nanny Association, the U.S. Nanny Association, or you can find these classes simply by doing a google search for the term "nanny classes". Aside from nanny-specific certification courses, you could also consider taking additional courses in water safety, child development, positive discipline, special needs care, child nutrition, and cooking.
Alright, everyone, I hope you found these tips helpful. If you have completed all of these tips, you will be officially ready to launch your nanny job search!
Thanks so much for joining us today. If you like this video please click the like button, ring the bell, subscribe so that you can be alerted when more of these videos come out. Bye!