Hi everyone! It's Laura back to talk about something that is impacting each of us on a daily basis….inflation.
It seems that anytime we turn on the news these days, we hear about rising inflation. Nearly everything is more expensive this year than it was last year. Inflation is driving up the cost of everything from food to gasoline prices to your morning coffee, and it's even increasing the cost of working with a nanny.
But what is inflation? How is inflation affecting the nanny world?
Check out my latest video where I discuss how inflation is impacting both parents and nannies plus some great tips on how to save money on childcare during this time of increasing costs.
In today's video, I discuss:
– What is inflation?
– What causes inflation?
– Some trends I am seeing in the nanny world as a result of inflation
– Several great tips on how you can save money on childcare
Click the button below to watch the video and I hope you find it useful!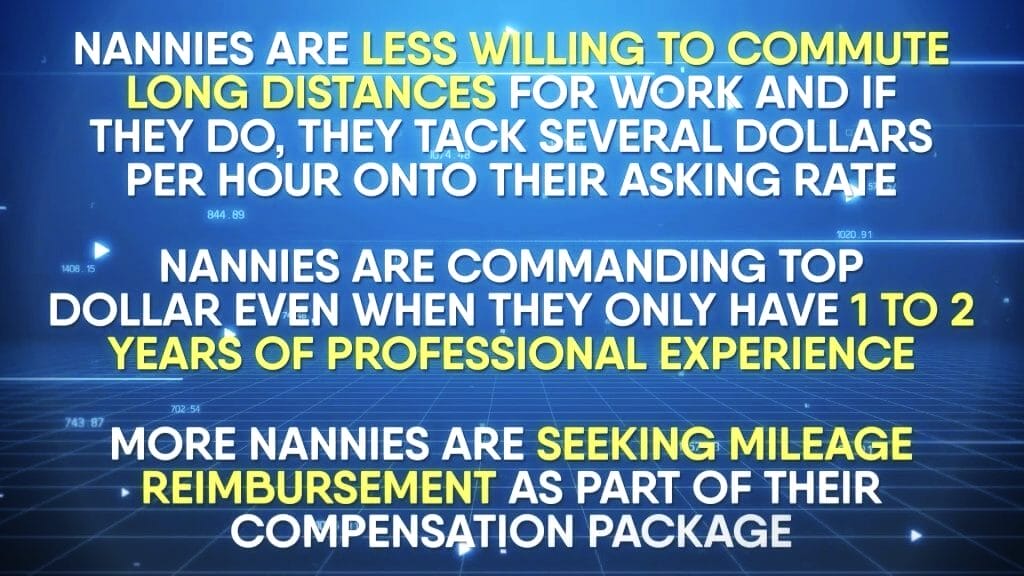 If you found this video helpful, please subscribe on YouTube and share it with your friends. Also, please take a moment to check out the other videos we have published on YouTube.
I'd love to hear any comments about how I can improve these videos as well as your ideas on topics you'd like to see me cover in the future. Just comment below!

If you aren't currently a member of our community, we'd love to have you join. Nannies can join our community totally FREE and our Family/Parent memberships start at only $8.99/month!
Don't forget, you can reach me directly via email by clicking here or by calling/texting (425) 243-7032 if I can help you.
A transcript of the video can be found below:
Hi everyone, Laura from Nanny Parent Connection here.
We have all been hearing about inflation lately. Nearly everything is more expensive this year than it was last year.
Inflation is driving up the cost of everything from food to gasoline prices to airline tickets, and it's even increasing the cost of your nanny care.
What exactly is inflation?
Inflation is when our dollar buys less than what it used to due to increasing prices.
So for example, several short months ago in the Seattle area, a gallon of milk cost me $2.89, today when I go to buy that same gallon of milk the price is now $3.49.
Due to inflation, my dollar is buying me less milk today than it used to several months ago.
According to the U.S Bureau of Labor Statistics, the consumer price index increased 8.5% for the year ended March 2022, following a rise of 7.9% from February 2021 to February 2022.
The 8.5% increase in March was the largest 12-month advance since December 1981. Ouch, that's pretty significant!
What causes inflation?
Well, it all has to do with supply and demand.
As the supply of something gets low and the demand remains high, suppliers are then able to charge higher prices for those same items.
Many families who have worked with a nanny in the past and are in the market to hire a new nanny now find that care is much more expensive today than it used to be.
I recently spoke with a family who was starting their nanny search, and they wanted to pay the nanny they hired $26 per hour.
Because that is what they have always paid their previous nannies in years past.
Now if you take that $26/hr rate from a year ago even, and you add on the inflation rate of 8.5% that nanny will now be making $28.21/hour to account for inflation alone.
Nannies are being impacted by the increased cost of living due to inflation just like the rest of us.
Here are some trends I'm seeing with nannies as a result:
Nannies are less willing to commute long distances for work, and if they do they tack several dollars per hour onto their asking rate.
Nannies are commanding top dollar even when they only have one to two years of professional experience.
More nannies are seeking mileage reimbursement as part of their compensation package.
It's worth mentioning that mileage reimbursement is considered to be a nanny industry-standard, If you're not currently offering mileage reimbursement, now is a good time to consider offering this benefit as part of the compensation package for your nanny.
And, I'm also seeing more nannies seeking a medical stipend.
Here are some trends I'm seeing with families as a result:
Families need to offer top dollar to their nannies in order to be competitive.
Families need to consider giving raises to nannies they have just hired several months ago in order to retain their nanny, and also remain competitive with the market.
Families are getting creative with compensation package offerings to include things such as allowing the nanny to charge their electric vehicle at their home, or offering an additional gas stipend each month to their nanny to help offset the cost of their commute.
Here are several tips that I see families using to save money on childcare:
Instead of having your nanny drive the kids to activities such as the zoo or aquarium, you can save money on gas and encourage your nanny to take mass transit or walk.
I guarantee you the kids will love riding a bus or light rail if they haven't already, and it will save money on gas if your nanny uses your family's car or even their own car.
Instead of stopping for an ice cream cone or a snack while out and about, buy ice cream or snacks at the grocery store so that your children and nanny can enjoy those when they get home. Ice cream from the store is much cheaper than what you find at Baskin Robbins or Ben and Jerry's.
You can also offset the cost of nanny care by considering a nanny share.
More families today are considering a nanny share in order to help offset the skyrocketing costs of nanny care.
There is some good news in all of this, inflation is actually forecasted to decrease over the next year, and for families seeking nannies, the supply of nannies looking for work remains strong.
You just need to be able to afford that nanny care.
Alright everyone, that's it for today.
I hope this information was helpful, and I hope you gained some insight as to why nanny care costs are skyrocketing alongside everything else due to inflation. As well as how you can save money on childcare.
If you liked this video and found this information helpful, please click on the like button, subscribe, or ring the bell so that you can be notified when more of these videos come out in the future.
Thanks everyone, bye!