When you are a family (or nanny) with kids in Seattle, it's crucial to have plenty of great indoor places to take them when it's too rainy or cold, or when the air quality isn't great. And to have a good plan in place for school-aged children with camps during the various breaks during the school year. Or just to change up your regular day to day routine!
The Pacific Science Center is our go-to place out of the hundreds of indoor play options around the area. It's relatively close to our house, it's clean and the staff are really friendly and helpful, and it's one of the few places that can entertain my kids spanning the ages of 1-11 years. Also they have coffee (for me), and dinosaurs (for my kids) for the win!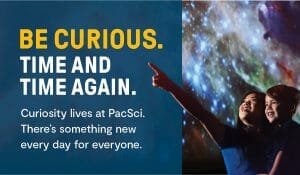 Honestly, these things alone are enough to make us absolutely love this place. Not to mention, there are so many great hands-on exhibits there for the kids to check out. I realized the last time we were all there that I probably could be getting even more value out of our annual membership there. (Upon exploring this, I could be getting A LOT more out of membership!!)
Read on to the end to find out how to redeem your FREE PASS from the PacSci!
So, what are some of the benefits of membership to the Pacific Science Center? There are so many!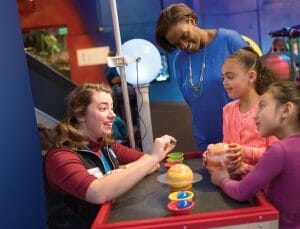 DISCOUNTS
Basically anything that is not free with membership is discounted. Members get discounted tickets to special events, IMAX passes, discounts on educational programs for kids, discounts at the store, cafe and concessions.
MEMBERS ONLY EVENTS
The Pacific Science Center has many members-only events several times throughout the year. Upcoming members-only events include free screenings of the premiers of "Great Bear Rainforest", "Cuba", "Apollo 11" IMAX shows, a free Laser Light show, a free Tinker Tank Workshop, and a weekend where you can bring up to six guests for FREE without using any guest passes you receive through your membership. All of these events are upcoming for the months of May, June and July!
DISCOUNTS AND EARLY REGISTRATION FOR CAMPS
If you're a parent who utilizes camps during the summer or break weeks during school, you know how valuable it can be to have early access to registration! The Science Center has a variety of engaging camps for kids ages Pre-K to 8th grade. Summer camps can be crazy expensive, but with membership you get a $30 discount PER REGISTRATION for camps. That's a great deal! Perhaps one of the cooler things about these camps is that they have camp locations all around the greater Seattle region! Learn more about Camps for Curious Minds here.
PARENTS' NIGHTS OUT
This may well be the best kept secret of the Pacific Science Center! With drop off as early as 5:30 pm and pickup as late as 11pm, you can have up to five and a half hours of kid-free time for the member only price of $35. (Bonus: you're already downtown!) That breaks down to just over $6/hour for child care, making this pretty much the best deal in town. This is for kids in grades K-5. Kids are given a snack on arrival and a science-themed treat later in the evening. They get to enjoy exploring the exhibits, planned activities, and a live science, planetarium, or laser light show. You get to enjoy some much-needed "you" or "us" time. It's a win-win! Learn more at https://www.pacificsciencecenter.org/parents-night-out/.
FUN ADULT-ONLY EVENTS
I was really sad to miss out on what I remember to be a bourbon tasting event in October due to a schedule conflict. (Not because I like bourbon, but because my husband does!) Not to worry though – they have these events regularly! The next 21+ offering is a wine tasting event coming up on May 17, 2019, and members have access to discounted tickets. I didn't know they had great events like these, but they would be fun to check out! Find out more here: https://www.pacificsciencecenter.org/21-and-over-events/.

IMAX
The Pacific Science Center has two state-of-the-art theaters to give you an incredible IMAX experience. In addition to a large variety of interesting and educational documentaries, they show movies like the newly released Avengers Endgame (awesome movie by the way!), and the new Aladdin and Godzilla movies at prices comparable to other area theaters that aren't IMAX. Don't forget that they have some member-only screenings of many of these shows!
SPECIAL GIRLS' NIGHTS OUT
These events are tailored toward nurturing and inspiring girls' curiosity and interest in science, technology, engineering, and math (STEM). Activities are lead by female professionals from various STEM fields through "interactive demonstrations, one-on-one interactions, and hands-on activities", per the Science Center website. Check the details here: https://www.pacificsciencecenter.org/girls-night-out/.
SPECIAL SENSORY-FRIENDLY HOURS
The Pacific Science Center recognizes that some guests need low sensory opportunities, so they offer special "Exploration for All" hours. They open two hours early or close two hours late once per month to allow guests with low-sensory needs to explore all the Science Center has to offer.
SCIENCE IN THE CITY LECTURES
These are all-ages events where relevant topics in science and technology and how they affect our community are discussed. These talks can include demonstrations, IMAX showings, and interactive activities relevant to the topic. More here: https://www.pacificsciencecenter.org/science-in-the-city/.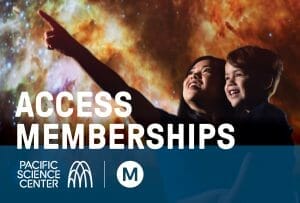 ACCESS FOR ALL
Seattle is expensive and not everyone can afford a typical membership with the high cost of living in the city. The Pacific Science Center has taken this into consideration and wants EVERYONE to be able to access their programs!
PacSci's Access Membership program provides an affordable option for families and individuals to experience STEM learning and content all year long. There are two types of Access Memberships, the Family Access Membership ($19) and the Youth Access Membership (FREE). Both of these Memberships come with all the benefits of the regular PacSci Family Membership including: unlimited free admission, documentary IMAX passes, evening laser show passes, and exclusive Member event invites. These Memberships feature unlimited hands-on science education and fun!
To learn more about the program and which Access Membership you might qualify for, click here. If you have any additional questions about PacSci's Access Membership program, call their Membership Office at (206) 443-2924 from 10 a.m. – 5 p.m., M-F or 10 a.m. – 6 p.m. on the weekend.
SPECIAL OFFER FOR NANNY PARENT CONNECTION MEMBERS!
During the entire month of May, Nanny Parent Connection members get a $20 discount on the FAMILY PLUS ANNUAL MEMBERSHIP (bringing the price down to $149) with the below promo code.

This is essentially a family membership with a free FLEX guest pass, which means that your child's care provider (or anyone else you'd like to bring along!) gets into PacSci for free when accompanying someone named on the family's membership card.
Oops! Please login to see the promo code. Not a member yet? No problem! Memberships start at $2.99/month for care providers and $8.99/month for parents.

Click here to sign up!