I often get questions from parents about things that come up when working with their nanny. Some of these things seem like they should be little things, but they are NOT. Don't let these nine little things sneak up on you and put a hitch in the relationship you have with your nanny.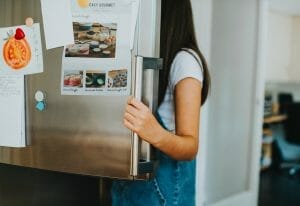 Nanny Eating Family's Food
It never occurs to some parents and nannies that this could turn into an issue. I often see the topic of food come up from both parties.
Some parents have an open fridge/pantry policy. They may even go so far as to ask the nanny what kinds of foods she would like to have around to eat during the week. If there is anything that's earmarked for something specific, like leftovers intended for dinner, make sure to label it or communicate that to your nanny.
I have heard some parents are surprised by their nanny eating the food at their house. If this is you, make sure to discuss with your nanny. It can get weird and become a big "thing" if the relationship progresses and food becomes a sticking point for any reason.
Some families have kids with food allergies or special diets. I have seen one instance where the family's food requirements meant the nanny was only able to bring foods that were specialty items. This made the food more expensive than what the nanny normally purchased. If you have any specialty requirements like this, consider always allowing the nanny to eat what's in the house or giving her a specialty food stipend.
Continue reading "9 Little Nanny Things That Can Become Big Things" →