I can't think of one person who is sad to see 2020 go. It's been a trying year for us all. Thankfully, a new year brings a fresh start! Here is a message of hope from a member of the Nanny Parent Connection community "Nanny Melissa" aka, Melissa the Princess Nanny – reminding you all we will get through this together.
It's the most wonderful time of year again! Then again, with everything 2020 brought, saying that it's the most wonderful time of this particular year isn't a big stretch. Last year was a really rough year for many, many people. To top it all off, most of us had a very different holiday season.
My family of four (including our puppy, Princess Buttercup) spent the time quietly at home, away from our loved ones, which we view as just one more sacrifice that we are more than willing to make to get to better times again. That doesn't necessarily make it easier, though.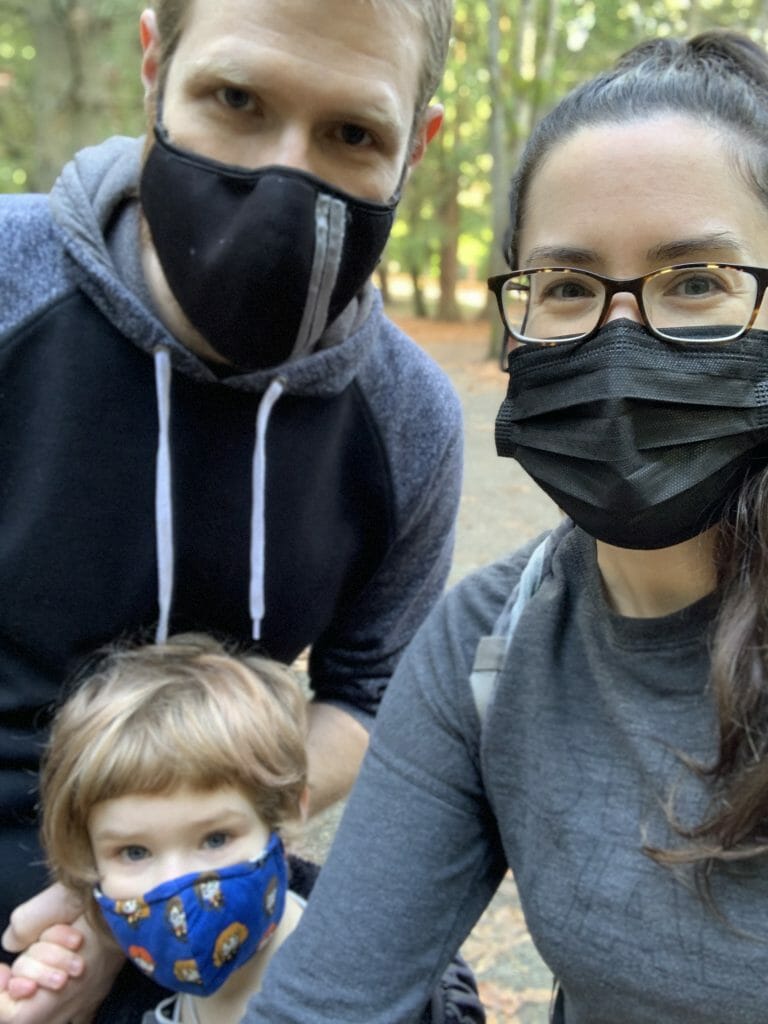 "We have been enjoying the beautiful city parks Seattle has to offer while social distancing this year"
In 2019, I was a busy full-time nanny and homeschooling Mom to a kindergartener. I was cosplaying as a hobby and form of therapy to help me work through my anxiety and PTSD, which led to me performing at kid's birthday parties as Disney princesses on the weekends. In short, I was busy and it was a promising year!
At the end of the year, however, I lost my beloved Grandfather a few days before Christmas. That was followed not too shortly by losing my job at the beginning of 2020. What a way to start that crazy year off, right? I took a much needed break and was finally about to start a new nannying gig when the COVID lockdown started. I never got to start that job. And we all know how the rest of the year went!
We have had to work very hard to make ends meet, like so many other families and it has been far from easy.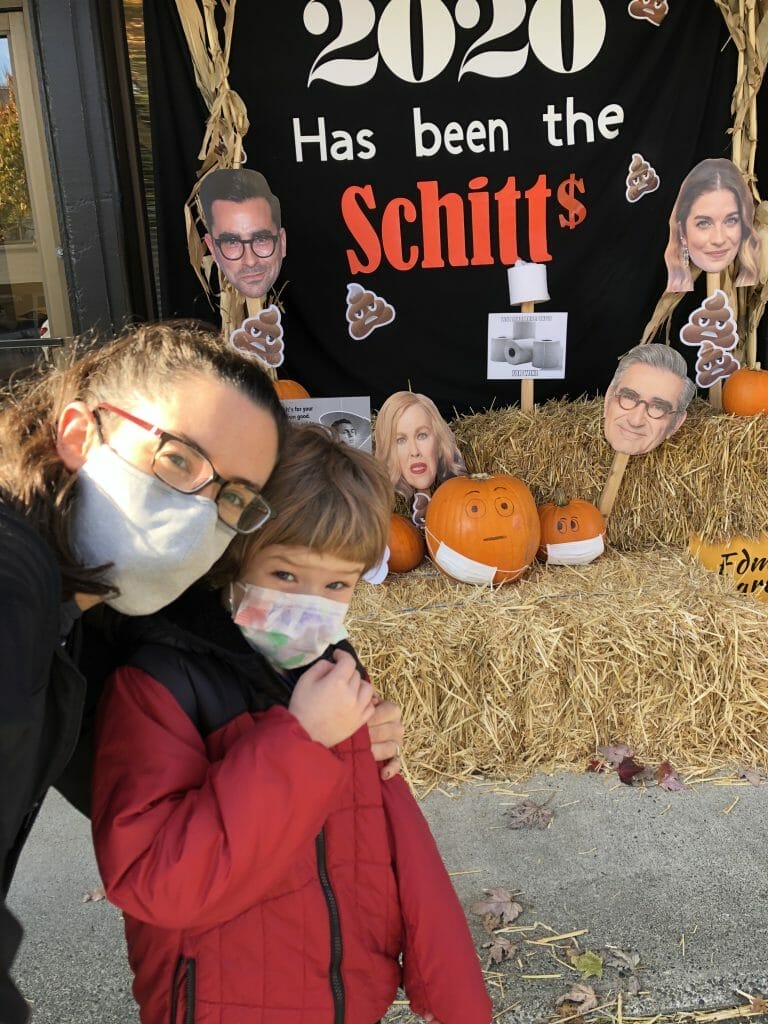 "We stumbled upon a sign of the times, and a much needed giggle while out on a walk one day"
So, how have I spent my year at home? Well, I've thrown myself into homeschooling my Harry Potter obsessed first grader as much as my stressed out brain will allow! This has been challenging but also very fun. We mainly just do our best everyday and I try to prioritize our mental health before math homework.
Additionally, I took my princess business online!
Nothing speaks to the resiliency of human beings quite like our ability to adapt and be resourceful even during the hardest of times. If you want proof for yourself, just look around at just about everyone wearing a mask at the grocery store the next time you shop! I won't dive too deeply into that subject, other than to say it amazes me to see how people dig in deep for the community and do what it takes to keep each other safe.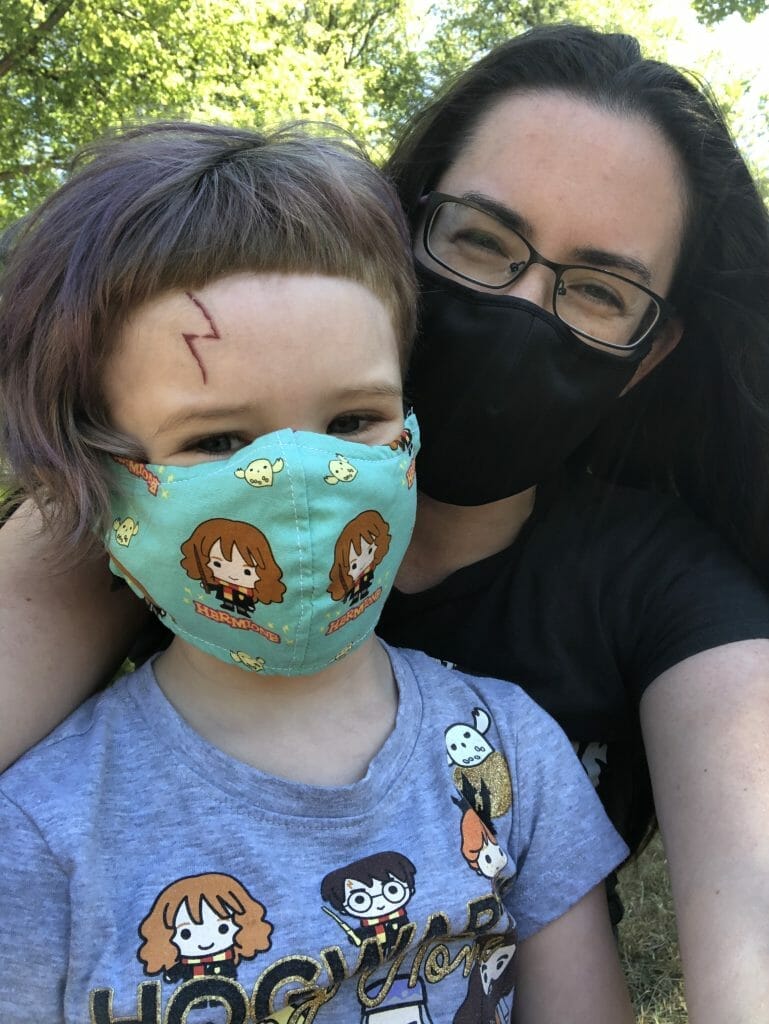 "Masks on and all ready for PE at the park!"
When we first went into lockdown back in March, a lot of people in the cosplay community started making story-time videos for kids who were stuck at home while wearing costumes such as Captain Marvel, Spiderman, Wonder Woman, and many more! I personally made videos as Elsa, Anna, Princess Leia, and Scarlet Witch! I did this in the hopes of cheering up children stuck inside, which was enough for me. Plus, my husband was home for five weeks and was able to spend some quality time with our daughter while I worked from home.
I had a busy March – June doing Zoom calls as Elsa and I even did a virtual birthday party as The Little Mermaid! Things slowed way down when the sun came out and people started getting their kids outside again, but I chose not to do any in person princess parties for the remainder of the year.
Later in the summer, I put cosplay to the side when we got our puppy, but I did a few live story-time videos here and there and my daughter even joined the fun, which was a big highlight for me personally.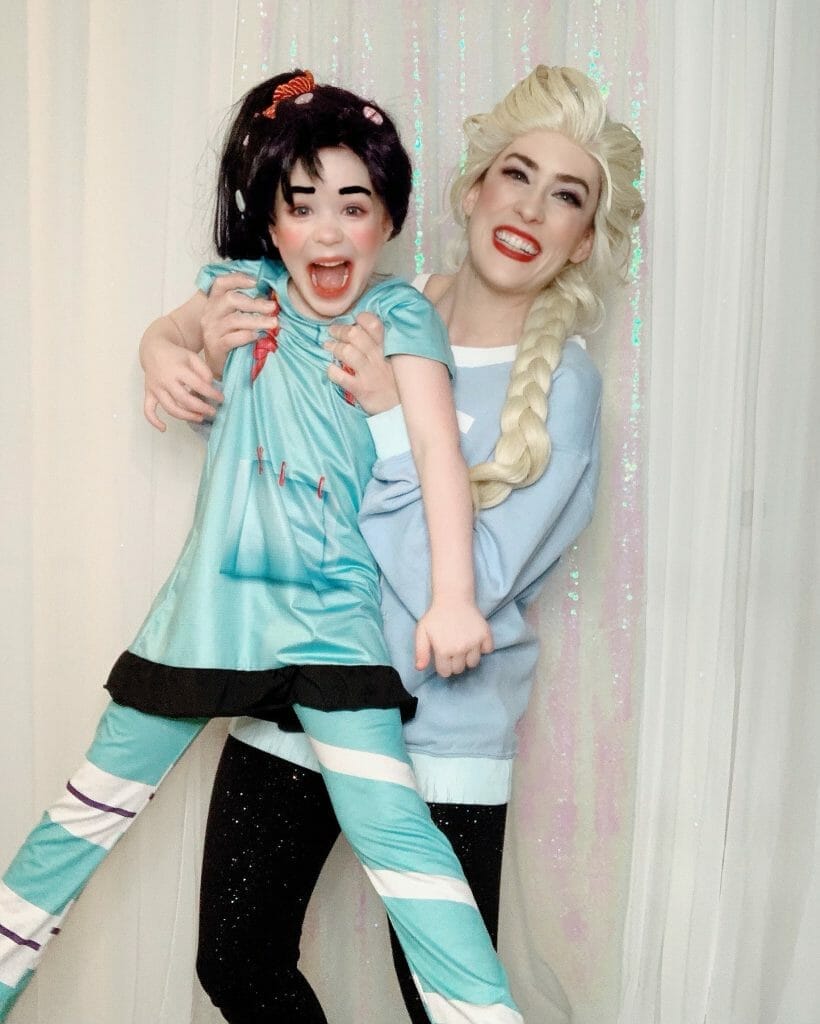 "My daughter joined me as Vanellope for a live Mother's Day story-time and lullaby event"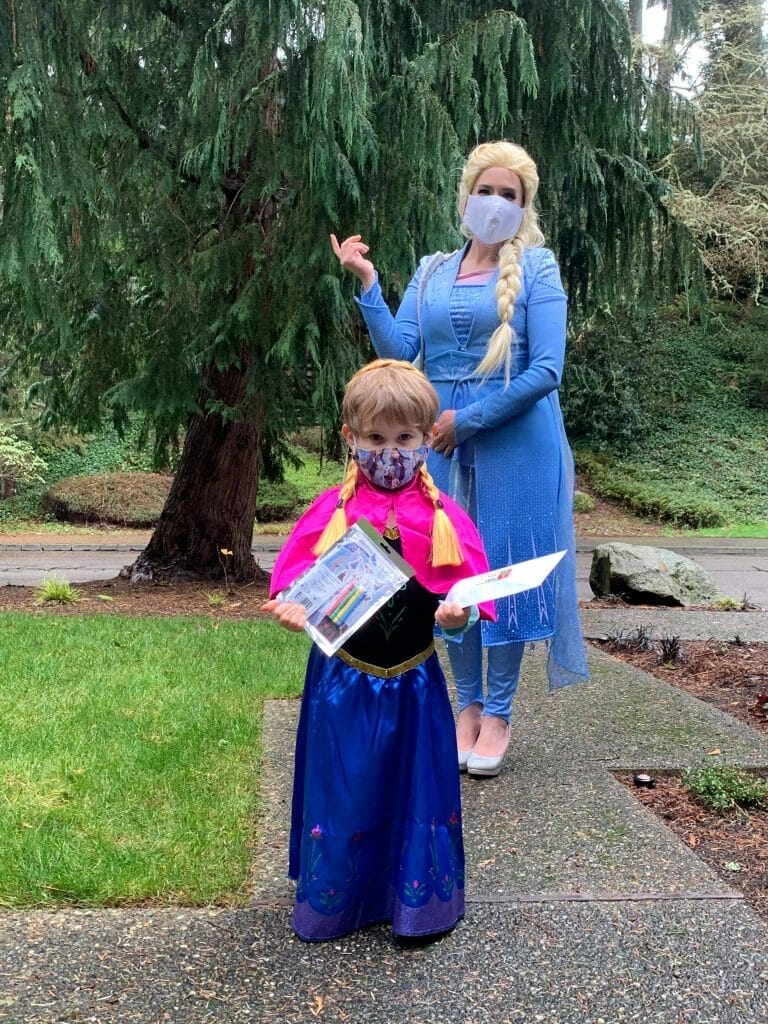 "Most of my visits have been virtual this year, but I had a great time doing a couple of socially distant driveway visits for neighbor kids this holiday season!"
A few years ago, my Grandpa and I were discussing postpartum anxiety and how I was having a hard time managing my fears. He always gave the best advice and encouragement, and the words he said to me have been with me every single day since.
"I pray that you will have hope, not fear."
It is easy to feel afraid or hopeless considering all that we have been through this year, but my wish for you, dear reader, is that you can begin to feel hope over fear as 2020 comes to an end. I am choosing to do the same, because I know it would make my Grandpa proud.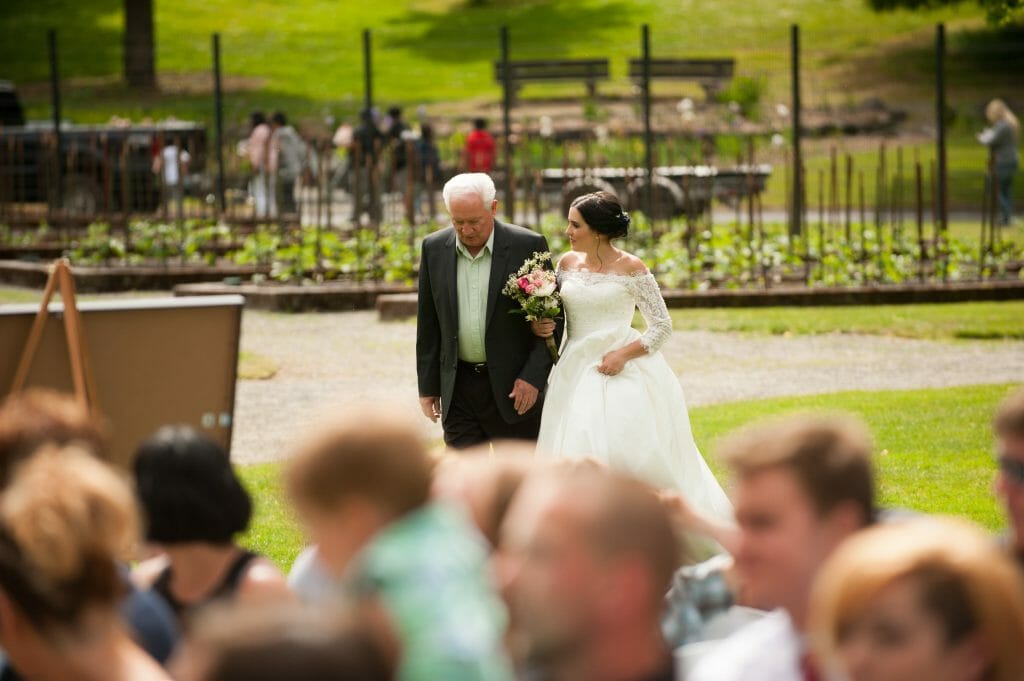 "My Grandpa walking me down the aisle at my wedding in 2017"
In case you or your children are still in need of encouragement, I made a special holiday video to help pass on the hope that my Grandpa so lovingly wished for me. Here is my holiday gift for you all, from a very special Ice Queen that some of you may know.
If the video does not load, please click here.
If you would like a magical video similar to this one, a Zoom call with a princess, or even a virtual birthday party, I am offering 20% off for all Nanny Parent Connection members!
I am also doing a small number of masked socially distant driveway visits for North Seattle members this holiday season. These spots will fill up very fast! Just mention Nanny Parent Connection when you message for the discount! Contact information below.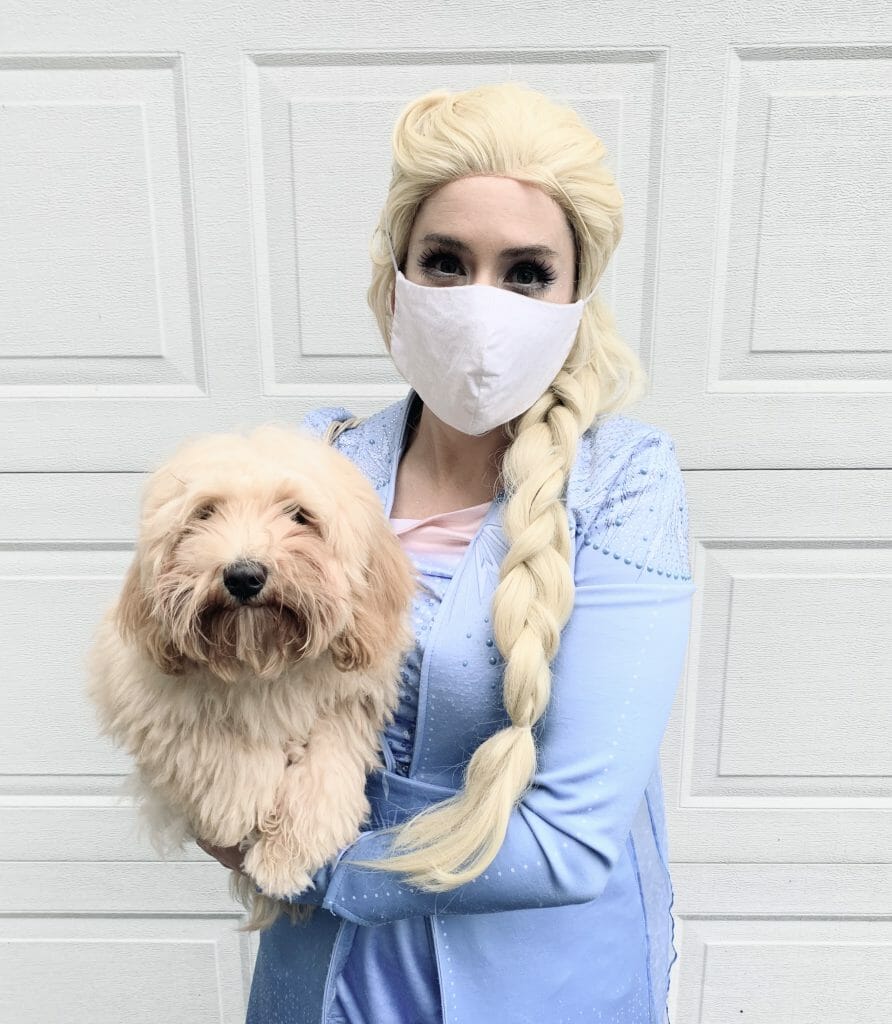 "I couldn't end this post without you seeing my sweet Princess Buttercup. She joins my Princess Zoom calls to everyone's delight!"
Thank you for reading a little bit of my story! For more photos, story-times, booking and more, please visit me, Melissa the Princess Nanny on Instagram @melissatheprincessnanny, Facebook or I can be reached directly via email by clicking here.