Hi everyone. I hope you had a relaxing Thanksgiving with loved ones!
Before the COVID-19 pandemic, many parents went to the office or their workplace. But now, many parents are working from home full-time or several days per week. This dynamic can be tricky to navigate if nanny care is happening in the home. But it doesn't have to be!
Check out my latest video, "5 Tips For When The Parents Are WFH" where I cover my top tips for parents and nannies to make WFH + nanny care work together seamlessly!
Pro Tip: If you need to sneak into the kitchen for a quick snack or beverage, make sure your nanny has the kids engaged in an activity. Kids have amazing hearing!
In this video, I'm going to discuss:
– Establish Expectations
– Set Clear Boundaries and Have A Conversation About Who Is In Charge
– Proper Home Office Setup
– Planning the Week
– Plan to Minimize Distractions
Click the button below to watch the video!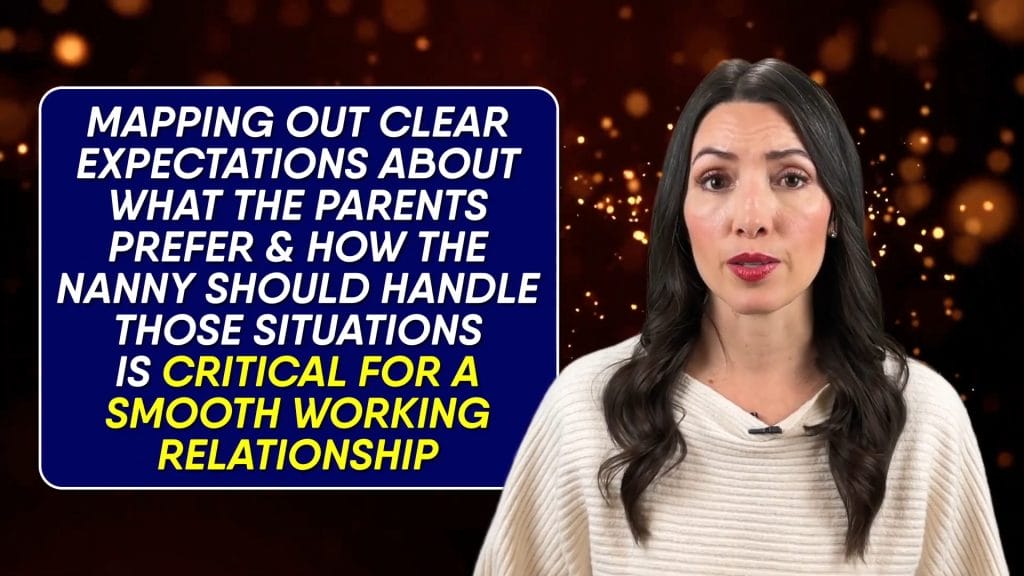 If you found this video helpful, please subscribe on YouTube and share it with your friends. Also, please take a moment to check out the other videos we have published on YouTube.
I'd love to hear any comments about how I can improve these videos as well as your ideas on topics you'd like to see me cover in the future. Just comment below!

If you aren't currently a member of our community, we'd love to have you join. Nannies can join our community totally FREE and our Family/Parent memberships start at only $8.99/month!
Don't forget, you can reach me directly via email by clicking here or by calling/texting (425) 243-7032 if I can help you.
A transcript of the video can be found below:
Hi everyone, Laura from Nanny Parent Connection here.
Today I'm going to discuss parents working from home and how to navigate this situation from both a nanny's and parent's point of view.
COVID has changed many things and as we all know, it has affected nanny care as well.
Before COVID, many parents went into the office or workplace for their career. But as we all know, many parents are now working from home, either full-time or part of the time.
This dynamic can be a little tricky to navigate if nanny care is also happening in your home, but it doesn't have to be.
Clear expectations and communication are key to ensuring that everyone is on the same page.
Here are my five tips for how to make working from home and nanny care work together seamlessly.
Tip #1: Discuss Expectations
A nanny is an important member of the family's team, and it's important for the nanny to understand how they can best be supportive in a work-from-home situation for the parents.
Do the parents need to be able to stay laser-focused, or is it okay if the children pop in occasionally to say hello?
Or perhaps the nanny has been put in charge of coordinating breastfeeding for the infant with the mother?
You should develop a system for when you need to get a hold of the parents whether that's texting, or simply knocking on the door.
I've had some families say they want to come in and use common spaces to fix lunch for example, but then go right back to work.
And I've had other families say "I want to come in and have lunch with my kids during my lunch hour".
Mapping out clear expectations about what the parents prefer, and how the nanny should handle those situations is critical for a smooth working relationship when parents are working from home.
Tip #2: Set Clear Boundaries and Have A Conversation About Who Is In Charge and When
If the children are older, and can be involved in the conversation about what it means to have a parent needing to focus on work while working from home, make sure to involve them, Make sure that the children understand that when the nanny is in the home, the nanny is in charge during the day.
This might also mean that nannies will need to have a conversation with the parents, so that they know if a child is crying or throwing a tantrum the nanny has the situation handled, and the parents don't need to pop in they can stay focused on their work.
Tip #3: Have A Proper Home Office Setup
And parents, speaking of staying focused on your work, consider the layout of your home office and the common spaces in your home.
Ideally, home office spaces are set up away from the main living areas in a room with a door that can close.
Now sometimes of course, you have to make do with the space that you have which may mean that the home office space is underneath a busy upstairs living room floor, or perhaps it's next to a child's bedroom or playroom.
Because of this, it might be a good idea to invest in some noise canceling headphones if you haven't already, so that you can stay focused on your work parents, and the nannies and children can have fun. I've even heard of some parents adding soundproofing materials to the walls of their home office!

Which is a good segue to my next tip…
Tip #4: Be Proactive With Planning the Week
Nannies can ask parents if they have any events coming up where it's crucial to have quiet in the home. This could mean a conference call or a presentation.
Parents might want to communicate what these times are via shared calendar (Gmail is a great solution), but the important thing is to give the nanny advanced notice so that they can have adequate time for planning ahead.
And Tip #5: Have A Plan To Minimize Distractions
And by this, I mean minimizing distractions for the kids.
Back when my twins were toddlers, they had a really tough time transitioning between parents being home and nanny care.
When I needed to come into common spaces during the day, I would text my nanny and give her a heads up, that way she could either switch rooms that she was playing with them in, or she could engage them in an activity and I could sneak by unnoticed.
This meant I was able to move about my home and not disrupt the flow of the day with the nanny and my kids.
Parents, it can be really hard on your nanny and your children as well if you're popping in unannounced.
Keep that in mind and be mindful, and I do recommend having some system to minimize distractions where you can quickly communicate with your nanny if needed.
Alright everyone, those are my five tips to help successfully navigate WFH situations when nanny care is also happening in the home.
I hope this information was helpful. If you like this video please click on the like button, subscribe, or ring the bell so that you can be alerted when more of these videos come out next time.
Thank you everyone, bye!