It's Laura back with Part 2 of Episode #7 in our series, "Working With A Nanny From A-Z".
In this series, I am going to walk you through the entire process of working with a nanny. From deciding if nanny care is right for your family all the way through how to find, interview, hire and work with a nanny. Basically, everything you need to know from A-Z about the nanny world!
If you missed the first six episodes (or Part 1 of Episode #7), click the images below to check those out:
In the first episode, I discussed the different child care options that are available to families. In the second episode, I went over the costs of each of these child care options. In the third episode, I touched on how these different childcare options can impact your child…specifically, the "individualization" of each childcare option.
In the fourth episode, we began talking about where and how to find a nanny. Make sure you check out this video as I go over my top four free and paid options for where to find a nanny near you! In the fifth episode, I discussed how to advertise your nanny position effectively. In the sixth episode, I went over how to run a successful nanny search and prepare for interviews.
In Part 1 of Episode #7, I presented my first four tips for interviewing nannies.
In today's episode, "Episode #7 : Top Tips for Interviewing Nannies (2/2)", I go over Tips #5 through #8 for interviewing nanny candidates. I cover:
A Great Nanny Will Interview You!
Consider A Working Interview
Don't Sit Around On A Good Nanny!
Check back next week when I publish my next video, "How To Make A Job Offer!"
Don't forget to subscribe and "ring the bell" on YouTube so that you can be notified when the next episode in this series comes out.
Scroll down to check out the video and I hope you find it useful!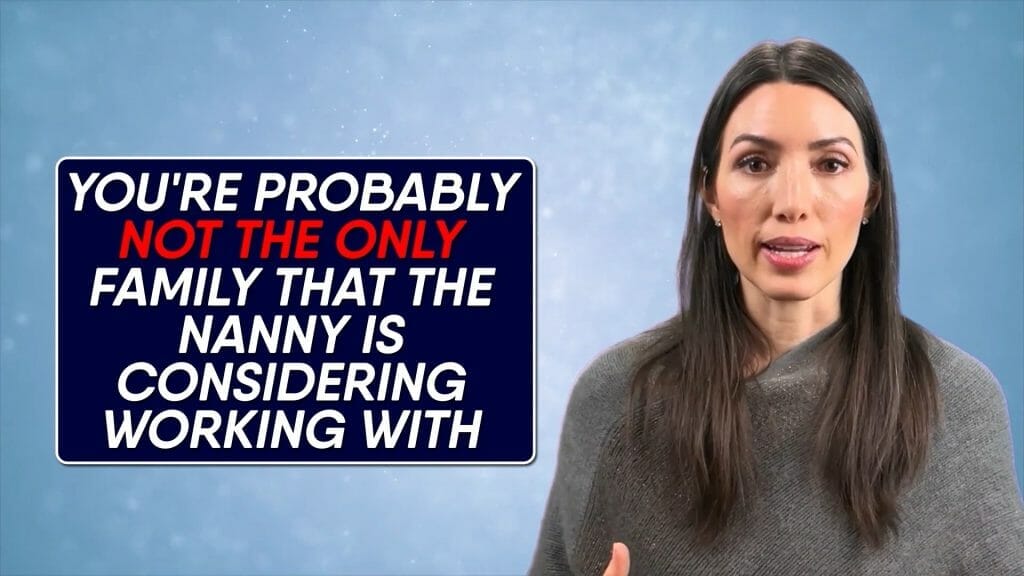 If you found this video helpful, please subscribe on YouTube and share with your friends. Also, please take a moment to check out the other videos we have published on YouTube.
I'd love to hear any comments about how I can improve these videos as well as your ideas on topics you'd like to see me cover in the future. Just comment below!

If you aren't currently a member of our community, we'd love to have you join. Nannies can join our community totally FREE and our Family/Parent memberships start at only $8.99/month!
Don't forget, you can reach me directly via email by clicking here or by calling/texting (425) 243-7032 if I can help you.
A transcript of the video can be found below:
Hi everyone, Laura from Nanny Parent Connection here. Welcome back to my "Working With A Nanny From A to Z" video series.
In Episode #7, Part 1, we covered the first four tips for interviewing your nanny. In today's video, we're going to cover Tips #5 through #8.
So here we go, let's dive in.
Tip #5: A great nanny will interview you!
I have found over the years that a great nanny comes with their own questions, because it's equally important that the family is a good fit for them, not just that they are a good fit for the family.
So a great nanny will want to ensure it's a really good personality match and that they feel they can work well with the family. They're going to have questions for example about what are the child's interests, how do you envision a typical day of nanny care happening, what are your preferred methods of discipline and what are some of your parenting philosophies.
Chances are if a nanny starts to interview you a little bit as well, that is the mark that they are confident in their abilities, they know what they are looking for in the next family, and they're probably a pretty skilled (and great) nanny!
Tip #6: Trust your gut!
I can't emphasize this enough, so many parents say "How will I know when it's right?", "Something wasn't quite right but I don't know what it is!", "Should I move on?", "Should I move forward?".
The correct answer is, always trust your gut. If somebody was fantastic and you just have the strong sense they're the one, run with that.
If you interviewed someone and you feel like, "I don't know what it is, I can't really put a name to what I'm feeling but I just I don't know it's something just rubbing me the wrong way". Trust your gut, go with that feeling and move on to the next candidate.
You have an intuition for a reason, let it serve its purpose and help to guide you!
Tip #7: Consider a working interview
This can be a fantastic third step after you invite that candidate into your home for a meet and greet. If your initial meeting with the nanny went well, have the nanny back for a paid working interview. This could look like several hours of their time that you pay them for of course.
During a working interview, you'll want to spend some time on-boarding the nanny briefly. Give them a tour of the house, tell them any important facts about any food or medicine allergies, or your child's communication styles that are important, basically how to navigate around the house successfully.
After you give the nanny a tour of your house, you'll want to sit down and chat for a while, maybe do an extended hand-off, get the kids and the nanny started on an activity for example. Hang out for a while until you can see things are going well enough that you can kind of step back, stay at the house but maybe just don't be right there, so that the nanny can really take over, but maybe you can keep an ear out a little bit to see how things are going.
As the working interview is wrapping up, ask the nanny for their feedback. Make sure to leave a little bit of time to sit down with your nanny, chat about how things went and what their feelings are. If you want to offer them the job at that point, go for it.
You can make a verbal offer like this, "Hey, this working interview went really well. I'd like to send you an email with a job offer after we wrap up here." No matter how you are feeling about the nanny, make sure that when your nanny leaves the working interview, you both know what the next steps are.
After the nanny leaves, communicate with your children about what they liked or didn't like about the nanny. Did things work well for your children? Of course, take what they say with a grain of salt, nobody is going to totally replace mom and dad! Bit it's a really good sign if your children are of the age that they can communicate with you. If you hear, "Hey things were great, we would love this nanny to come back and play with us again!", that is a winner!
So, get your children's feedback if they're old enough to be able to do so and let them weigh in on things too.
Tip #8: Don't sit around on a good nanny
By sitting around, I mean if you met a nanny and are feeling optimistic about working with them, chances are other families are going to think they're great nannies too.
Most nannies I know are going to be interviewing with multiple families at the same time, so you're probably not the only family that they're considering working with.
So, if you meet a great nanny, just know they're shopping around with other families as well and make that job offer if they're fantastic. It's happened multiple times, I can think of recently where families are like, "Oh this person's great, maybe I want to interview another person." That's fine, but just keep in mind you could lose out on a great nanny.
So, if you do want to make that job offer, go for it and don't delay!
It doesn't have to be anything formal, you could start by making a verbal offer and just say, "Hey, we would really love to work with you, we'll send an email message later to confirm the details but what do you think? Are you interested in working with our family?".
It's really heartbreaking when a family says, "Yes we want to work with this nanny, we're going to make them a job offer", and they wait just a touch too long and they lose out to another family, that is a tough pill to swallow. So, don't let that be you.
You want to make an informed decision, but also trusting your gut, going with information that you have. If you have a great nanny you've interviewed and you want to work with, let them know as soon as possible, so that you don't lose out to another family!
Alright everyone, that's it for Tips #5 through #8 for interviewing your nanny.
In summary, we covered:
#5: A great nanny will interview you
#6: Trust your gut
#7: Consider a working interview
#8: Don't sit around and wait
I hope this information was helpful, as you navigate how you should be interviewing nannies. If you liked this video, please click the like button, subscribe, ring the bell so that you can be alerted when more of these great videos come out next time.
Please join us next time when we cover Episode 8, "Making A Job Offer To A Nanny".
Alright thanks everyone, I will see you next time, bye!