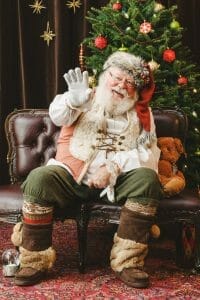 Don't hate me for talking about Santa pictures before Halloween. I'm the first to frown at the early Christmas decorations in stores. I think they should at least wait until the beginning of November!
BUT if I wait to let you in on this fabulous discount I just arranged, it will be LONG GONE! (Sorry, not sorry, Halloween.)
Braving the long lines and limited parking at area shopping malls so that our children can sit with Santa for 60 seconds or so has been a tradition in our house. A tradition that truly isn't that enjoyable for my husband and I nor our children. The whole experience can feel rushed and "cheap".
So, I set out to find a less chaotic and more magical experience for our family. I found something amazing that I wanted to share with you and your family. But hurry, there are limited spaces and they are booking up quickly! Continue reading "Santa Photos in October! Have I Gone Mad?" →