There is so much to love about the holidays in the Seattle area!
We love finding new ways to create lasting memories and also begin new traditions each year, or find new and unique shops for finding that perfect gift. Some are nice to check out a time or two, and some have become favorite outings or shops that my family looks forward visiting to annually.
This year, I chatted with dozens of NPC members, friends, and neighbors to come up with Seattle's FAVORITE Holiday Things. I wanted to hear about the traditions, shops, events, and activities that people enjoy this time of year.
So, what are Seattle's Favorite Holiday Things? Here is what Seattle residents are buzzing about this year:
Favorite Thing #1: Fun with Trains…and Boats!
The Santa Train has been a favorite tradition for families in the area since 1969. Hop on the train at the North Bend Depot for a quaint ride to Snoqualmie. While there, check out the Snoqualmie Depot for a visit with Santa Claus. Our family has gone before and it's really fun! Enjoy cookies and cocoa or coffee on the Museum's restored railway kitchen car and visit local shops and attractions before the train ride back to the North Bend Depot.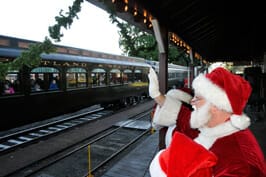 If you go: Unfortunately tickets for this sold out as I wrote this on December 2nd this year. Make sure to plan ahead early for 2020, or click here for additional events for train enthusiasts.
The Polar Express Train is a magical, 90 minute experience for all to enjoy. Passengers board the train in Elbe, Washington and enjoy entertainment by costumed performers as they travel the scenic route to the "North Pole" at their museum. Here, Santa boards the train and gives passengers a special gift! Enjoying the Polar Express Train is a day trip from Seattle. My oldest (12) has done this and gives it a thumbs up (though what he talked about most was how he thought one of the actresses was kind of into him)! 😀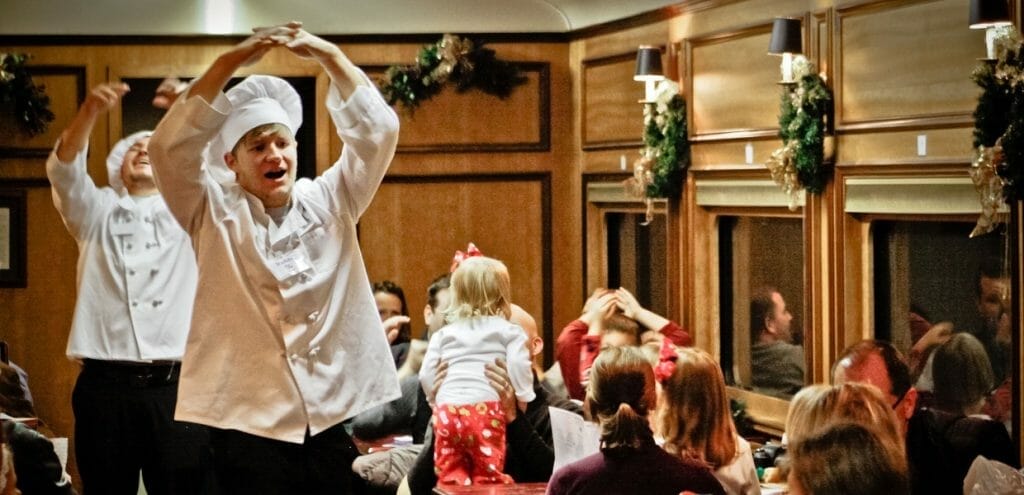 If you go: Kids 0-2 ride free, tickets for kids ages 3-11 range from $27-$64 depending on what coach you select and the date you select (weekends are more expensive), and tickets for passengers 12+ ranges from $38-$75. Consider making a weekend of it by taking advantage of one of these lodging package options.
This elaborate set up is sure to delight train fans young, vintage, and somewhere in between. Several model trains operate through the village and around the track. We took the kids earlier this week and they were mesmerized by the trains and different parts of the village that move.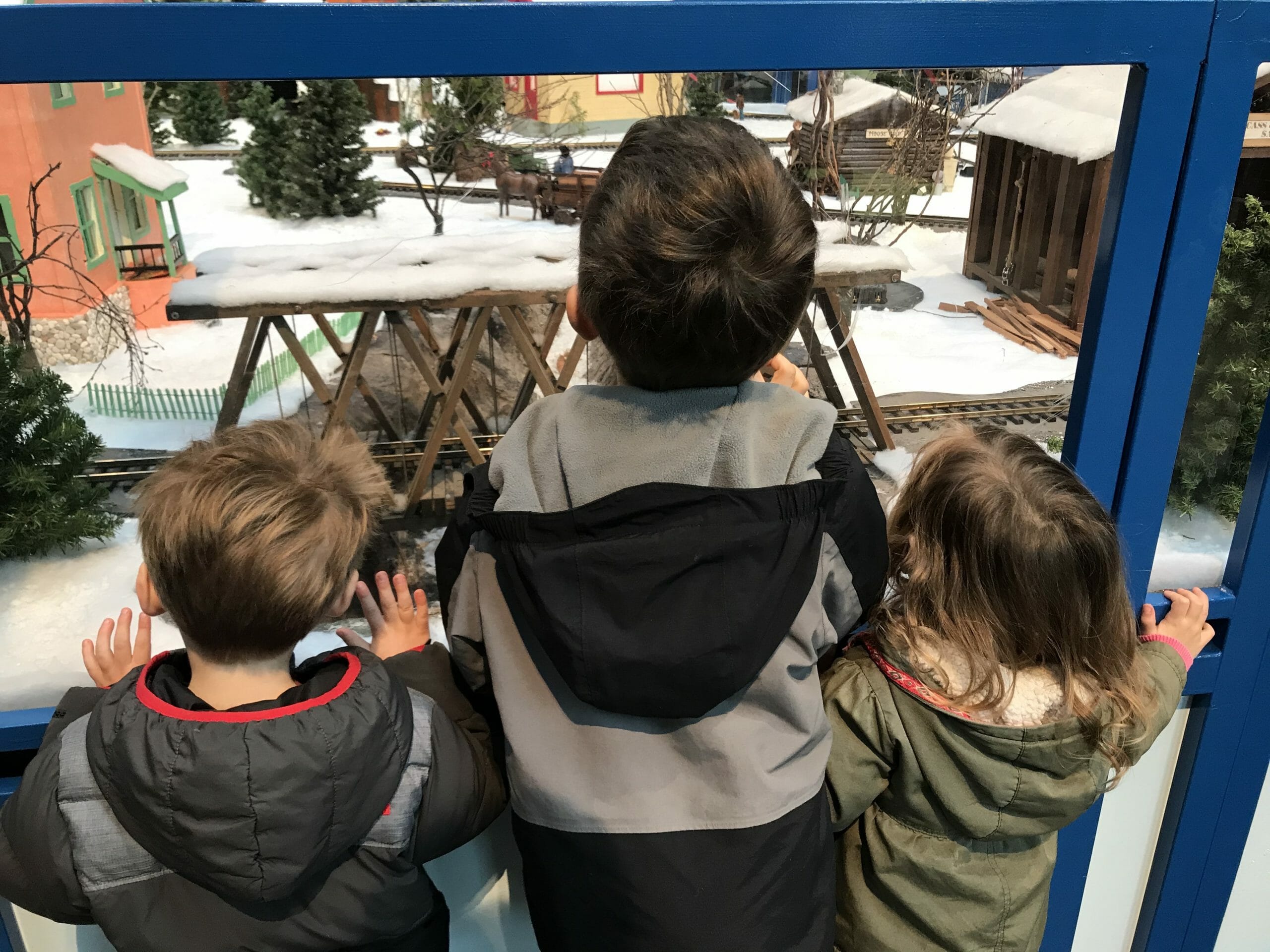 If you go: This is just one of the MANY free offerings of Seattle Center's WINTERFEST celebration, happening through December 31, 2019. Check out all the events and performances by clicking here.
This old standby is back this year with a Scandinavian "Frozen" theme. The model train display will be up and running through December 30, 2019. We love seeing the new themes they come up with each year, and our kids always look forward to going.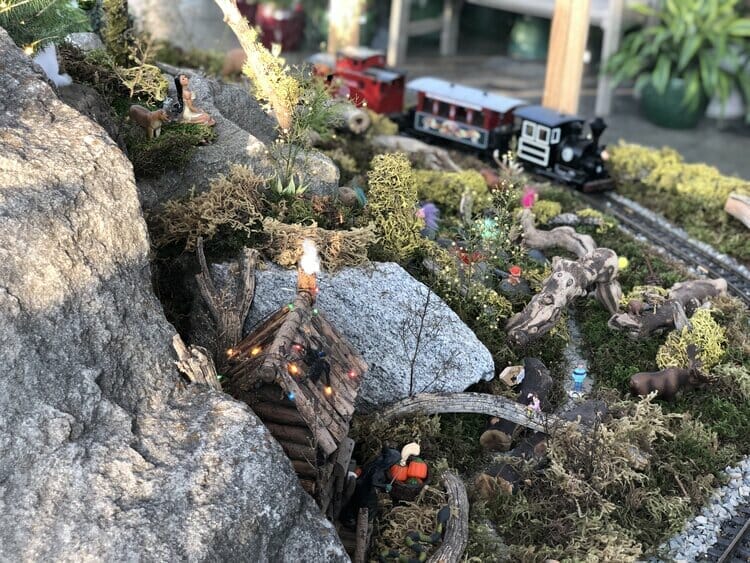 If you go: Make an outing of it! This is just one of many things to do at Swanson's Nursery, which is just a gem of a place to visit either with friends or with your kids. This is a free event. Click here for more information.
Read more about Swanson's below with Favorite Thing #3!
You can enjoy free rides on Louis the Locomotive at Lumaze – a new addition to the Seattle holiday scene this year. This indoor light festival is located at Smith Cove Cruise Terminal at Pier 91, and it's been getting great reviews! We will definitely be checking this out this year. Train rides are free and depart from the station every 30 minutes. Check out all of the additional activities at Lumaze on their website by clicking here.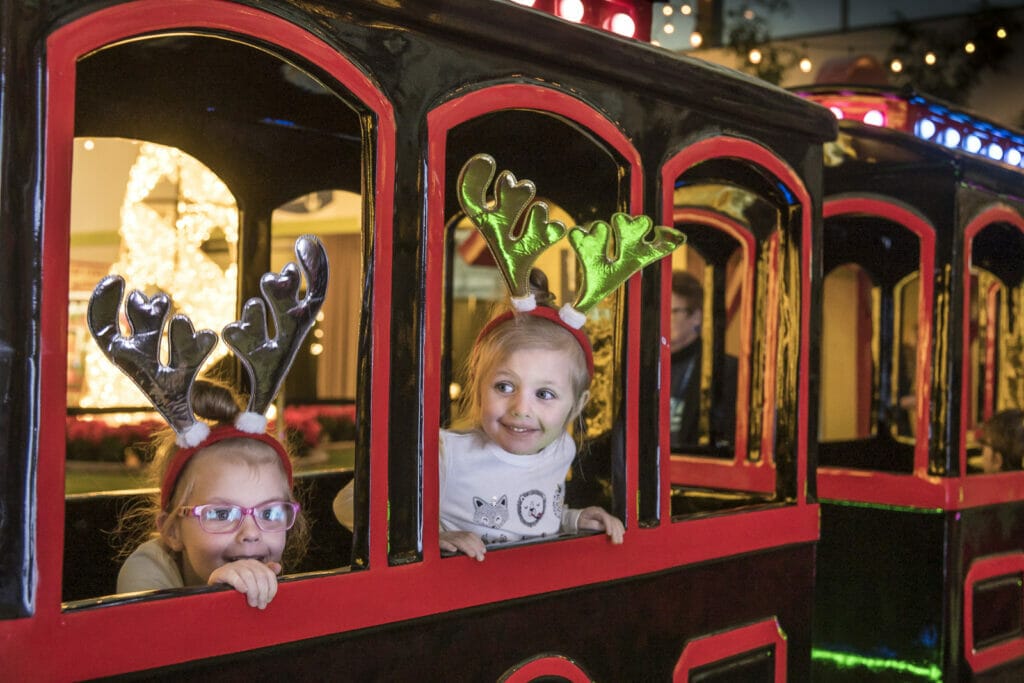 If you go: Children 0-3 are free, and weekday admission is less than weekend pricing. Tickets for children ages 4-12 and seniors range from $14.99-$16.99, and adult pricing is $19.99-$22.99. There are passes available that make more sense if you plan to attend this event more than twice, and family passes for up to two adults plus three children are $65.99 for weekdays and $74.99 for weekends and holidays. There is a $15 fee to park at the terminal. Use code SEATTLE20 for 20% off tickets for select dates. Lumaze runs through January 4, 2020.
**SPECIAL MENTION: if your kids (or you!) just can't get enough trains: the 45th Annual Model Railroad Show comes back to PacSci in January 2020!
The Parade of Boats is happening this year on December 13th. This is a fun event to bundle up and watch from the shores of Lake Union or the Fremont Cut.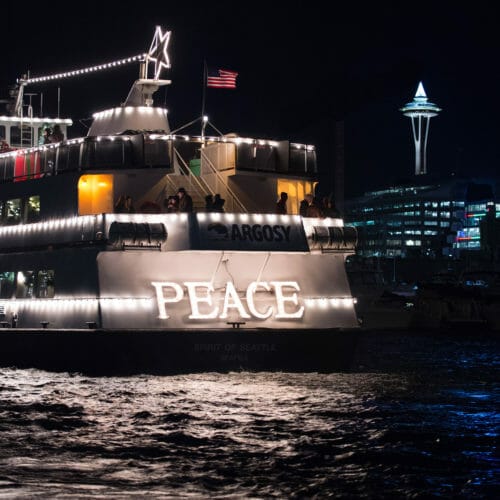 If you go: Bringing along some cocoa and candy canes for the kiddos to enjoy while taking in the beautifully decorated ships and boats can make this an extra special outing!
Maybe actually riding on one of the ships is more your style? The Argosy Cruises Christmas Ship Festival has been running for 70 years, and typically runs from the day after Thanksgiving through December 23rd.
You can boat around various locations in the Puget Sound area in one of the beautifully decorated ships while enjoying carolers, crafts, food and beverages, and a boarding by Santa, of course! Click here for more info about specific sailing dates, times and locations.

Favorite Thing #2: Activities and Outings
The Greenlake Pathway of Lights is a truly special event that happens each year. The walking path and docks will be lit with thousands of candles, and there will be carolers stationed at the Community Center, Small Craft Center, and Bathhouse Theater. Hot air balloons on the lake are part of the display as well!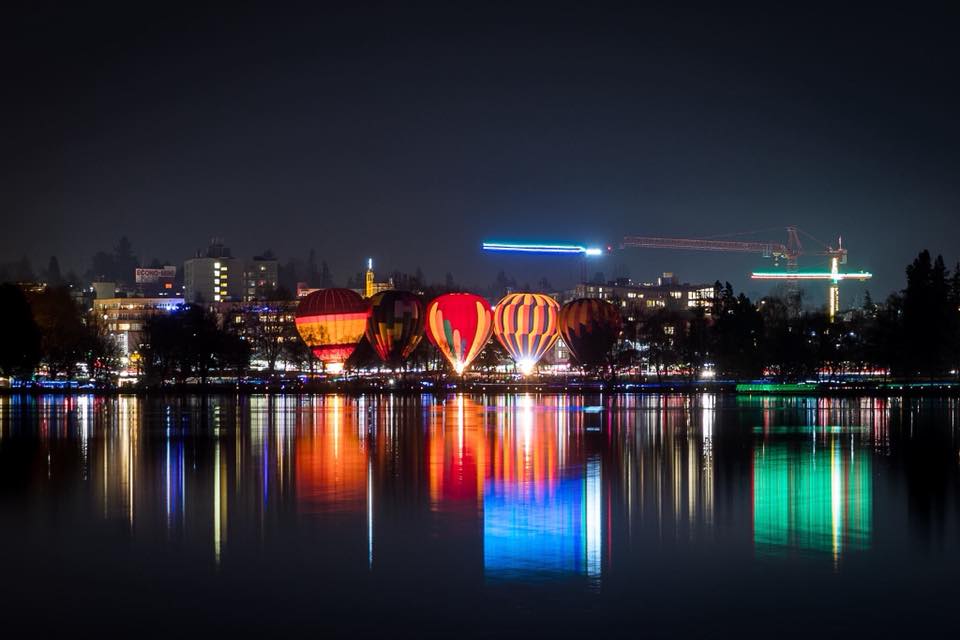 If you go: This is a free event. Pathway of lights takes place this year on Saturday December 14th from 4:30-7:40pm. Visitors are encouraged to bring their own lights, and to bring non-perishable food items to donate to FamilyWorks. Click here for more information.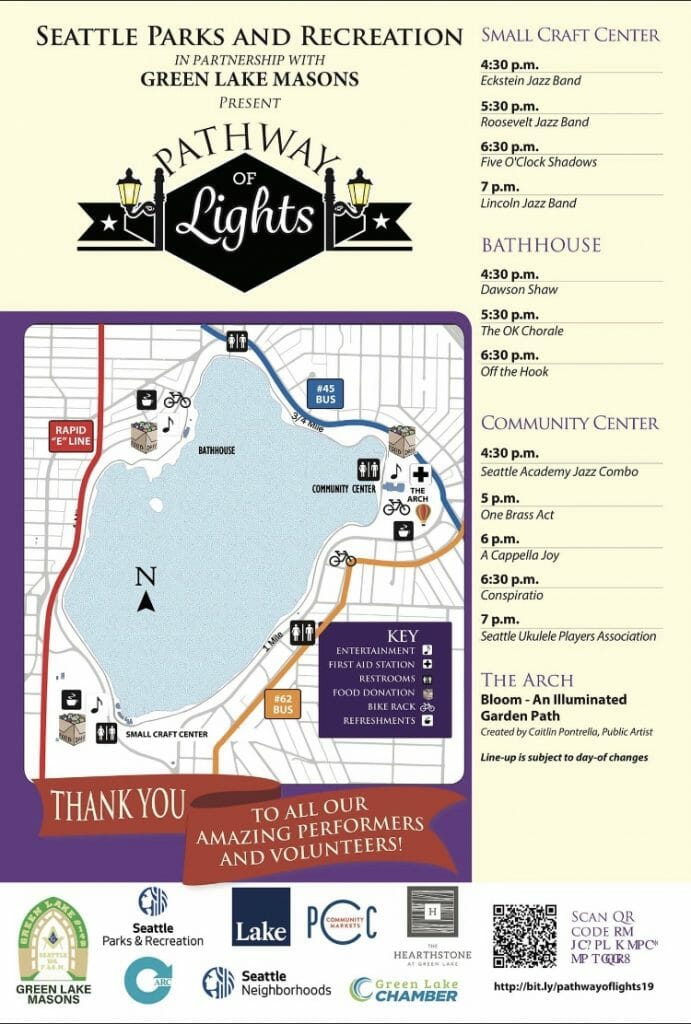 A carousel ride can inject plenty of whimsy and fun into any outing! The Holiday Carousel at Westlake Park is in it's 32nd year running, and has become a seasonal favorite for many families. Take a ride for a suggested donation of $4, which goes to benefit the Downtown Seattle Association's programming and management of Occidental Square and Westlake Park. Click here for more information.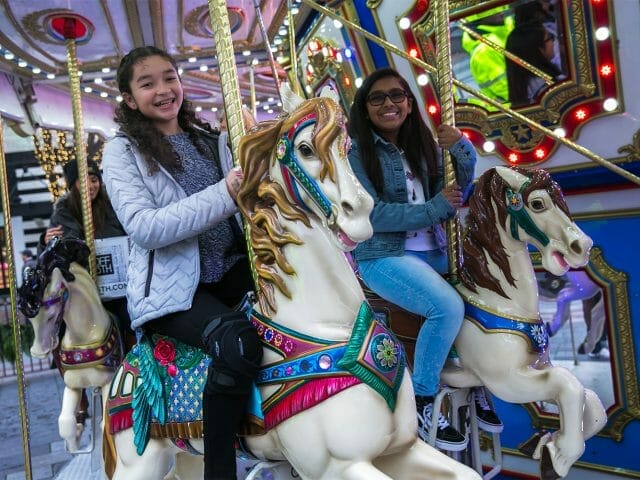 If you go: Make sure to check out the Holiday Craft Market at Westlake Park, running through December 22! (Psst…level up this outing by taking the Monorail downtown!)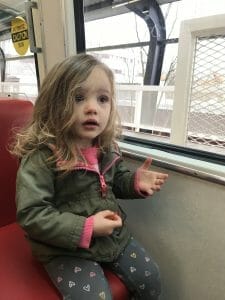 Our two year old daughter, Caliana, confused that the monorail "floats" 🙂
Festival of Trees
The Festival of Trees in the hotel lobby has many creatively decorated and beautiful trees on display. The display ended December 4th, so if you missed it make sure to plan ahead and catch it next year! Location: Main Lobby
The Teddy Bear Suite
This incredible display of teddy bears in a winter wonderland runs through December 26th. While this is free, donations benefiting Seattle Children's Hospital are encouraged. Location: 2nd Floor
Gingerbread Olympic
This gigantic gingerbread house display is made from over 4,000 gingerbread bricks! This incredible creation runs through January 1st, and is sure to get your young gingerbread house engineers fired up for their own DIY creations. Location: Lower Lobby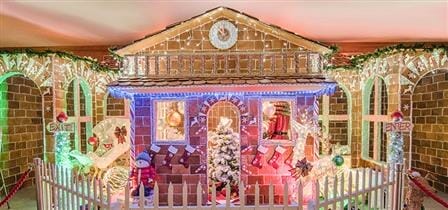 If you go: Holiday Tea with Santa? Why not! This special event happens one day only, on December 15th at the hotel's The Georgian restaurant. The cost is $105 for adults and $65 for children (inclusive of tax).
Regular holiday themed tea times without Santa are available as well ($95/adult and $45/child plus tax and gratuity), and reservations for this can be made through OpenTable or by calling The Georgian at (206) 621-7889. Click here for more information about all of the holiday offerings at the Fairmont Olympic Hotel.
The Gingerbread Village is in its 27th year and is a mainstay on the Seattle holiday scene. This year's theme is "ElfLife". Architects and chefs team up to build the most amazing gingerbread creations you've ever seen! My kids were in complete awe over this when we visited earlier this week. Viewing hours are 9am-9pm, with later hours until 11pm on Fridays and Saturdays through January 1, 2020.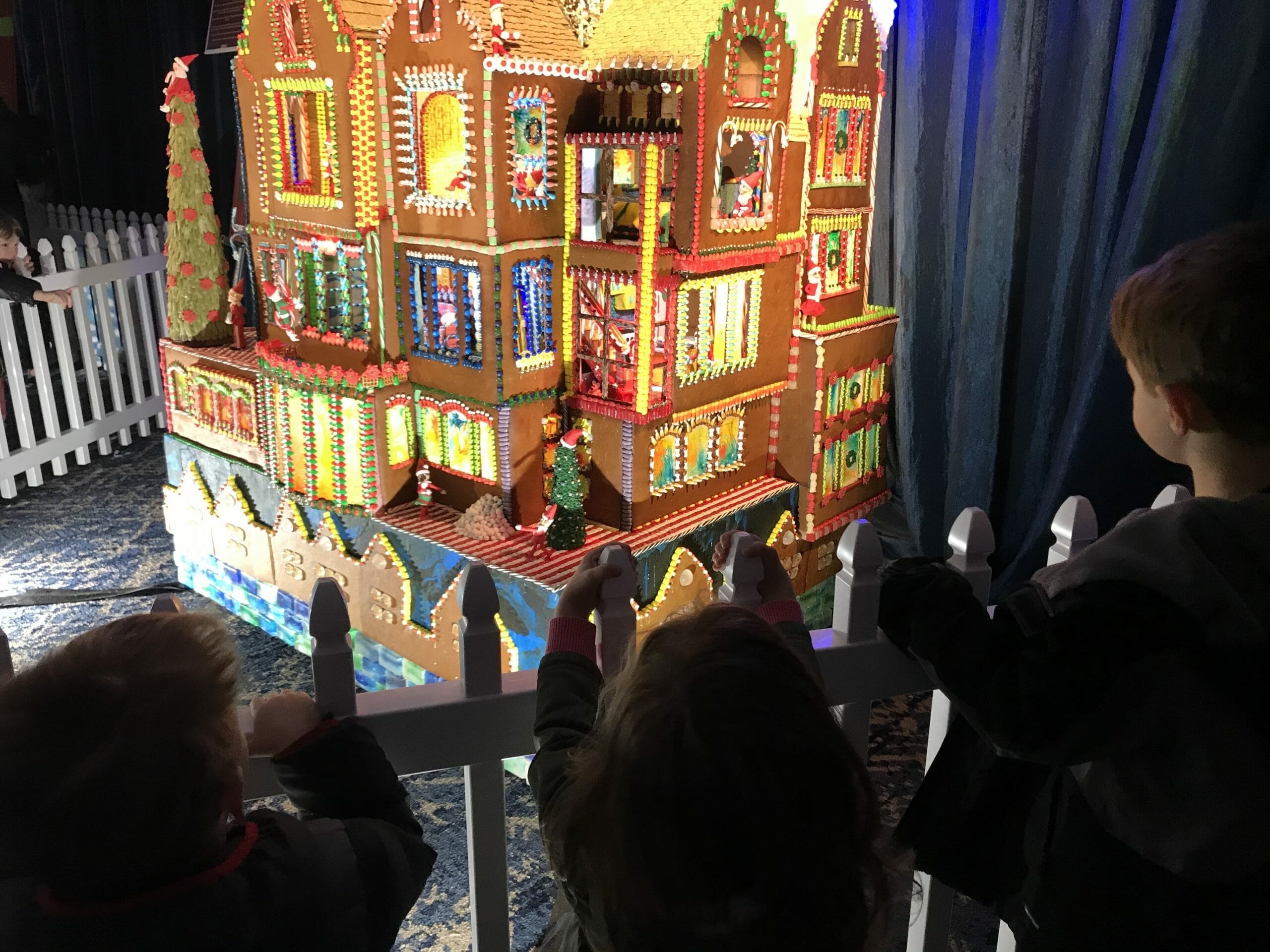 If you go: Admission is free, and donations benefit the Juvenile Diabetes Research Foundation.
Favorite Thing #3: Reindeer Games
This is probably the only opportunity to get up close and personal with reindeer in Seattle, outside of visiting the zoo! Dasher and Blitzen will be on site for viewing through December 24th. There are "Meet the Reindeer" presentations daily. My kids love visiting the reindeer each year!
Visiting the reindeer are only part of the fun at Swanson's. They have a wide array of holiday offerings:
-Model Train Village
-Santa Photos (you can schedule specific time slots!)
-Holiday shopping at their gift shop
-Holiday plants, greenery, decorations, and Christmas trees
-Wandering Santa (he hands out candy canes and doggie treats!)
-Holiday Yurt Photo Op for DIY holiday pictures
-Live holiday music in their pavilion
If you go: This is a free event. Check out their full menu of holiday offerings for specific events, dates, and times by clicking here.
Favorite Thing #4: The Spirit of Giving Back
Questions about volunteer opportunities, and especially finding opportunities where kids can participate, is something I frequently see people asking about in various community groups. Perhaps it's already a part of your holiday tradition to volunteer, or maybe you are looking for ways you can give back. Getting kids into the spirit of volunteering at an early age can teach some important life lessons, and help kids to understand that they can make a difference.
If you or your family would like to get involved with volunteer opportunities in our area, here are several great places that are CONFIRMED to welcome children coming along with an adult to help. (Please check directly with the individual organization for any minimum age requirements. Ages 6+ seems to be a fairly common standard):
This list above are just a few ideas for specific, kid-friendly volunteering opportunities. Doing Good Together is a great resource for finding even more of these types of opportunities.
Favorite Thing #5: Holiday Light Viewing
Pack up the family and head out after dinner to the many local light displays in our area. New this year: Lumaze at Smith Cove Terminal, and it looks to be absolutely spectacular! Many of these events are free, and some like CandyCane Lane accept donations of non-perishable food items for food bank donations. We go out several times each year to check out holiday lights – it's a favorite tradition of ours!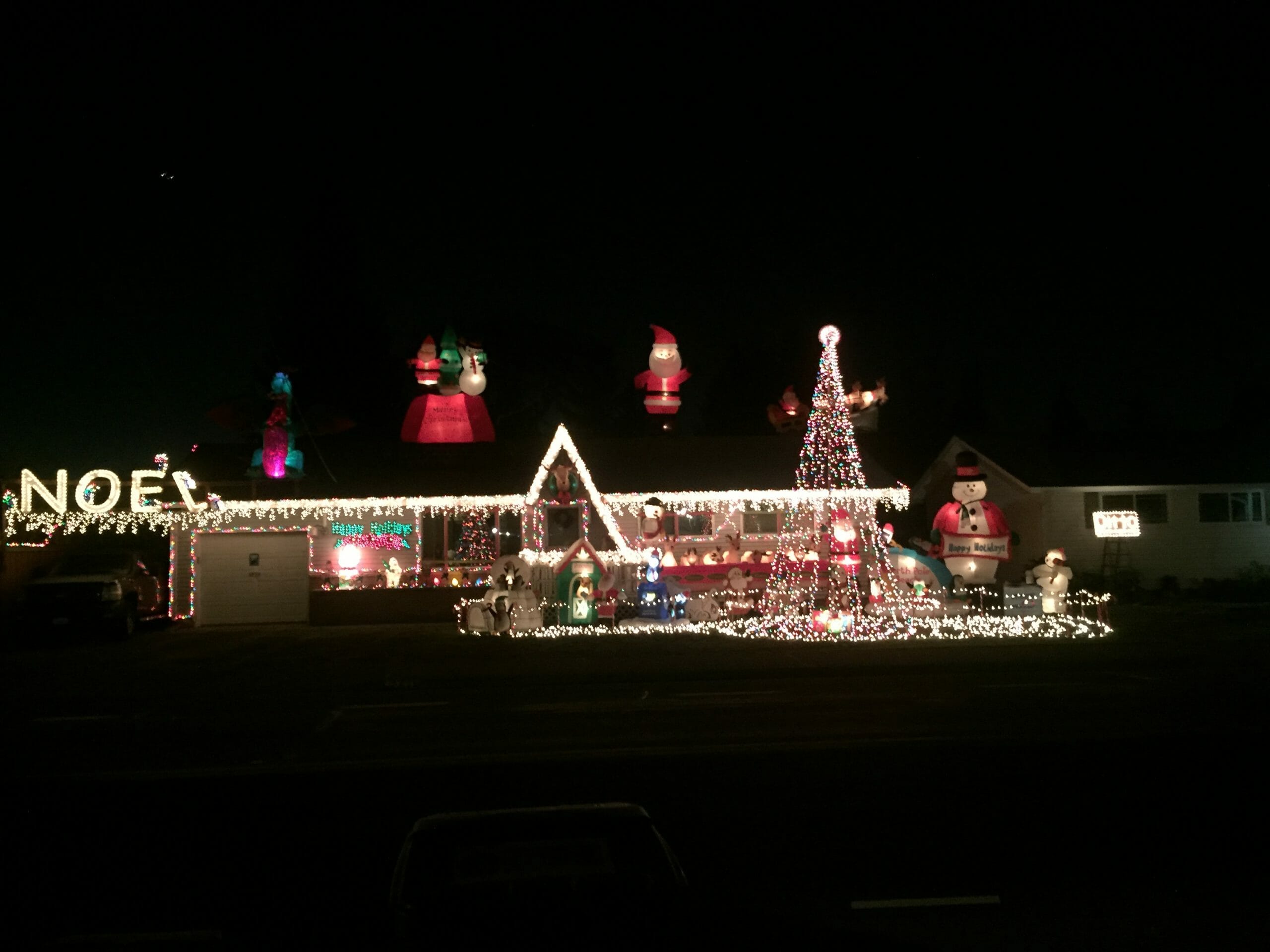 Every year, we update our interactive map of holiday light locations. We just released this year's map and you can find it by clicking here!
Favorite Thing #6: Shopping Local
The Seattle area has so many amazing shops for sourcing those perfect holiday gifts. I asked around to see where people like to go for unique gift ideas in the area, and here were some of the suggestions:
This event features a group of over 120 curated artisans offering their wares. In addition to browsing for gifts, you can enjoy food, live music and dancing performances, purchase wreaths, and much more. I can't wait to check this out this year! Admission pricing is $2 for Phinney Neighborhood Association members and $4 for non members (cash or check), and kids 12 and under are free. Bringing along a non-perishable food item to donate to FamilyWorks in Greenwood is suggested, though not required. Click here to see the full lineup.
You can find something for everyone here. In years past, I have found amazing earrings, hats, coffee mugs (donning spicy phrases, making them the perfect white elephant gift for a friends gathering), toys, art, candles, soaps…you name it. Not only will you find what you're looking for, but you will also likely get to chat up the artisan who made it.
This gift suggestion is so Seattle you will want to bring it some espresso and a 12's jersey. Do you want to gift a little greener this year, do something sustainable with a low carbon footprint? Something without packaging that ANYONE can use (and people actually need)? Look no further than Jon the Farmer.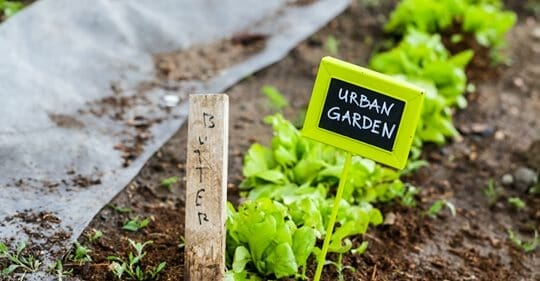 Jon is one half of the local husband and wife team who run this hyperlocal Commuity Supported Agriculture (CSA) business…out of the back yards of community members around the Greater Seattle area. Check out jonthefarmer.com for more information, and if you would like to give the gift of fresh, local, organic produce that is hand delivered by the people who grow it, please email Jon for gift certificate options.
Our favorite toy store! They have an excellent selection of things for all ages and interests – games, books, toys, projects, and PLENTY of things for kids to try out in the store. This is a great place to find gifts and stocking stuffers…or to just take your kids so they can give you gift ideas.
This vibrant shop received the most recommendations as THE place to go to find gifts. West Seattle is outside of my usual routes around the city, but this shop sounds like it's worth a special trip – maybe for the Grammar Police Soap alone (the label proclaims 'Smells Like Your Annoying')! 😀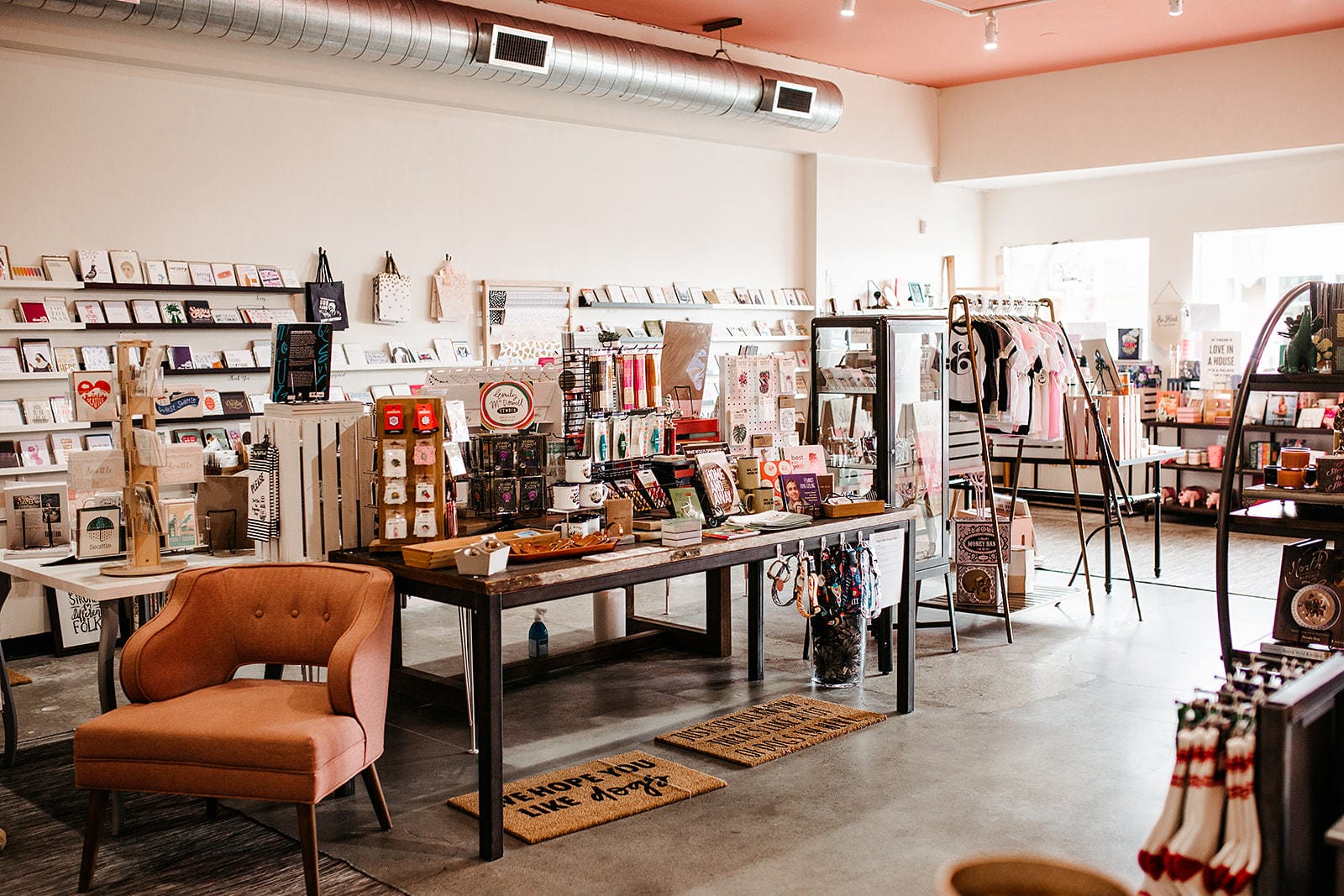 A fun, quaint shop in Phinney Ridge has amazing home decor furnishings and accessories, and fantastic host/hostess gifts and stocking stuffers. The bright, airy shop space is truly inviting and Becky, the owner is delightful. You will likely leave with some inspiration for your own home as well (I sure do)!
**MEMBER DISCOUNT ALERT!**
Get EARLY ACCESS to 20% off all holiday decor at The Phinery (boxwood wreaths, ornaments, garlands, holiday candles, and more) – the regular sale begins Tuesday 12/10. Just mention NANNY PARENT CONNECTION to get this exclusive discount!
The Phinery is open this Saturday and Sunday from 12pm-5pm, so swing in while supplies last.
It's easy to see (or smell) why this is a local favorite. The smell alone will draw you in to the shop from blocks away. Theo Chocolates received top marks for stocking stuffer and small, co-worker gift options (because, chocolate…and you can try before you buy, and I personally recommend doing so). Catch a tour while you're there, too!
A fantastic, socially conscious clothing, accessory, jewelry, and gift store that has some unique finds. These high quality clothing items are all made in either Canada or the US, and they donate two percent of all sales to a different nonprofit each month.
Vegan and fair trade clothing and accessories that are eco-friendly. Shop owner Jean Coburn is a fashion blogger turned shop owner out of her strong desire to be ethical to animals, the earth, and people because the wanted to know where the clothing she purchased was coming from. There are some really great finds here! This shop also donates a percentage of sales to a different nonprofit monthly.
General Shopping Recommendations:
The shops in Old Ballard along Ballard Avenue, and the shops at West Seattle Junction were also recommended as great stretches that are dense with unique shops and nice dining choices for some sustenance while shopping.
Favorite Thing #7 : Event of a Christmas Past
Even two years later, people are still talking wistfully about this becoming a permanent fixture on the Seattle holiday scene. Just…Dumbledore Santa. Click here to check out the magic that happened in the Whittier Heights neighborhood back in 2017.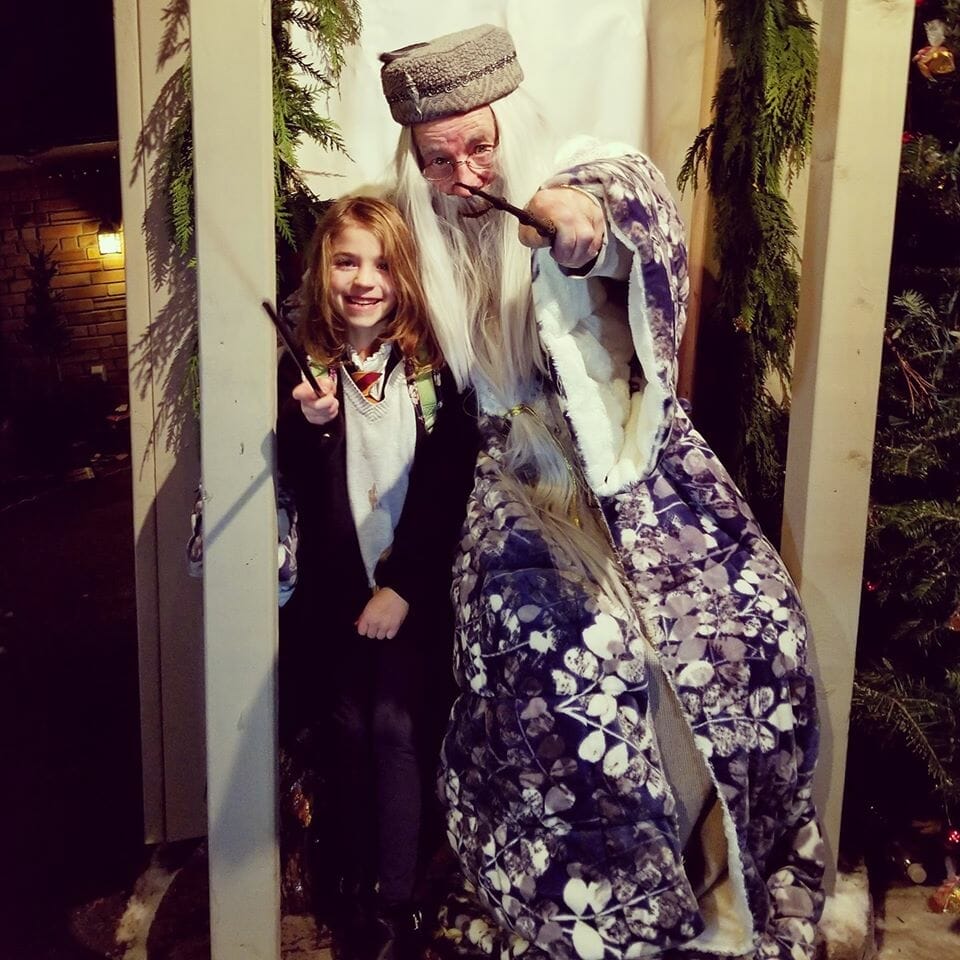 Photo Credit: Jennie Nichols
Upon further research, I discovered that the Chambers family is reconstructing this on a much larger scale at Camp Kory in Mount Vernon, which is super cool!
Runner up/it will do until we have another Diagon Alley pop-up (one can hope)…
A magical pub and wand store is planning to open before the end of 2019 in the Flatiron Building in Ballard. The downstairs will be a pub serving cocktails and traditional English fair, and the upstairs a wand shop and event space. I would expect to see some wizard costumes here on a regular basis. Here's to hoping they have Butterbeer on the menu…and perhaps an appearance by Dumbledore Santa!
So, there you have it! I hope this list gives you some great ideas for activities, events, and gifts this holiday season. Have fun creating those memories, finding that perfect gift, most of all, happy holidays to you and yours!