Hi everybody! It's Laura back with the sixth episode in our series, "Working With A Nanny From A-Z".
In this series, I am going to walk you through the entire process of working with a nanny. From deciding if nanny care is right for your family all the way through how to find, interview, hire and work with a nanny. Basically, everything you need to know from A-Z about the nanny world!
If you missed the first five episodes, click the images below to check those out:
In the first episode, I discussed the different child care options that are available to families.
In the second episode, I went over the costs of each of these child care options.
In the third episode, I touched on how these different childcare options can impact your child…specifically, the "individualization" of each childcare option.
In the fourth episode, we began talking about where and how to find a nanny. Make sure you check out this video as I go over my top four free and paid options for where to find a nanny near you!
In the fifth episode, I discussed how to advertise your nanny position effectively.
In today's episode, "How To Run A Successful Nanny Search", I discuss how to prepare for sorting through applications and beginning the interview process. I touch on relevant information to look for in a candidate's resume or work summary, why a cover letter is so important, and why you should never "chase" a nanny candidate. Basically, everything that you need to handle or think of BEFORE you start your interviews!
To check out the "How To Write An Amazing Nanny Resume video", click here.
Don't forget to subscribe and "ring the bell" on YouTube so that you can be notified when the next episode in this series comes out.
Scroll down to check out the video and I hope you find it useful!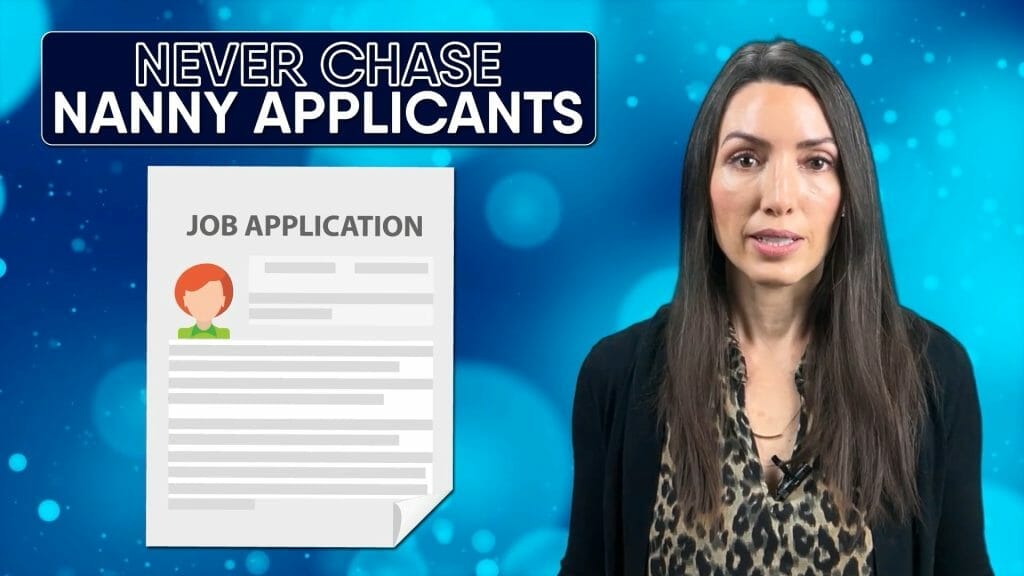 If you found this video helpful, please subscribe on YouTube and share with your friends. Also, please take a moment to check out the other videos we have published on YouTube.
I'd love to hear any comments about how I can improve these videos as well as your ideas on topics you'd like to see me cover in the future. Just comment below!

If you aren't currently a member of our community, we'd love to have you join. Nannies can join our community totally FREE and our Family/Parent memberships start at only $8.99/month!
Don't forget, you can reach me directly via email by clicking here or by calling/texting (425) 243-7032 if I can help you.
A transcript of the video can be found below:
Hi everyone, Laura from Nanny Parent Connection here. Welcome back to my "Working With A Nanny From A to Z" video series.
In episodes one through three, I covered whether or not a nanny is right for your family. In episode four, I discussed where to find a nanny. In episode five, I covered how to write a great nanny ad.
Today, I'm going to discuss how to run a successful nanny search.
So, you've posted your nanny ad and you're ready to receive applications, but are you really ready to receive applications?
Make sure your voicemail box is not full, make sure you're checking your emails, and also make sure that if you're using Facebook to run your nanny search that you know how to see "message requests".
This happens when somebody reaches out that you're not a friend with already, no connections have already been made, and they reach out but the messages don't go straight into your message box for Facebook, that's going to go into your message request folder, and that's Facebook's way of kind of filtering out messages you may not want to receive.
So, make sure you know where you're getting message alerts at, when you're in the message request folder and make sure to check that folder periodically so that you don't miss any important messages from interested nannies.
If you receive an application from a candidate and you don't think it's a good fit, please make sure to reach out and tell them so!
So many nannies are frustrated that they never hear back from parents, and sometimes a message could get missed, sometimes they just don't plan on reaching out to do an interview. Whatever the reason, make sure to reach out and just let them know "Hey I received your application, I'm choosing not to proceed with an interview at this time". It'll go a long way just to help close the loop for the nanny so they're not left wondering if they're still in the running for a position.
As nannies start to express interest for your position, one quick trick to screen or filter out applicants is to make sure that the candidate has sent a resume. This seems like a no-brainer, but there are so many nannies who get positions only from word of mouth, but sometimes they don't have a resume.
Every so often, if a candidate has a ton of experience, I'll accept work summaries, but it's ideal to have a resume. Having a resume of course is going to signal to you that this nanny is professional, they're organized, they have good attention to detail, and they are serious about their job search. A resume also allows you to get a good sense of who the nanny is and what they have done.
Make sure the resume includes all relevant information
As an example, if you need childcare for an infant, make sure that the resume includes infant experience. Or if you need a lot of driving the kiddos around, make sure that the candidate has a valid driver's license and insurance. You will also want to make sure that any of the requirements for the position have been met such as, if there is two years minimum experience required, make sure they are willing to agree to that. If CPR/First Aid certification or COVID vaccination is required, make sure that that is conveyed on the resume. And for any of you nannies who are watching and are wondering what makes a great resume, check out this video I published recently.
When filtering applicants, I also like to make sure that the nanny has included a cover letter of some sort
It's one thing just to be dropped a resume, yeah you know if the resume is great that can also speak volumes in and of itself, but when there's a cover letter, that's a great way to again see that this nanny has attention to detail, wants to make sure that their application is seen and considered, all of those sorts of things.
Including a cover letter with your resume if you're a nanny is a great way to make your application stands out to a parent.
Parents, if you receive a resume that includes a cover letter, you might be looking at a well-organized, very experienced nanny candidate – in my experience, only about 25% of nannies have a resume AND cover letter!
So, that's somebody who is again really serious about their job search, and they mean business, they want to set themselves apart from other candidates.
Cover letters are also amazing because it's a fantastic way for a nanny to tell a little bit more about themselves, so it's not just the nuts and bolts of a resume, it's a little insight as to who this care provider is and maybe even a little about what their approach to care is.
So remember, when that cover letter does come through, just know that you're probably looking at a top-tier applicant!
When you reach out to a nanny, you want to make sure that you also get a prompt response from the nanny
If you reach out but don't hear anything back and it's a great applicant, maybe reach out one more time.
My rule of thumb though is to never chase nanny applicants. If they want to talk to me, they are going to get back to me.
If you have to chase down a nanny, that's not a good first impression, move on to the next candidate. And, when you're filtering and screening applicants, and you decide "Hey this is somebody I would like to interview", you can reach out to them and set up a time for an interview. Usually, this first interview is going to be a phone or Zoom/Skype conversation.
It's typical (and important) for second interviews to be in person, but this first phone conversation, this initial screening, that's a great way to decide if this is a candidate you seriously want to consider. It's really important at this point, of course, for the nanny to be on time for that interview. If you have scheduled time for an interview with this nanny over the phone, it's important that they answer and they're prepared and waiting for that call at the scheduled time.
The nanny should also be prepared for the interview
They should be ready and have answers thought out to some of the typical questions, such as maybe why did you get into this field, why you're leaving your current position, or why did you leave your last position, those sorts of things. If there's kind of an obvious question that a nanny doesn't seem prepared for, note it down, don't let that be the entire determining factor but that is one thing that I find is really helpful is when a nanny just flows with their answers you can tell that somebody who is comfortable and confident in their field, and in their abilities, and usually those are great applicants.
Another great way to help filter out applicants is to do a quick social media search
Do they look really adventurous from their social media? Do you see anything you are concerned about? A quick glance into a candidate's social media presence can help paint a picture of the candidate and their personality.
Also, it's a great way to filter out and screen who you might want to speak with for the interview round.
You will also want to make sure that the nanny can share some references
Now, I don't recommend checking references on your top five candidates, but maybe your top two candidates. This is because, for every job search that a nanny runs, they don't want their references to be called 20 times, that gets really old as a reference.
When filtering applicants, you can also let them know, "Thank you for your application, I will review this, I want to make sure that you have references you can share with me, I'm not going to check those right now of course, but if we get to that stage, I just want to make sure that those are available.".
That's another way parents like you can filter out applications, make sure that they have that information and that they're willing to share.
Alright everyone, that's it for "How to Run A Successful Nanny Search".
If you like this video, click the like button, subscribe or ring the bell, so that you can be alerted when more of these videos come out each week!
Please make sure to join us next week when we cover "Tips for Interviewing Nannies.".
Thanks, everyone, and happy holidays! Take care, bye!