Happy holidays everyone! It's Laura back with a special video about how to include your nanny in your holiday celebrations and traditions.
Your nanny is part of your family and is an important part of your child's life. Now that holiday festivities are in full swing, don't forget to include your nanny. I guarantee you that it will make your child's holiday experience that much more memorable and special!
Check out this video where I go over my top three tips for "How To Include Your Nanny This Holiday Season!". I also discuss what is an appropriate holiday bonus and/or gift for your nanny.
Don't forget to subscribe and "ring the bell" on YouTube so that you can be notified when our next video comes out.
Scroll down to check out the video and I hope you find it useful!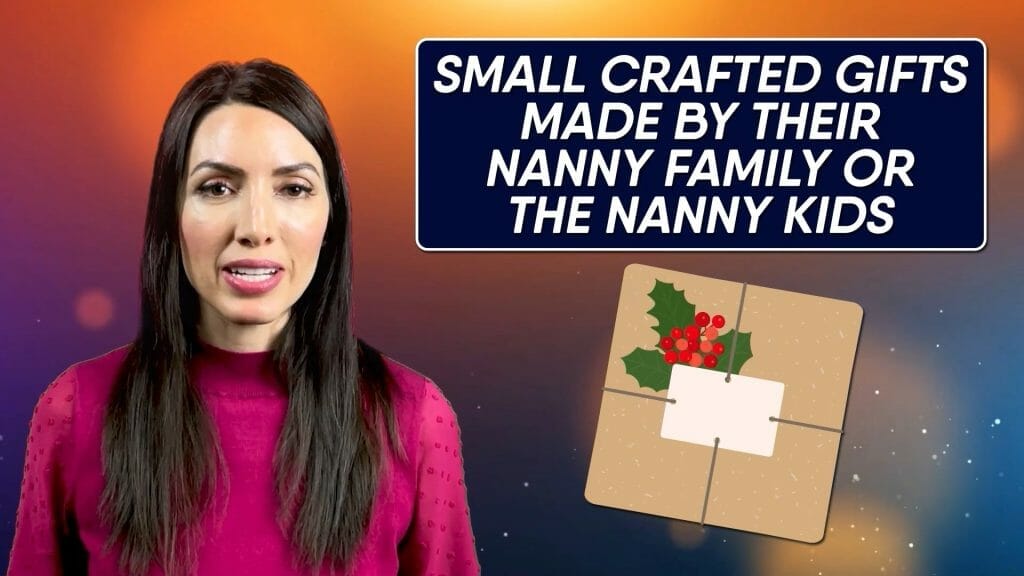 If you found this video helpful, please subscribe on YouTube and share with your friends. Also, please take a moment to check out the other videos we have published on YouTube.
I'd love to hear any comments about how I can improve these videos as well as your ideas on topics you'd like to see me cover in the future. Just comment below!

If you aren't currently a member of our community, we'd love to have you join. Nannies can join our community totally FREE and our Family/Parent memberships start at only $8.99/month!
Don't forget, you can reach me directly via email by clicking here or by calling/texting (425) 243-7032 if I can help you.
A transcript of the video can be found below:
Hi everyone, Laura from Nanny Parent Connection here. Today's video is titled,"Don't Forget To Include Your Nanny This Holiday Season!".
Your nanny is a part of your family. They play an extremely important role in your child's life.
Many families can get a little caught up in the hustle and bustle of the holiday season, and inadvertently forget to include their nanny in such a wonderful time of the year. If you want to make sure your nanny is included in these fun holiday celebrations and not come across as "grinchy", here are my top three tips!
Tip #1: Invite your nanny to participate in your holiday traditions and celebrations
When I was in nanny I thought it was so awesome that my nanny family included me in some of their holiday traditions such as lighting the menorah or trying some traditional foods.
This could also look like sharing a baking tradition with your nanny. In my family we have this huge gingerbread cookie cutter, so we always make these gigantic gingerbread men that the kids really have a lot of fun decorating. This could be a fantastic activity to include your nanny in and maybe your nanny and your child want to do this activity together.
This could also look like making gingerbread houses, or decorating with ornaments, or making ornaments for your Christmas tree. You could also choose to participate with your nanny in a small inexpensive gift exchange or it could even be a really fun "white elephant" gift exchange with the kids
You could include your nanny in some of your holiday light display traditions such as walking or driving around your neighborhood. I can guarantee based on personal experience that if you include your nanny, your child will be so thrilled to have their parents and their nanny along for the ride.
You can invite your nanny to participate in making holiday craft decorations to put up around the house. This could look like the ever-popular paper snowflakes, or holiday paper chains, things like that. You could also invite your nanny to participate in a holiday family dinner.
And, here's one of my favorite tips.
You can sit down with your nanny and get their ideas and input on what holiday gifts they think that your child might like the most. I guarantee there are some things that are not on your radar that the nanny probably has some really great insight into. These could be developmental activities, or toys, or games, or even experiences. So check in with your nanny to see what tips they might have about gift ideas for your child or children.
Tip #2: Make sure to include your nanny in fun holiday activities
These could be things around town, such as the model train displays that happen in many cities or large light displays put up by your city or town, things like that.
I know a lot of cities also have activities where kids can go and see reindeer, that's always really exciting and I know kids come up with a lot of really great questions whenever they see the reindeer and are thinking about the holiday season, this could be sleigh rides, any event like that.
My pro tip, maybe it's not such a pro tip but my favorite tip is to do a Google search.
You can do a Google search for holiday activities just type in your town's name plus the term "holiday activities" and see what results pop up. You can also try using "holiday activities near me". I guarantee you will definitely find some activities that were not on your radar before.
You can also work together with your nanny to include a sense of the spirit of giving with your child.
This could look like gift-making for other friends or family members. Make sure to think this one through, there are popular things out there such as making ornaments, or framed artwork, anything like that would be really "giftable" and cherished by friends or family. So your nanny can sit down with your kids to construct these types of projects or maybe you have a specific project in mind that your nanny might be able to help your child put together.
And here's a tip that I love, find a giving tree.
It might be virtual this year because of COVID, but if you find a giving tree maybe the child is similarly aged to your own and your own child can participate in shopping for a gift that they can give to a similarly aged child. I guarantee that this is going to be really fun and your nanny can definitely help to work through this to take your child shopping, to wrap the present, that sort of thing.
Think about giving trees and how your nanny and your child might be able to participate in that, that'll be a really fun holiday activity and it will help to include your nanny in the holiday season!
Alright, one of my family's favorite things to do, and I already covered holiday lights before, but is to pile into the car. Usually we grab some hot cocoa, some candy canes, and we drive around our neighborhood to find new holiday light displays. There are some in our area that are old favorites, and some that are new that we find every year.
It's always a lot of fun, it's a good adventure, and the kids just have a blast doing this, they look forward to this. We probably go two or three times every week this time of year!
This has become one of our family's most favorite traditions to do every holiday season, and I guarantee your nanny and your child will enjoy going exploring around your neighborhood, and seeing what they can find. It's kind of like a little treasure hunt or a scavenger hunt, it's super fun.
Tip #3: Show your appreciation with a holiday gift, or bonus, or both
I see a lot of conversations online happening about what is a typical holiday bonus for nannies. A lot of nannies I ask this question to say:
"A typical bonus is cash, in the amount of one to two weeks of my salary."
I've also seen some recent conversations happening online that show that many nannies don't get this much cash. It's nice if you can give that of course, but also that might not be in every family's budget. The important thing to know is that cash is the most popular gift on your nanny's wish list if you're giving a holiday bonus.
Another great gift idea is a gift card, this could be for a massage, this could be for their favorite restaurant, this could be for their favorite shop or boutique, or maybe something like Etsy, where they have a wide variety of things that they could choose from. This could also look like a thoughtfully procured gift for your nanny, so maybe you have an idea of what their favorite boutique is, or what their favorite style of something is, or maybe some candles they really love, or maybe they just really love being warm and this could look like special mittens or a special hat something like that.
If you have insight into something your nanny would really love, that would be an awesome gift to show how much you appreciate them!
Many nannies also love things like pedicures. I know a lot of nannies talk about car detailing as the most popular yet ungifted item, that they would really really appreciate especially if the nanny is doing a lot of driving around with your kids in the car. My kids are incredibly messy in my car, I know I could probably stand to get my car detailed a little bit more. So this is definitely a gift that's not on many families' radars that nannies always appreciate. Car detailing, trust me on this one!
Many nannies also appreciate small crafted gifts made by their nanny family or the nanny kids.
This could look like a picture of the child, maybe the child has crafted a frame or done some artwork on the frame. This could look like a Christmas ornament that the child has made, I know handprints are kind of popular, and this could also look like a personalized mug.
You can do some fantastic things if you take a picture of your artwork, you can go on many many websites I know, Shutterfly is one of them, and you can actually get that artwork printed onto a mug. So something that's personalized, the child gets to play a role in crafting maybe it's an art project that the nanny and the child did together and you're putting it on something like a mug.
Small gifts like that are a great addition to a holiday bonus to help personalize things a little bit and to include your child in the gift-giving process.
Alright, everyone, that's it for today. Those are my top tips for making sure your nanny is included with your holiday traditions and celebrations.
I hope you found some things that were helpful, maybe some new tips that are on your radar now that weren't before.
Thank you so much for joining me today. If you liked this video and found it helpful please subscribe, click the like button, ring the bell, and join us next time when one of these helpful videos comes out.
On behalf of Nanny Parent Connection, I want to extend my warmest holiday wishes to you and your loved ones, I wish you a safe, happy and healthy holiday season and New Year.
Thank you so much for joining us, I will see you next time. Goodbye, everyone!