Nannies – looking to make more money in 2023?
Check out my top tips for how to increase your take home pay by hundreds or even thousands of dollars per month!
In this video, I'm going to discuss:
– Work in a Nanny Share
– Earn Certifications
– Work as a Doula
– Take Career Advancement Courses
– Focus on Gig Work
– Get the Word Out About the Services You Are Offering
– Verify Yourself
I hope this video helps you hit your financial goals for the year!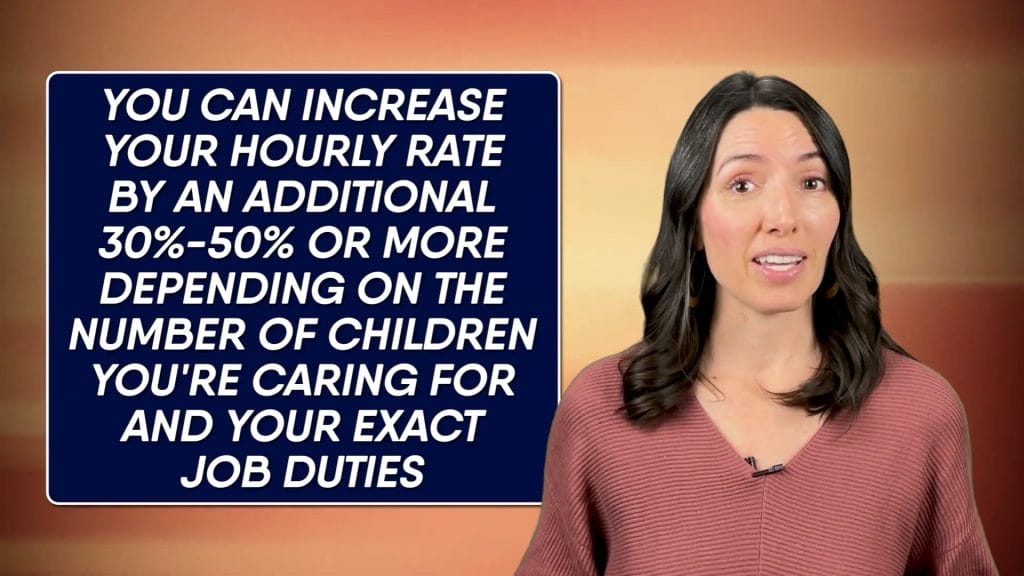 If you found this video helpful, please subscribe on YouTube and share it with your friends. Also, please take a moment to check out the other videos we have published on YouTube.
I'd love to hear any comments about how I can improve these videos as well as your ideas on topics you'd like to see me cover in the future. Just comment below!

If you aren't currently a member of our community, we'd love to have you join. Nannies can join our community totally FREE and our Family/Parent memberships start at only $8.99/month!
Don't forget, you can reach me directly via email by clicking here or by calling/texting (425) 243-7032 if I can help you.
A transcript of the video can be found below:
Laura from Nanny Parent Connection here.
And today, I'm going to talk about how to make more money as a nanny. I hope you find this useful!

Work in a Nanny Share
Nannying in a share for two or more families at the same time is a fantastic way to increase your hourly rate.
Being a nanny share nanny does require a special skill set.
You need to be able to successfully manage and care for two or more children at the same time, as well as successfully communicating and working together with two sets of parents.
Working in a nanny share is not for everyone, but if it is for you, you can increase your hourly rate by an additional 30 to 50 percent or more depending on the number of children you're caring for, and your exact job duties.
Earn Certifications
You can get certified to become a newborn care specialist or a doula, and you can then market yourself as a night nanny or a sleep training consultant.
By seeking out specialized training opportunities, you can increase your hourly rate and receive top dollar for your services.
Work as a Doula

Newborn Care Specialists can make $35 to $45 dollars/hour or more compared with $25 to $30/hour as a baseline rate for single-child nanny care.
A provider who specializes in sleep training, or sleep training consulting can make anywhere from several hundred dollars up to several thousand dollars depending on the exact services being offered.
Take Some Career Advancement Courses
Montessori, gentle parenting, love and logic, attachment parenting, and gentle or positive discipline are very popular types of parenting styles.
You can ask your current employer if they would be open to covering the cost of any of these types of classes.
So that you can further specialize the type of care you are providing in the family's home.
The experience gained from these types of courses will create value for the current and future nanny positions that you hold. They will also give you a competitive advantage over other candidates, you will also likely be able to command several dollars per hour more due to your specialized knowledge.
Focus on Gig Work
A great way to make additional income is to seek out opportunities for date nights, overnight care, or weekend care.
I have seen many families advertise that their current nanny is offering this type of care in an effort to fill their schedule.

Parents love direct recommendations from other families who have worked with you before.
Having your current family give a direct recommendation is a fantastic way to pick up additional care opportunities.
The additional income opportunities are endless with these.
If you're in the Puget Sound area make sure you check out Nanny parent Connection's Last Minute Care Service. It's free for care providers to use, and it's a fantastic way to learn about additional care opportunities.
Get the Word Out About the Services You Are Offering!

In addition to asking your current family to promote your services on social media or within their friends group, make sure they know that you are looking for additional work opportunities, so that they can help to spread the word.
You can spend some time on social media sites such as Facebook, or NextDoor to further advertise your services. A great idea is to put together a one-page flyer that briefly outlines what you're looking for, what your past experience is and what some of your certifications are, in a tidy format so that families can see your information and reach out to you directly.
You May Also Want to Verify Yourself
What do I mean by verify yourself? This means you would ask previous employers 'for letters of recommendation, and you would run a background check on yourself.
Once the letters of recommendation and the background check have been finished and collected, put them together in a folder or binder along with your photo ID, your First Aid/CPR certification, and your COVID-19 vaccination card.
You can also create a digital file with all of this information in PDF format that's easily shareable, or via a Google doc where you can just simply share a link with interested families.
How will this make you more money?
Verifying yourself shows that you're committed, you're serious about what you're doing, you have a clear background and can clearly show that you have some very happy families you have worked with in the past.

When I worked as a nanny, I landed several positions quickly as I showed up to the interview with all of this information in hand and ready to show the parents. This idea will definitely give you a competitive advantage!
And if you're not sure how to go about running a background check on yourself, check out our website we have some fantastic background check packages put together that are simple, thorough, and affordable. Click here to check those out.

Alright everyone, that's it for today!
I hope you found this video helpful.
Please make sure to click the like button, subscribe, or ring the bell so that you can be notified when more of these videos come out in the future, and make sure you check out this video about how to put together a fantastic nanny resume.
Thanks everyone, bye!