The Mr. took our three year old boy and 13 month old twins (boy and girl) to the Alderwood Mall location of Funtastic Playtorium yesterday. He wrote this great post about what the kids (and he) enjoyed the most. Check it out!

Last week, Laura worked out a 15% off Beat the #SeattleSmoke discount with Funtastic Playtorium. I decided to take the three little kids to visit their Alderwood Mall location yesterday. I also wanted to see how easy it would be to redeem the discount.
If you read my post about the Top 12 Things to See and Do at the Woodland Park Zoo (from the kids' perspective), you may recall that I developed the following rating system for the kids to use:
👍👍 – Awesome, amazing, "the coolest ever"
👍 – Pretty cool, "I'm tired of this Dad."
🖐 – Okay, meh, "Wow, look at this – a leaf!"
The twins only can say "uh-oh", "dadda", and "momma" so no "thumbs up scale" with them. Instead I determined their level of interest in an activity based on whether it seemed to capture their attention or not.
We utilized the same rating system for our visit to the Playtorium.
Entering and Paying
The Playtorium (I want to call it Funtorium for some reason) was a bit difficult to find. It is located right next to the main, indoor entrance to JCPenney. The map on the Playtorium website is a bit confusing so I recommend using the Alderwood Mall map to find it.
We entered at about noon and were immediately greeted by three smiling women. There was no wait to enter and we could see about 10 children running around and playing. After reading and signing the waiver, we paid for Unlimited Play Time. The cost breakdown was:
$12.99 for the three year old boy
$10.99 for the 13 month old boy
$10.99 for the 13 month old girl
TOTAL: $34.97
I told the woman helping us that we would like to use the Nanny Parent Connection discount. She immediately knew what that was and applied the 15% savings.
GRAND TOTAL: Just under $30.00
I had the twin BOB stroller with us and asked where we could park it. They directed me to a section where there is easily enough parking for about a dozen strollers.
Toddler Play Area
The first area that we visited was the Toddler Play Area. Limited to kids under three years old (we cheated a bit since the three year old boy is almost four), this area was about 15′ by 25′ and was very quiet. There were soft toys for the twins, a little slide, and a large pegboard with hundreds of gears to connect together. All of the kids enjoyed playing in here and the three year old spent a good 20 minutes building a gear system on the pegboard.
Three Year Old Boy: 👍
Twins: 👍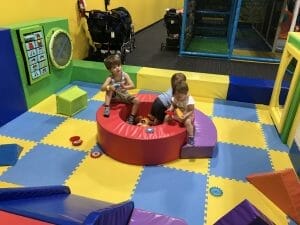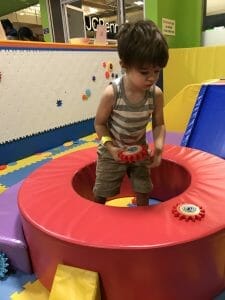 Main Play Area "Jungle Gym"
After about 30 minutes in the Toddler Play Area, the three year old was ready to check out the main play area (or "Jungle Gym" as we called it).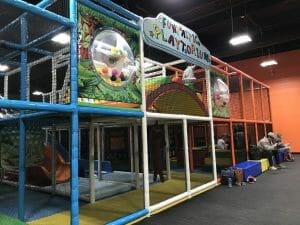 This part of the Playtorium was AWESOME – for both the kids and dad.
There are two levels to this area which spans about 30 feet by a solid 75 feet. There is a trampoline, lots of "spinning" and "push" activities, two slides, bridges, and a host of other various obstacles. All of the kids went CRAZY in here – running and exploring.
The twins especially enjoyed the trampoline area and the slides which they went down by themselves and with dad. They did not like dad hovering over them and trying to corral them.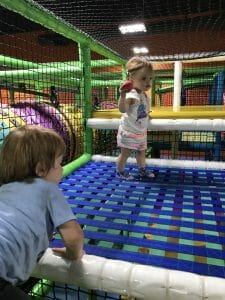 The three year old had a blast climbing over the obstacles and just checking things out. There were about 12 other kids in this main play area and besides a few gentle collisions with the twins, weren't too rambunctious.
We easily spent over an hour running around inside the Jungle Gym. It's fairly easy for adults to run around inside (although a bit difficult for those of us over 6 feet tall – I have the scraped knee and bruise on my head to show for it).
I also noticed that the staff seemed to be keeping a close eye on what was happening inside the Jungle Gym which was reassuring.
Three Year Old Boy: 👍👍
Twins: 👍👍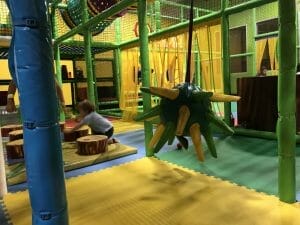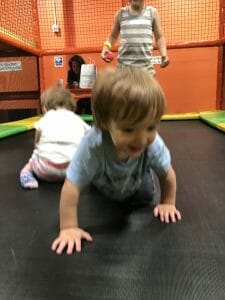 Ball Cannon Room
Based on the time spent and huge smiles that all of the kids had, the Ball Cannon Room was definitely the highlight of our visit. The room is set up with a huge net around it and six ball cannons (three on each side) that shoot very soft balls using compressed air.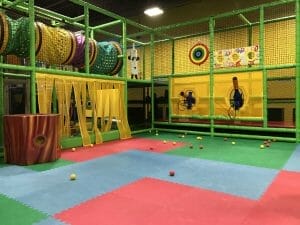 There were about five other kids in this room and the twins had a blast chasing the balls around. I showed the three year old how to use the cannons and it was game over – he quickly became an expert shot as Dad tried to avoid his aim – revenge will be exacted when he is older 🙂
There was also this air table where you could put the soft balls into these cutouts, hit a button, and air would blow the balls up making them levitate. I probably explained how the table worked 10 times to the three year old – "Dad, it's magic!".
Three Year Old Boy: 👍👍 +
Twins: 👍👍 +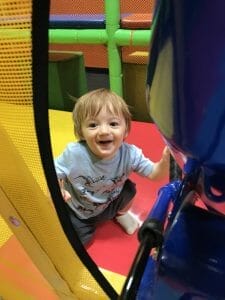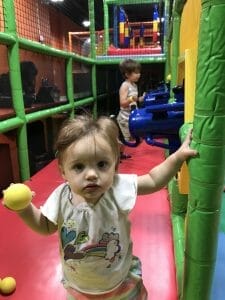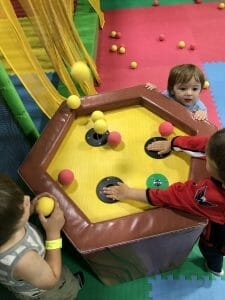 Merry-Go-Round Area
The final area that we visited (and the last one in the Playtorium) we called the Merry-Go-Round Area as it has two very soft sided merry-go-rounds. There was also a light up slide, various soft building blocks, and a couple of see-saws (which my daughter loves). This area was right next to the cashier and was a bit crazy – there were about a dozen mostly older kids having a great time with one another.
We only played here for a few minutes as we had been at the Playtorium for over two hours by now and everyone was starting to get tired.
Three Year Old Boy: 👍
Twins: 👍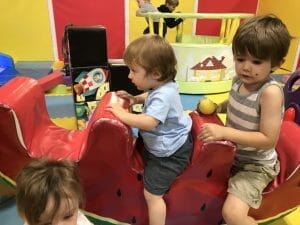 Overall, I was very impressed with the Alderwood Mall Playtorium location. The kids had a wonderful time and all fell asleep within 10 minutes of getting back in the car. If it's a rainy (or smoky) day, consider visiting the Funtastic Playtorium!
PROS:
Very clean
Friendly and attentive staff
Large restrooms (I was able to fit the twin BOB in the restroom we used)
Activities/toys were in good shape and weren't worn out
Good value for roughly $30.00
Easy to redeem Nanny Parent Connection discount
CONS:
PRO TIP: Buy the Unlimited Play Time package when you visit. It's only $1.00 more than the Two Hour Play Time package and you won't have to watch the clock. Also, don't forget that all adults and kids must wear socks.