Want to do something a little bit different with your nanny kids (or own kids)? Need a day or evening out with your girlfriends? Check out the West Seattle Art Nest!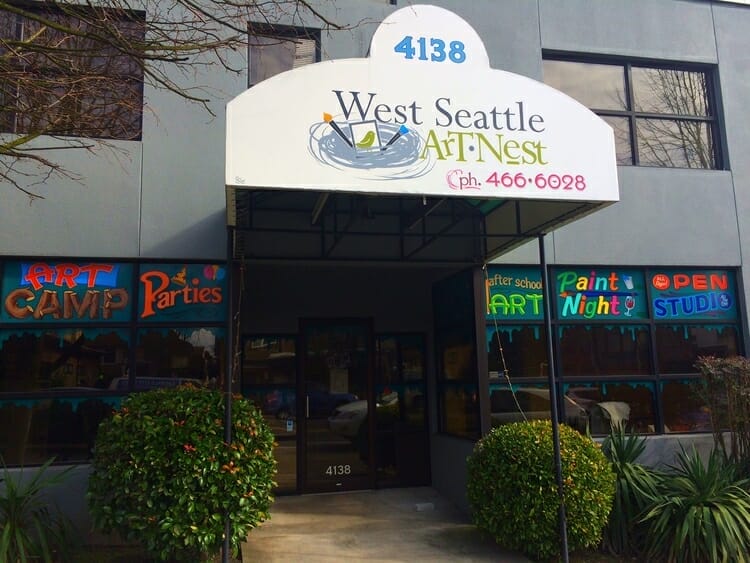 Get creative with their endless crafting options aka "artsploration" (art + exploration… I see what you did there!) with their open studio or channel your inner Picasso in their Paint Room and Splatter Room. YOU GUYS – THEY DO ALL OF THE PREP AND CLEANUP FOR YOU! Just go and have fun! Read on for a SPECIAL DISCOUNT FOR NANNY PARENT CONNECTION MEMBERS!
At the Art Nest, they have numerous projects prepped and ready to go. Open studio time is from 10:00am to 2:00pm Monday through Wednesday, and 10:00am to 5:00pm Thursday and Friday. What's that? Your creativity can't be tamed?
Perfect! Check out their endless crafting supplies to put together your own creation! There is a paper crafts area, a fabric room, a bead room, a recycled arts room, a paint room, and a splatter room where you actually get to paint on the walls!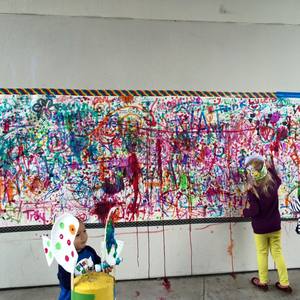 Splatter Room
"The splatter room is a total body experience. It is the one place it is ok to let the paint fly and cover the walls. We recommend not wearing your Sunday's best. The paint provided is washable, but that being said please dress in clothing you do not mind getting dirty and depending on your artist you may want to pack a change of clothes for the ride home."
Paint Room
"This area is the heart of the studio and where most young artists spend their time. We provide tempera paints, assorted watercolors, dotters, finger paints and more. Artists can grab a plan sheet of paper or one of the many prepped paper projects to decorate."
Recycled Arts Room
"One man's trash is another man's treasure. This room is stocked by our wonderful community and includes household recyclables, items from nature and all sorts of bits, babbles, and treasures."
Really Cool Weekly Fun
Messy Playdates happen every Friday from 10:00am to 11:00am.

The messier, the better is their motto!

Pre-registration is required and class size is limited to six art-loving, happy, messy kiddos.
Workshop Wednesdays are the answer to your early-release from school prayers.

Drop off the kids to participate in a variety of projects from 2:00pm to 4:00pm during the school year.
Special Events
Kid Craft Night: Shamrock Slime – Friday, March 16th from 6:00pm to 7:30pm.

Drop the kids off for pizza and slime-making fun!
Family Workshop: Messy Egg Date – Friday, March 30th from 12:00pm to 4:00pm.

They provide the eggs and dye… you just show up.

In addition to dyeing, you will also be marbling, glitter bombing, painting, spraying, and stamping eggs!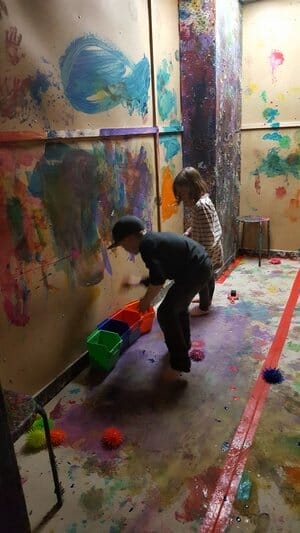 Spring Break & Summer Camps
Spring Break Art Camp – April 10th through April 12th – morning and afternoon options
Schmitz Park & Alki Artsploration Camp – June 25th through June 28th – 9:00am to 1:00pm
Creative Journaling & The Art of Doodling – June 26th through June 28th – 9:30am to 12:30pm
Watercolor Camp – July 10th through July 12th – 9:30am to 12:30pm
Lincoln Park Artsploration Camp – July 16th through July 19th – 9:00am to 1:00pm
Collage & Mosaic Camp – July 17th through July 19th – 9:30am to 12:30pm
Papier Mache Class – July 24th through July 27th – 9:30am to 12:30pm
Magical Mixtures & Clay Camp – July 31st through August 2nd – 9:30am to 12:30pm
Birthdays!
Whether you choose an Open Studio Party, Closed Studio Party, or a Specialty Party, they take care of everything for your little artists. Let the creativity flow in the Open Studio, or choose to have a guided project with an art facilitator. Themed parties can be magical with projects like dinosaur excavations, jewelry making, unicorn slime, DIY spa with bath bombs and sugar scrubs, "My Little Pony" decorating…or just have a Messy Playdate!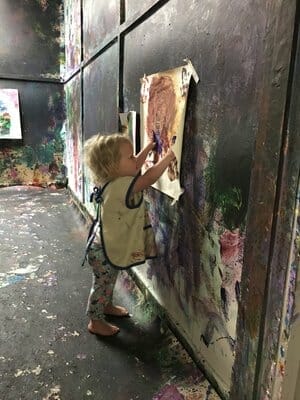 Not Just For Kids!
You can plan a fun group event with your adult friends at the West Seattle Art Nest!
Corporate & Team Building Events – Put a creative spin on connecting with your team.
Pinterest Parties – They work with you to customize your projects and order supplies for you! Did someone just say friends date?!
Bridal & Baby Showers – Create fun memories and make unique keepsakes.
The West Seattle Art Nest has a little something for everyone!

SPECIAL DEAL FOR NANNY PARENT CONNECTION MEMBERS
From March 14th through June 14th, 2018 – Nanny Parent Connection members can enjoy a special 10% discount off the Open Studio and group events. For instructions on how to redeem, click here!
Not a member yet? Sign up today! Memberships start at $2.99/month for care providers and $8.99/month for parents. Click here to sign up.