I received no compensation for this review. Opinions expressed here are solely my own.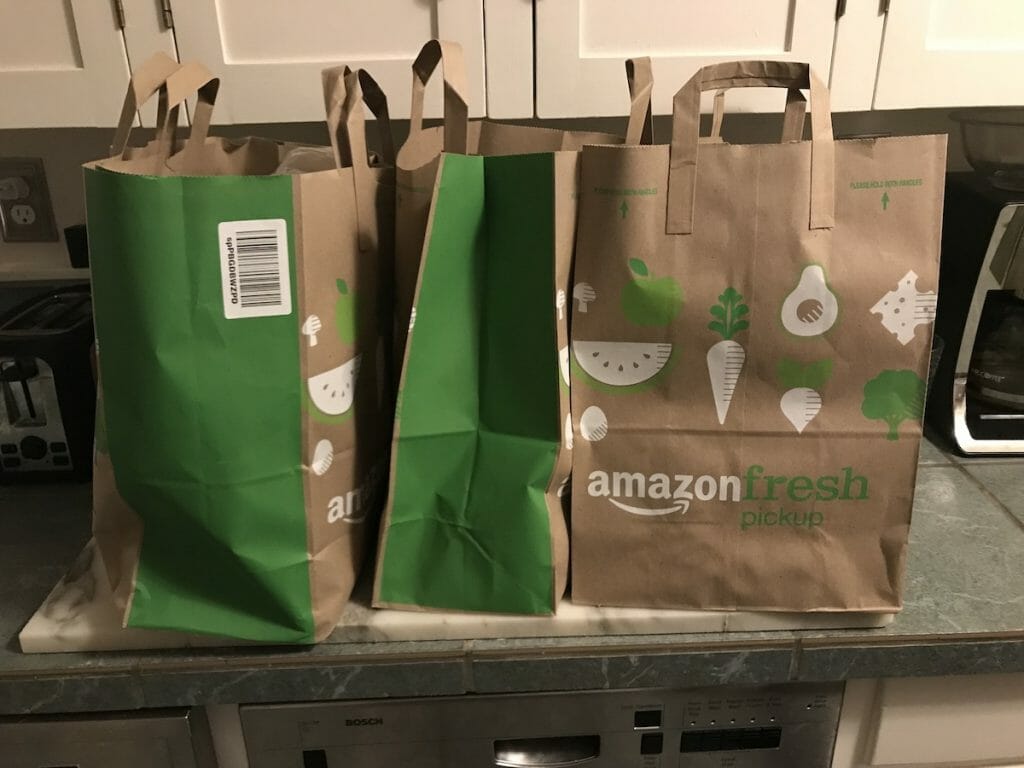 When I found out I was having twins last March one of my go-to lines to tell my dental patients was, "Yeah…you know when you see a mom with four kids…in the grocery store…with two shopping carts…and you feel a little sorry for her? So that's going to be me!" I say that with plenty of humor because my children mean the world to me.
However. Any time that all four must accompany me to the store, it is not my ideal situation as it makes for a lot of moving parts (mostly my toddler). Also, you can't fit two carseat carriers in the cart and have room leftover inside for the actual groceries, so then one has to go in the Ergo, etc, etc.
Shopping for groceries is lovely if I can do it alone.
It's like a mini spa day for me if I can get a coffee to sip as I stroll through the aisles at a leisurely pace (yes my definition of things that are like a mini spa day has evolved quite a bit over the last few years. Seriously, no – let me go to the post office. Please!). Basically with four kids you are never going to go grocery shopping alone again. Ever. Again.
Several weeks ago the twins were playing tag team with their naps and feedings. A planned trip to the store had evaded me all day and as dinnertime loomed I panicked. I quickly downloaded the Instacart app and I had groceries delivered to me in two hours.
Fast forward two weeks and I somehow missed that if I didn't cancel after the trial period my card would be charged $149 to continue to use the service. Yikes! $149? Highway robbery! Thankfully I canceled the day I was charged and was able to get a full refund.
I was approached by one of our members who works with AmazonFresh Pickup to see if they could post a coupon for our Nanny Parent Connection members. I thought that it would be something the group members would be interested in so I gave them the go ahead.
I was also curious to try it myself
The beauty of this service is that you order groceries with the ease and guarantee of the Amazon platform- and then you get your groceries from a pickup location in either Ballard or SODO. I have been hearing great things about AmazonFresh from friends and neighbors for a while so I thought I would give their pickup service a try. I'm already an Amazon Prime member (is there any other way to order diapers?!) so the service is free for me.
The Inner Tug of War
I should share that making the decision for someone else to select groceries – especially produce – for me was not an easy one. I used Instacart out of desperation, but now I was willfully handing over the reins with my grocery shopping.
I'm a self-proclaimed apple snob (not sure if that's really a thing) because I grew up on a farm with apple trees. I have certain standards, (EDIT: Yes, apple snobs are real) so this made me a little nervous. Would the apples I ordered be just right? Would the bananas I received be in that perfect state between unripe and overripe? Would the lettuce be good? The strawberries and mushrooms fresh? Also a big one for me – would the prices be comparable to my usual go-to store, Fred Meyer?
My Order
I liked that I didn't have to download another app to use this service. I simply opened my Amazon app, clicked on the three horizontal lines button on the upper left (I just learned this is called a Hamburger button!) for more menu options, clicked on 'Shop by Department' and found AmazonFresh right away.
Since I wanted to get a good feel for the service I spent quite a lot of time browsing the available items. There's no minimum order requirement which I thought was nice. I chose things that were already on my shopping list (like lettuce, ground beef, yogurt) and added several more that caught my eye with good prices (strawberries, mushrooms, sausages).
Everything was thoughtfully organized and the prices were comparable or better than those I'm familiar with at Fred Meyer. I should mention they happened to be having a 25% savings on produce during my visit. I was able to do all of this from the comfort of my couch between feeding my twins and reading to my toddler!
I placed my order around 3pm and chose a pick up window of 8-10pm. It would have been ready several hours earlier than 8pm but I didn't want to pick my groceries up around the dinner hour. If you pay to upgrade service your groceries can be available for pickup just 15 minutes after you place your order.
I received a notification on my phone just a few minutes before 8pm and arrived at the Ballard pickup location minutes later. Someone came right out and I gave them my name, then my three bags of groceries were brought out and loaded into my trunk. I was on my way back home in minutes. And, I didn't have to unload my toddler to do anything! Win!
Unpacking My Bags
I had no doubt that my order would be accurate – this was Amazon I was dealing with, after all. The true test for me was the quality of the produce. This service had already proven to be convenient, quick, easy to use and economical. But would the produce be what I would choose if I were picking it out from the store myself?
I was seriously impressed with the quality of the produce in my order! All of the produce was absolutely beautiful. The mushrooms and lettuce were perfect. The bananas were yellow with a hint of green. The next morning the strawberries were quickly devoured because they were so delicious.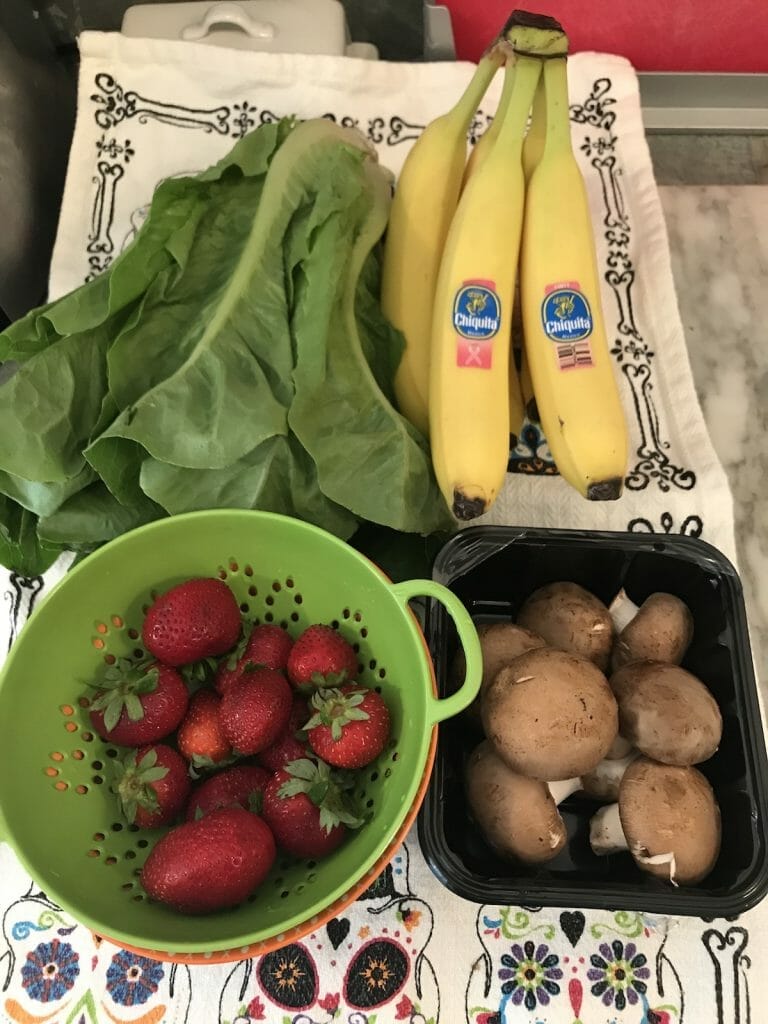 My only complaint, and this is not Amazon's fault but really pertains to my own preference for apples, was that the organic Fuji apples in the three pound bag that I ordered were not really flavorful. But that can happen sometimes when I choose my own apples as well. They did, however, have a nice, firm texture about them.
Overall I was extremely impressed with AmazonFresh Pickup. I placed my next order just three days later. I ordered some of the same things like strawberries, bananas and mushrooms, and some different things like chicken sausages, broccoli and blueberries. Again the quality of the produce was very good.
My Family's Reaction
My husband was also very impressed with the quality of the produce. I served my boys some broccoli with dip for a snack that evening. My 10 year old actually told me that the broccoli was "really good"! My two year old asked for seconds. Believe me when I say that has never happened before. With broccoli. I can also attest to how delicious and fresh-tasting it was.
Will I Keep Using AmazonFresh Pickup?
A week later, I was pondering whether I should go to Fred Meyer with the twins in tow or just order with AmazonFresh Pickup. I ended up going to the store for several reasons: I wanted to pick out my own apples, I wanted a loaf of fresh-baked sourdough bread (not available through Pickup that I could see), and I wasn't in a time crunch. However if it weren't for the bread and apples I would have probably ordered through AmazonFresh. AmazonFresh Pickup will definitely be a staple in my household with the quality, prices, selection, efficiency and convenience the service has to offer.
Have you used AmazonFresh Pickup? What was your experience? Comment below!