The husband takes our kids to Carkeek Park several times a week during the summer to run around, climb on the playground equipment, and dig in the sand. All of our little ones are fascinated by the freight, Sounder and Amtrak trains that go zooming past several times per day. So he came up with a novel idea: a train ride for the kids! Read on to hear about their adventure…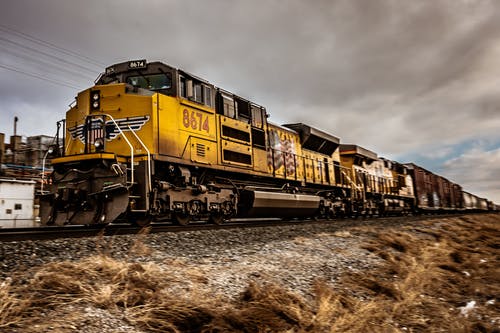 Laura is correct – our kids are absolutely fascinated by trains. So I decided to take them on a train ride! Given the fact that our twins are two years old and still require a nap in order to prevent insanity and meltdowns, my #1 goal with this train trip was to have it last no more than three hours "door to door". Also, I didn't want to spend an arm and a leg on tickets.
Unfortunately, we are a bit limited in our area with passenger heavy rail service. We're stuck with either Amtrak or the Sound Transit Sounder which runs from Everett to Lakewood.
Amtrak
Proposed Route: Everett to Tacoma
Being a native of Seattle, I can recall from an early age hearing adults speak pretty poorly about Amtrak and its service. While I have never ridden an Amtrak train before, I do hear from friends/family that the service is much improved although you do need to be aware of delays and service interruptions.
My initial thought was, "Hey, let's jump on an Amtrak train from Everett to Tacoma and then come back". Yeah….that didn't happen. Here's why:
Note: I consider myself pretty tech savvy but after spending 30 minutes on both the Amtrak mobile app and website, I could not figure out which trains ran from Everett to Tacoma versus Tacoma to Everett. The destinations were definitely not clear on both the app and the website.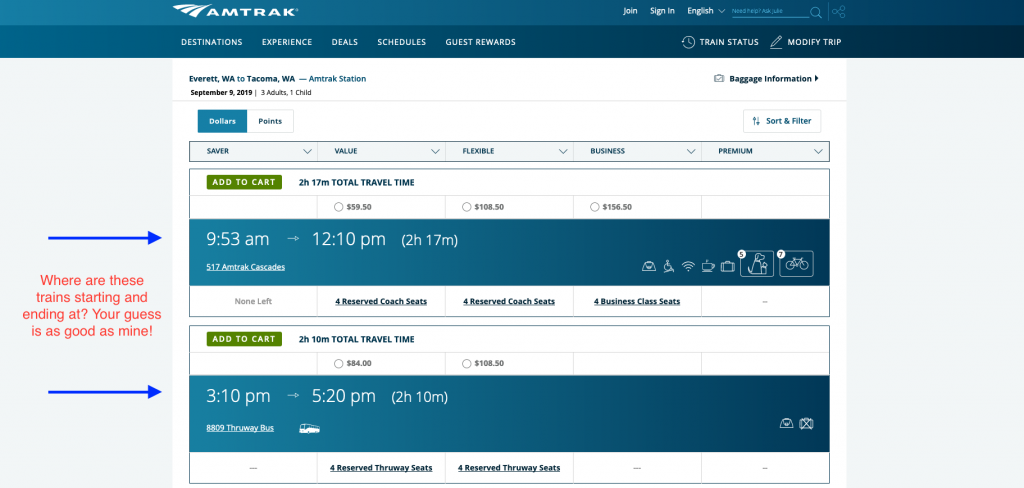 TIME
I immediately realized that there was no way we could take Amtrak and stick with our "three hour door to door" goal. The earliest train departing Everett (I think…see note above) was 9:53am arriving in Tacoma at 12:10pm. That's 2 hours and 17 minutes just getting to Tacoma. I believe that the next train leaving Tacoma for Everett wasn't until 4:00pm. RESULT: No go as it would take almost the entire day to go down and back
PRICE
Amtrak offers a discounted fare for a child traveling with an adult. But that discount only applies to one child. I was going to have three children (Lucca who is four years old and Caliana and Lincoln who are two years old) with me. So one child would fall under a discounted fare but the other two would have to pay full adult fares! The cheapest fare I could find for the Everett to Tacoma leg was $59.00 for all four of us. Assuming that it was going to cost another $59.00 for the return trip (again, I couldn't figure out the routes), the total cost was going to be around $120.00 not including any taxes and fees. RESULT: Way too much money for what is supposed to be just a quick little train ride
So Amtrak was a bust. My next thought was to try and ride the Sound Transit Sounder Train from Everett to Seattle. Very similiar to Amtrak and I hoped the schedule was going to be easier to understand and the pricing cheaper.
Sound Transit Sounder
Proposed Route: Everett to Seattle
We see the Sounder train at Carkeek Park a lot and I have always been curious about it. The Sound Transit website is WAY easier to use than the Amtrak site.
TIME
Knowing that the Sounder runs several times every weekday, I figured we would have no problem catching a train in the morning up in Everett and then jumping another train back an hour or so after arriving in Seattle. Those of you who are familiar with the Sounder schedule are probably shaking your head at me right now 🙂
I didn't realize this but the Sounder only runs TO Seattle in the early mornings and TO Everett in the late afternoon!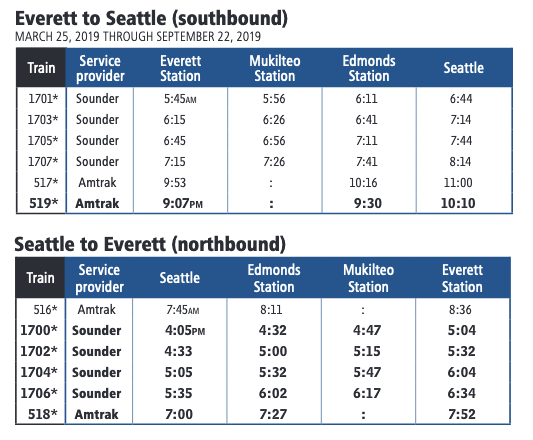 While I am sure this works perfectly for those commuting to work in the morning and home in the event, a no go for us because I wanted to limit our trip to three hours or so and not the entire day. One other item to note, the Sounder from Everett begins running at 6:15am and the last train to Seattle is at 7:15am – there was no way I was going to risk a rough day by waking the kids up at 5 or 6am for our journey. RESULT: No go as it would take almost the entire day to go down and back
PRICE
Fortunately, there is no cost for children five years old and younger to ride the Sounder. If we would have taken this route, we were looking at the grand total of $10.00 ($5.00 each way) for an adult ticket. This sounded like a great deal to me! RESULT: Totally affordable!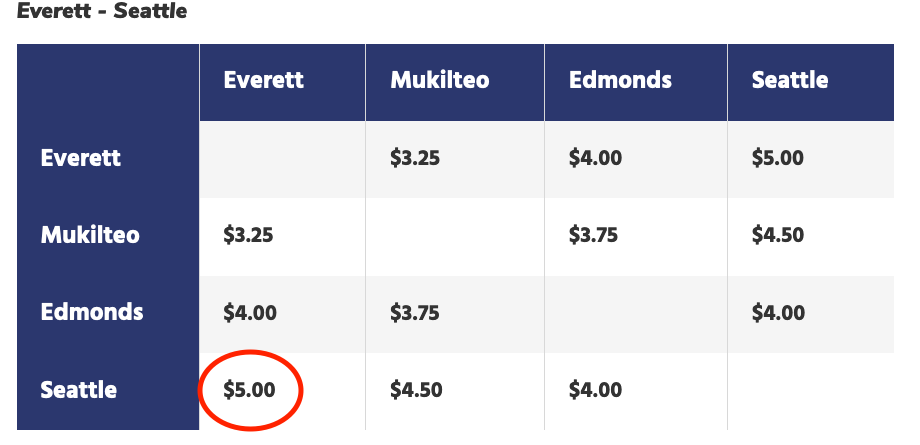 So unfortunately, the Sounder train wasn't going to work either because of the schedule. That was the end of the heavy rail options available in our area so I started thinking, what about Sound Transit's Link Light Rail?
WINNER: Sound Transit Link Light Rail
Proposed Route: University of Washington to Sea-Tac Airport
Sound Transit Link is light rail (not heavy rail) so think more like a monorail or tram instead of an actual train with several locomotives. This system is currently being expanded all over our region (if you have driven by Northgate Mall recently, you can see the progress of the north extension). It still runs on tracks so I figured the kids would consider it a train 🙂
While I had spent almost an hour playing around with the Amtrak and Sounder websites, in a matter of a minute or two I could see on the Link Light Rail website that we could catch the Link at University of Washington and end up at Sea-Tac Airport in about 40 minutes. The best part is that you can catch a Link "train" every 10 or 15 minutes!
TIME
I could clearly see from the online schedule that we could ride from the University of Washington to Sea-Tac Airport and back within three hours. 40 minutes to Sea-Tac and then about 40 minutes back to UW – a total of about 1 hour and 20 minutes. RESULT: Clear winner!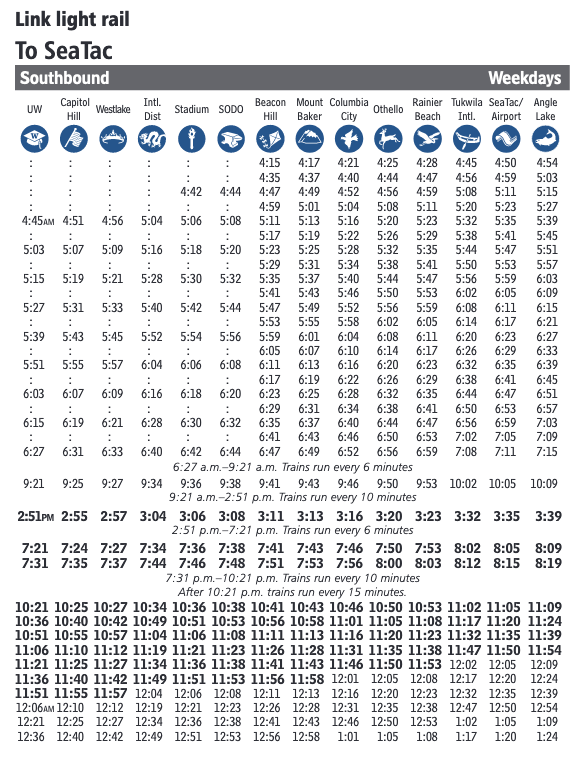 PRICE
I didn't look at the pricing before we headed out for the Link station at the University of Washington as I knew it had to be pretty affordable. Just like the Sounder, there was no cost for the three little ones to ride. I chose the adult day pass between the UW and Sea-Tac Airport stations which cost a total of $6.50. A steal! If I understand the day passes correctly, you can ride all day between the two stations on the ticket. RESULT: WAY cheaper than Amtrak. Slightly cheaper than the Sounder. WINNER!
The Trip

We packed some diapers and a few snacks and headed out the door. I considered grabbing the Metro bus to the UW station from our house near Greenlake but decided to drive instead. There is a parking lot right next to the UW Link station. I looked at the pricing and I believe it was $4.00/hr which wasn't too bad. We found a free parking spot near campus and walked down.
The UW Link station is pretty much all underground, is SUPER CLEAN and has some really interesting artwork to check out. There are several escalators to ride which all of the kids really enjoyed once I showed them how to get on and get off – holding the hands of three children at once is challenging 🙂
We made it to the platform and lo and behold, there was a train headed to Sea-Tac Aiport waiting for us. We jumped right on and got settled in. The windows are low enough to the floor that the kids could easily see out. The first thing I said to myself was, "Wow, the train is so clean!".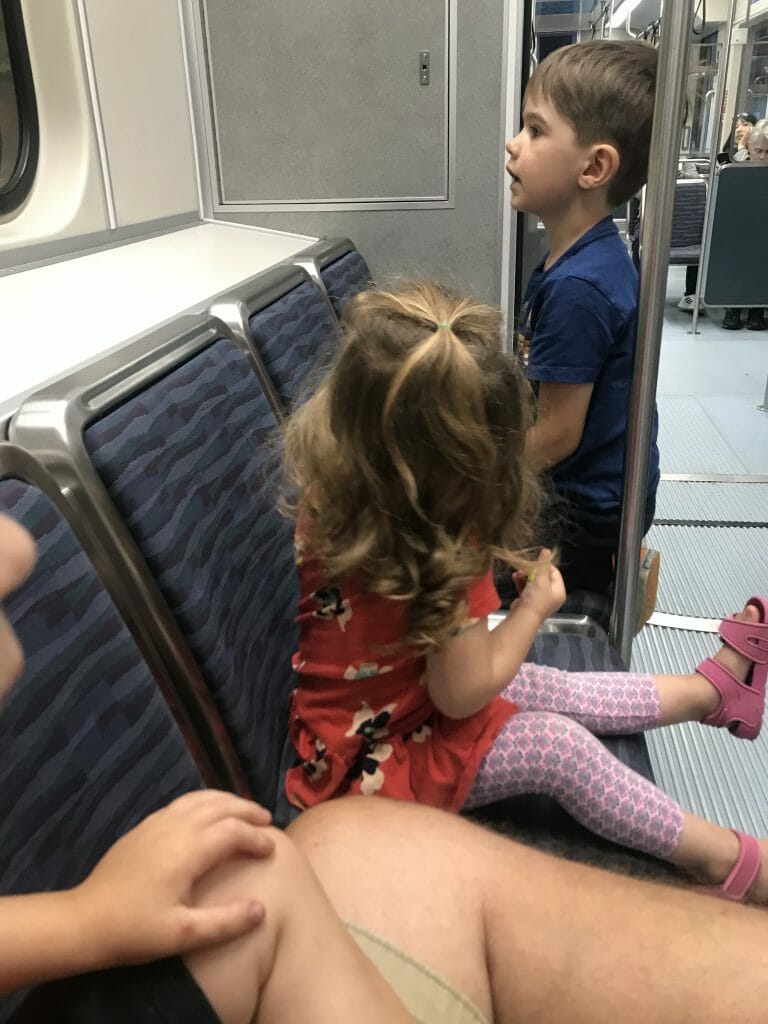 The train didn't get going for a few minutes during which time I was bombarded with questions about the train, the tunnel we were in, and most of all, "DADDY, WHY IT THIS TRAIN NOT GOING ANYWHERE?!"
We got rolling shortly after that. Between the UW station and the International District station, the train is in a tunnel which means that there isn't much to see. Our kids are fascinated with tunnels so they were quite entertained with the bumps, sensations, and random lights they could see flashing by every few seconds. If your children (or nanny kids) aren't so into tunnels, you might want to start closer to downtown Seattle to limit the tunnel time.
After we left the International District station, the train exited the tunnel and that's where the fun really started. We saw police cars, fire engines, other Link trains, balloons, the moon, etc. etc. etc. The route takes you over several bridges which affords an amazing view of the passing city. The kids basically sat with their noses glued to the window until we reached the Sea-Tac airport station.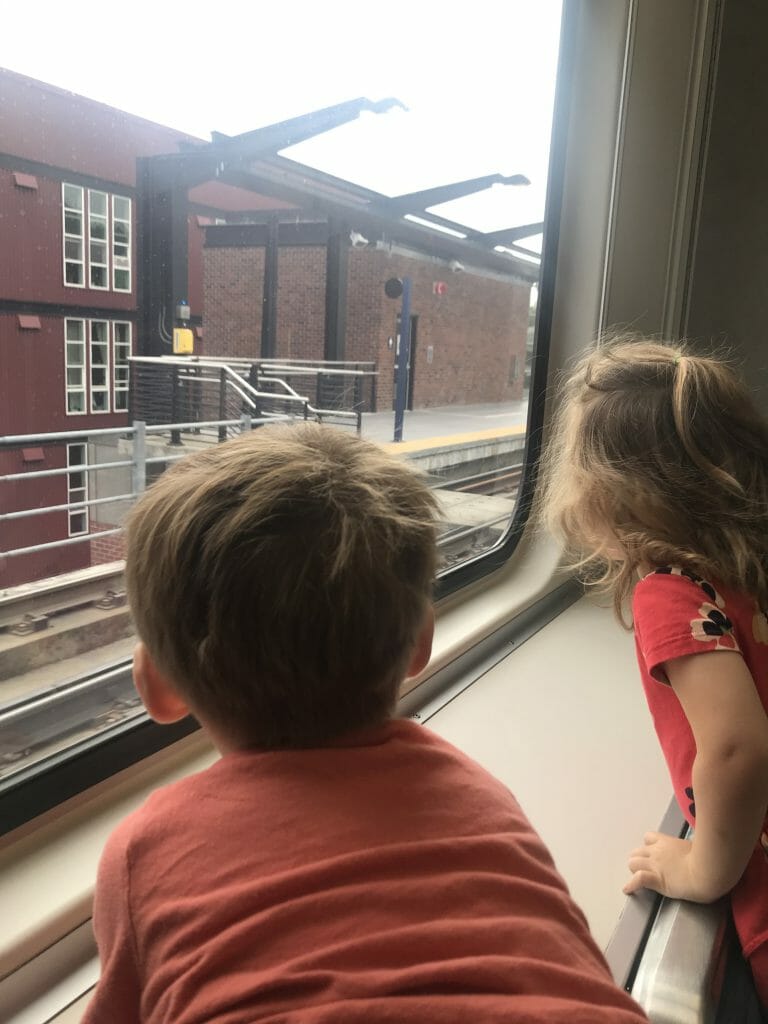 There are several levels of the Sea Tac Link light rail station which gave the children plenty of room to run around. The best part about this station is that if you head over to the west side, you can see the airliners moving around and taking off. There is also a pedestrian bridge over International Blvd on the east side where the kids watched the cars and trucks go zooming by.
The return trip was just as easy albeit with many more passengers on the train (people arriving at Sea-Tac and heading into the city).
Overall, we are
definitely

going to do this again. The kids were exhausted by the time we got home, were able to see the city like they never have before (you can't see much facing backward in a car seat) and the best part….it only cost us $6.50!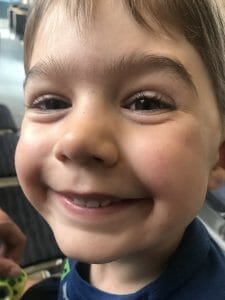 This picture of our four year old definitely sums up our trip 🙂