Hearing your ideas and suggestions on how to improve our community is so important to me. That's why I am excited to announce that we just launched our nanny contract and payroll service features!
Nanny Contract
A simple, easy to understand contract is key to avoid confusion and clearly set expectations between your care provider and family. Unfortunately, many nanny contracts are filled with confusing legal jargon which many of us don't understand. On top of that, many of the "free" nanny contracts available online do not account for the specific laws and regulations of Washington state (i.e. paid sick and safe time).
To help you and your care provider get off on the right foot, we worked extensively with our attorney to develop an easy to understand contract which covers all of the laws specific to our state. Will your nanny be employed in Seattle? This contract has you covered.
Many of you have shared with me that one of the most frustrating problems with online nanny contracts is that you can't easily edit them. We are providing this contract in Microsoft Word format so that you can customize any part of it you like. Want to add something specific to your family? No problem.
We've also included placeholder text in the document to ensure you aren't missing something important. Use of family car? Check. How to handle a child's allergy? Check. Paid holidays? Check. Sharing pictures of your children online? Check.
Laws that affect household employers like you are changing rapidly. That's why we are monitoring what our elected officials in Olympia are doing and will update this contract with any changes that may affect your family.
We all know, attorneys aren't cheap. But we leaned on ours and worked out a great deal for you. Download the contract for $29.99 or FREE if you have a Family-Annual membership. If you've looked at other nanny contracts, you know this is a great deal!
To learn more or check out a sample of the nanny contract, click here.
Payroll Services
I've heard horror stories from some of you about experiences with payroll service companies that aren't familiar with our laws in Washington. We've partnered with one of the premier accounting firms in Washington to bring you affordable and comprehensive payroll services. Growing Numbers Accounting & Bookkeeping is located in Seattle and Spokane and is owned and operated by three local women – Alexis, Aly, and Becki.
They have over 20 years of accounting experience and know the ins and outs of payroll laws and regulations in our area. I know because I have had the pleasure to work closely with Becki over the last couple of months on a myriad of nanny pay issues – she knows her stuff!
They literally handle everything for you. All you have to do is report the number of hours your care provider worked that pay period. They notify all appropriate government agencies, request an Employer Identification Number for you, file your quarterly tax reports, remit tax payments, and handle all end of year tasks. They will even pay your provider if you have a business bank account.
Paying your provider correctly when using a nanny share is COMPLICATED. They have a great option for nanny share families too!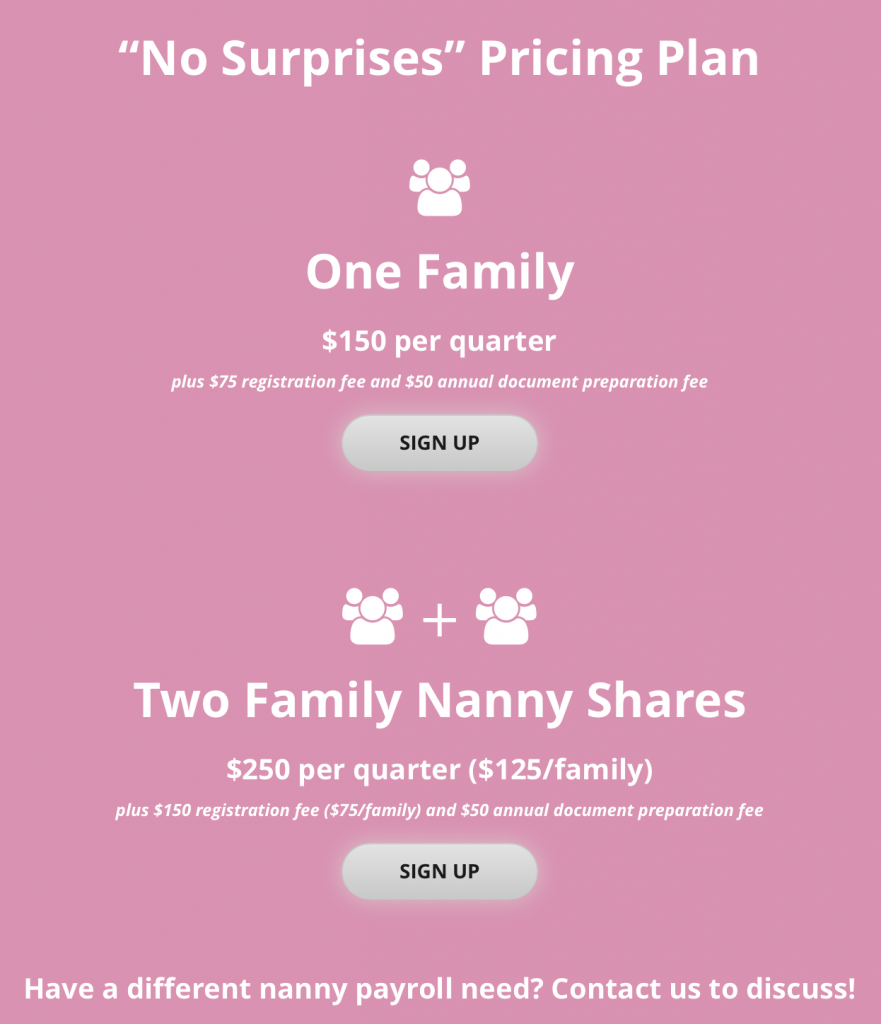 Before we established our partnership with Growing Numbers, we took a hard look at many of the payroll services that some of you are using. We wanted to offer our members a comprehensive, local solution that didn't cost an arm and a leg. Not only is Growing Numbers the most reliable option for local payroll services, they are also VERY affordable.
Check out the comparison table below – Growing Numbers is over $300 cheaper than two of the more popular alternatives out there!
$100 Annual Documentation Fee
Headquartered in Massachusettes

$50 Annual Documentation Fee
Headquarted in Washington
Women Owned Small Business
$100 Annual Documentation Fee
Headquartered in Virginia
To learn more about payroll services or to get started, click here.
Many of you have messaged me asking for more information on our background checks and when they are going to launch. We're just starting our final testing and hope to activate the system before the end of March. I will share more information on pricing and options soon.
Have a new feature you would like to see from Nanny Parent Connection? Email me to discuss!