Hi everyone! It's Laura back with this week's video.
Not sure how much to pay your nanny? Nanny pay rates used to be pretty static. But with COVID-19, inflation, high demand and a nationwide shortage of nannies, pay rates have dramatically increased across the United States over the past year.
Check out my latest video where I discuss how to determine an accurate nanny pay rate and don't forget to check out our Pay Rate Worksheet!
You can use the worksheet to determine a pay rate range for your specific childcare situation no matter where you live in the United States. And it's 100% FREE to use!
I hope you find this video useful and don't hesitate to reach out if you need any advice about your specific situation!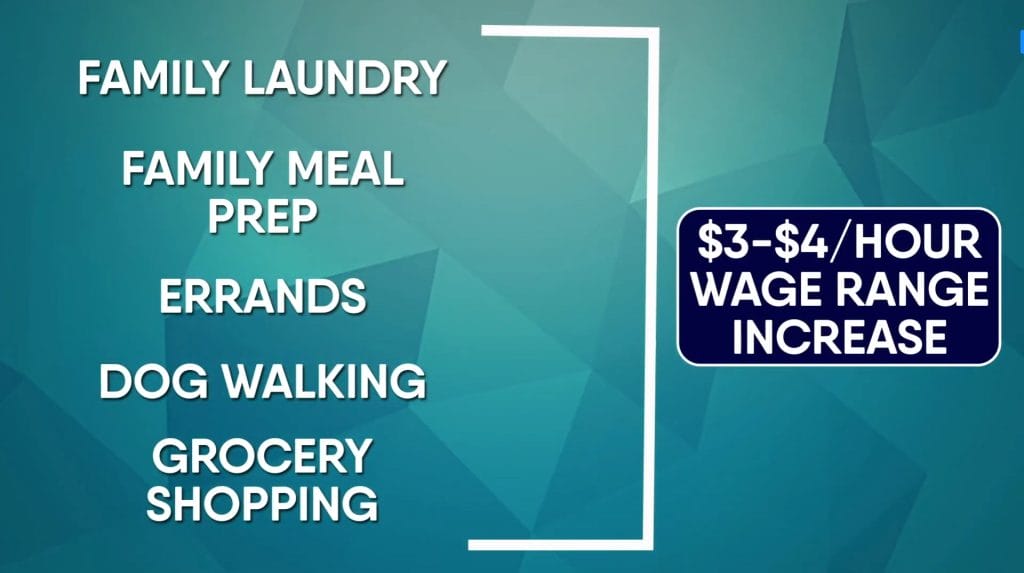 If you found this video helpful, please subscribe on YouTube and share it with your friends. Also, please take a moment to check out the other videos we have published on YouTube.
I'd love to hear any comments about how I can improve these videos as well as your ideas on topics you'd like to see me cover in the future. Just comment below!

If you aren't currently a member of our community, we'd love to have you join. Nannies can join our community totally FREE and our Family/Parent memberships start at only $8.99/month!
Don't forget, you can reach me directly via email by clicking here or by calling/texting (425) 243-7032 if I can help you.
A transcript of the video can be found below:
Hi everyone. Laura from Nanny Parent Connection here and, this is "How Much Should I Pay My Nanny?".
Nanny pay rates used to be pretty static.
Due to the COVID pandemic, inflation, high demand, and a shortage of nannies across America, pay rates for nannies have dramatically increased over the past year.
Market rates can also differ based on your location, the number of children being cared for, the number of years of experience your nanny has, and also the job duties your nanny is expected to handle. It's all a lot to keep track of.
So, how do you figure out how much to pay your nanny?
I will walk you through some of the things to consider that will impact the hourly rate that you can expect to pay a nanny in your area.
These rates will apply in any cities with populations of a half million people or more.
Pricing is fairly similar in major metropolitan areas across the country.
And I will also address how pricing changes if you are in a more rural location.
Make sure to stay tuned through the end of the video where I will introduce a new tool developed by Nanny Parent Connection, this tool will help you to determine the appropriate pay range for the nanny position with your family.
Getting the wage range right for the nanny position that you are offering is really important. If you are advertising a nanny position for your family and you are not offering market rates, it's going to be really hard to find candidates of the caliber that you're looking for who are interested in your position.
Again, please keep in mind that these price ranges I'm about to discuss are going to be accurate for any major metropolitan area, and they will be lower if you are outside of a major metropolitan area.
Let's start with the number of children being cared for as the baseline starting point:
Care for one child will start at $23 to $27 per hour.
For two children, care starts at $25 to $28 per hour.
For three children, care will start at $28 to $30 per hour, and four children will be $30 to $33 per hour.
Next, consider the number of years of experience you would like your care provider to have.
If you require a high number of years of experience with, say five plus years of experience, you will want to add $3 to $4 more per hour on top of that baseline rate.
If you only require typical nanny job duties from your nanny such as washing bottles, children's laundry, daily tidying of any dishes or spaces used throughout the day, that would not increase your rate at all.
However, if you're in need of any household assisting duties such as family laundry, family meal prep, errands, dog walking, or grocery shopping, that would merit a $3 to $4 per hour wage range increase.
If the care you require is last-minute care, sick child care, or backup care, that can increase your wage range by $5 per hour.
Nannies ask a premium for any last-minute or sick child care, because often that means they're having to cancel their own plans, or put themselves at risk of potentially getting the same illness that child has.
And for backup care, they're not getting any additional compensation package benefits such as paid time off, mileage reimbursement, or a medical stipend.
So, that's why for any temporary or backup care needs, nannies will typically ask for a higher hourly rate.
It's very typical of course for any last-minute sick child, or backup care to not require any additional household assisting duties. You wouldn't need to factor that into account here.
And, I've probably said this too many times already but all of the rates that I just discussed are for major metropolitan areas.
If you are not located in a major metropolitan area, you can subtract $3 to $4 dollars or more per hour to give you a ballpark range. It's important to note that things can differ based on your exact rural location.
For example, if you're in rural Washington, your starting point might be $18 to $20 per hour for one child however, if you're in rural Oklahoma, that may be more like $12 to $15 dollars per hour for one child care.
And now, here is more about the helpful new tool to help you figure out how much you should pay your nanny.
Nanny Parent Connection has developed a Pay Rate Worksheet where you can change experience level, number of children, location, etc. and the worksheet will suggest a pay rate range for you. To check out this handy new resource, click here.

All of the pay rate ranges that I've discussed will be accurate for the remainder of 2023, and we will make sure to update these as any cost of living or other changes within the nanny market happen down the road.
Thanks so much for joining me.
I hope this video helps you to navigate how much you should pay your nanny (or be paid if you are a child care provider).

If you like this video please click on the like button, subscribe, or ring the bell so that you can be notified when more of these videos come out.
And if you're curious about how much you should budget for working with a nanny for the entire year, don't miss this video where I discuss the true cost of nanny care.
Thanks and talk soon!