As the economy is changing, it's becoming less of a "nanny market" and more of a "parents market". In the last couple of months, I have started seeing a big uptick in multiple nannies applying for the same position and nannies that are available to begin working as soon as possible.
When there are fewer available positions to apply for, it's important to ensure that you stand out from the crowd when searching for a new family to work with.
I'm excited to release the first video in my new series, "How To Land Your Dream Nanny Job!". In this series, I'm going to cover everything you need to know to apply for a position, nail the job interview, and what steps to take after the interview to land the perfect position.
Check out Episode #1 where I cover applying for positions and how to ensure that your application stands out. I hope you find it useful!
Click the button below to watch the video.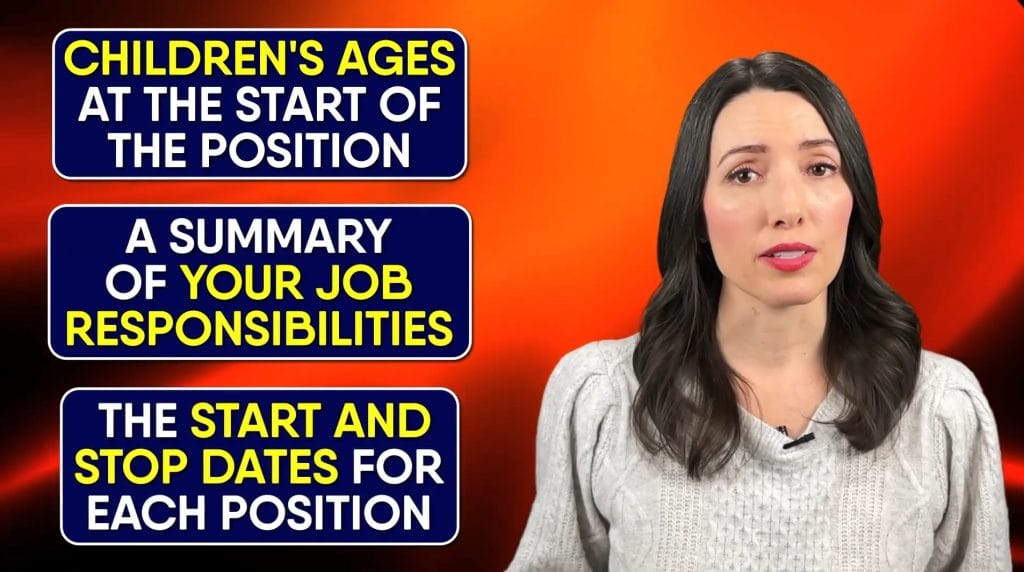 If you found this video helpful, please subscribe on YouTube and share it with your friends. Also, please take a moment to check out the other videos we have published on YouTube.
I'd love to hear any comments about how I can improve these videos as well as your ideas on topics you'd like to see me cover in the future. Just comment below!

If you aren't currently a member of our community, we'd love to have you join. Nannies can join our community totally FREE and our Family/Parent memberships start at only $8.99/month!
Don't forget, you can reach me directly via email by clicking here or by calling/texting (425) 243-7032 if I can help you.
A transcript of the video can be found below:
Hi everyone, Laura from Nanny Parent Connection here.
As the economy is shifting, it's becoming less of a nanny's market out there.
I'm seeing more nannies vying for the same position, and I'm seeing more nannies who are available to begin new positions immediately.
When there are fewer available positions to compete for amongst your fellow job applicants, it's important to make yourself stand out from the crowd.
This is Episode #1 of a three-part video series, about how to land the nanny position you want most.
I will walk you through the steps of applying for the position, nailing the job interview, and what to do after the interview.

In today's video, we will talk about applying for the position, preparation, resume, application, and cover letter.
Preparation
Before you even start applying for positions, make sure to have the following ready to go:

Collect letters of recommendation from previous employers, even if you can include just one, it will give you an edge.
Reach out to your references, and make sure they know you are running a job search. Ask them for permission to use them as a reference.
Having references ready to go will allow you to move forward without delay in the event that a prospective employer asks for your references.
It's even better if you can put these in a Word document, a PDF, or on Google Drive, so that these can be shared quickly and easily.
Make sure you have a clear understanding of the locations you're willing to commute to, what you're looking for in your next family, and what you will require for compensation.
Resume
Make sure you have a resume. Having a resume conveys that you take the child care profession seriously, that you are organized, and that you are prepared. Importantly, make sure that resume is up to date.
On that resume, you should opt for having a professional summary instead of an objective, having an objective makes your resume look dated.
Try tying your skills into actions, and how those skills might impact the nanny care you deliver in a positive way.
For example, ability to maintain structure and organization to ensure the home is tidy daily for the family in the condition I found it in or better, and to have a smooth and positive hand-off for the family at the end of the day.
In that example you're not just conveying that you're structured and organized, you're also letting the family know that because of these skills you will be able to do those specific actions for them.
Make sure your resume contains relevant information.
I can't tell you how many resumes I see that don't contain a single piece of information about previous child care experience.
List your previous positions from most recent to less recent, make sure to include a summary that includes the children's ages at the start of the position, a summary of your job responsibilities, and the start and stop dates for each position. If a short term position was intended to be temporary, it's okay to say so.
Application
Make sure you fill out all of the application questions.
I'm always surprised that people don't fill all of these out, sometimes they leave everything blank and it leaves me with questions about their true experience, and it also leaves me questioning their attention to detail, it also makes me wonder if they're actually committed to their job search.
An applicant is probably not going to get an interview callback if they skip those application questions, so make sure you fill those out.
If you don't think you're a 100% match for the position that you really are interested in, apply anyway.
Make sure you tell them more about why you know you who would succeed at the role, the classes or training you're willing to complete to gain more knowledge on a specific parenting approach, etc.
Once you wow them with your personality your skills, your knowledge, and your ability to anticipate, it's likely they're willing to be flexible.
Cover Letter
Having a cover letter shows you're very serious about your job search, it's also a fantastic time to tell the family more about why you would be such a great fit for their family.
I estimate that fewer of 20% of applicants include a cover letter with their job applications. I'm always impressed when somebody thoughtfully puts together information about themselves on that cover letter.
I recommend taking some time to draft a template that you use to then customize with each application you submit.
Follow Up

If you don't hear back about your application in several days, make sure to reach out to let them know you are still interested. It's also a great time to tell the family more about what you would bring to the table as their nanny.
Sometimes applications or messages just get missed, families get busy, inboxes get full, so on and so forth.
Make sure sure to keep your name popping up into their line of vision, their inbox, whatever it is.
Alright everyone that's it for the first video in my "How To Land Your Dream Nanny Job"! Today we discussed applying for the position preparation, resume, application, and cover letter.
I hope you found this video helpful. Make sure you tune in with us next week when we cover nailing the job description.
And if you haven't seen my video on how to create an amazing nanny resume, make sure you don't miss that! Click here to watch.

Thanks everyone, bye!