After five months, countless hours of building and refining, and an invaluable amount of feedback from a handful of care providers and parents…
I am so excited to announce that our CareCalendar is now live!
WHAT IS THE CARECALENDAR?

The idea for the CareCalendar has been brewing for several years now because of one simple reality: it is much harder to find care providers for short term or temporary child care than for a long term gig. On top of this, I constantly hear from care providers that while they already have a long term care arrangement, they would like to make extra income because they are saving to move into a larger home, have kids, take a dream vacation, or would like some extra dollars for the holidays.
The husband and I started kicking around the idea of an online calendar where parents and care providers could search for child care opportunities on certain days or times or post their own need or opportunity…
With the feedback of several of our members (and much sweat and tears), the CareCalendar was born! Take a look at the CareCalendar by clicking here.

There is no additional cost to use the CareCalendar. If you have an active Family/Parent, Care Provider, or Agency membership, you can begin using it today!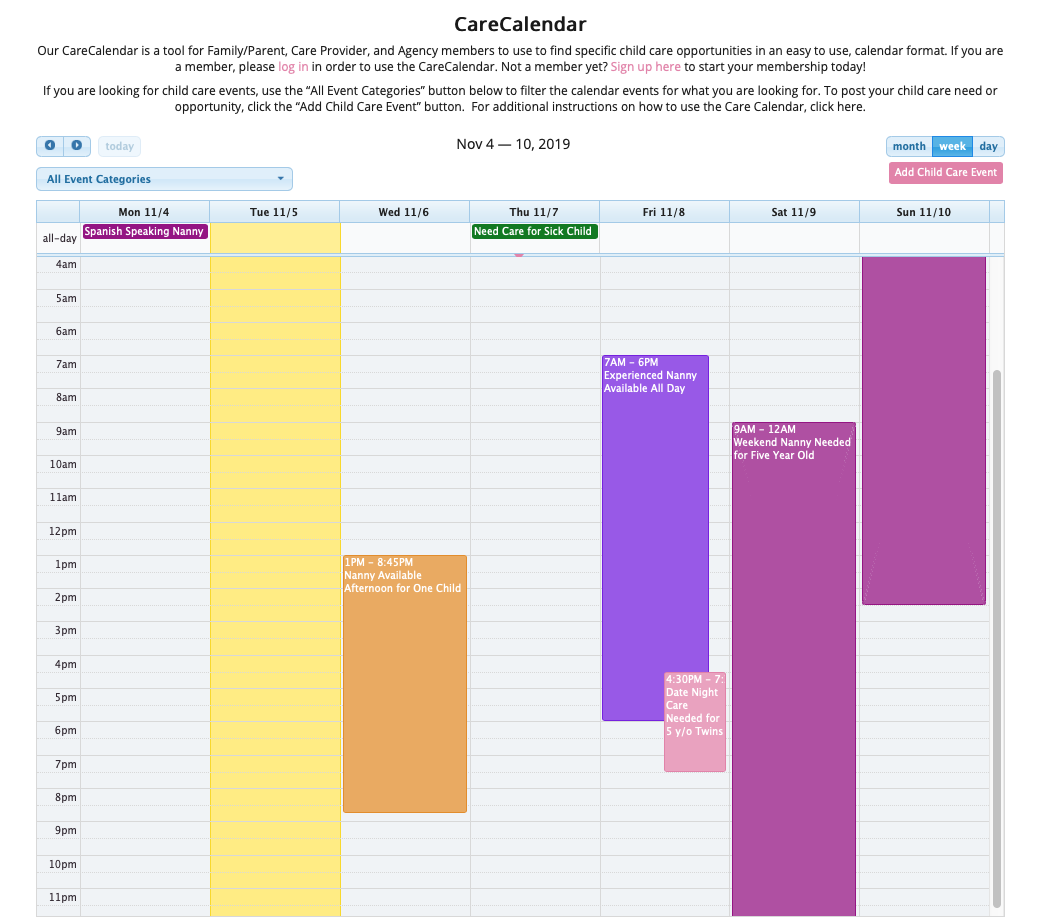 The CareCalendar is a simple yet incredibly powerful tool. Think of it like a supercharged online community bulletin board.
Care providers looking to pick up an extra day or hours of work each month can browse child care "events" that parents have published and offer care on days that fit their schedule. Or they can post "events" for when they are available. Here's what a couple of care provider members have said about the CareCalendar:
"Wow! I am so excited to try out the calendar. I work full time for a family in West Seattle but I've been looking to work a weekend or two a month to pay down some debt. I'm going to post my availability later this week. Thanks so much for creating this!"
"The nanny share that I work for is ending on December 31st. I'd really love to join another nanny share. So awesome that you built specific categories for nanny shares in different parts of the Seattle area. I will let you know how the CareCalendar works for me."
Parents can use the CareCalendar to post their short term or temporary child care need. Or see when their favorite nannies have availability in the coming weeks. Need to find care for that long overdue date night? Regular nanny taking a vacation and you need back up care? Just want to get out of the house for a walk and lunch with friends? The CareCalendar is for YOU!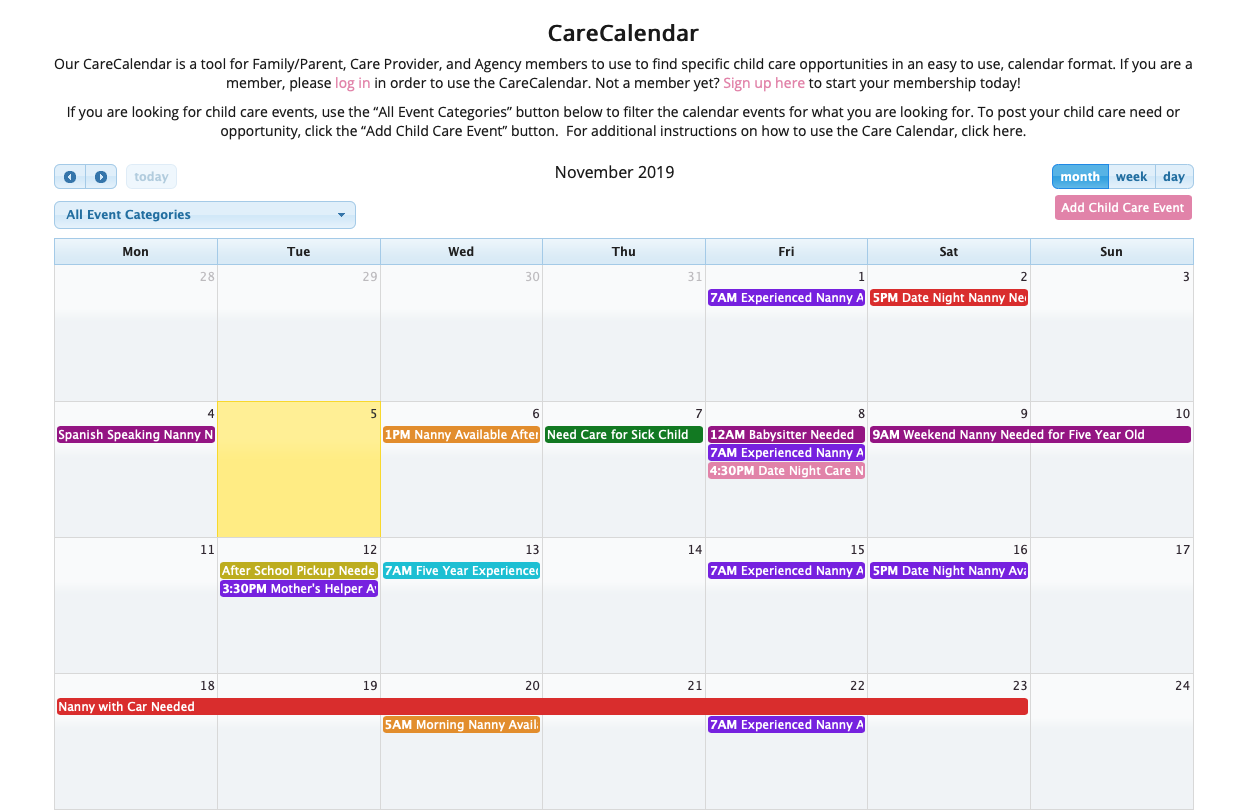 Below are a couple of my favorite things about the CareCalendar:
Filter events based on categories: In the upper left hand corner of the CareCalendar, you will see a button labeled Event Categories. Use that to filter events based on location (i.e. Seattle, North King County, Pierce County, etc.) and types of child care (I need child care, I am offering child care, I want to join a nanny share, etc.). As more members begin using the CareCalendar, filtering events is going to be essential in order to find what you are looking for.
Book an event online: This is probably my favorite feature. Members that post events can choose to allow members interested in working with them to book their event online. Totally automatic! The best part is that the member who created the event can decide whether to approve or not approve the booking so there is plenty of freedom. We also built a specific page where you can manage all of your bookings, see what's coming up next and what events need attention!
HOW DO I USE THE CARECALENDAR?

The CareCalendar takes a few minutes to learn how to use. We've built several tutorials to help you get started:
THE MOST IMPORTANT FIRST STEP: Fill out your profile. This is needed so that other members can see what you need or are offering as well as important information about yourself or your family. Only takes a few minutes. Click any of the tutorial links below to learn how to do that.
Care Provider members – click here to learn how to use the CareCalendar
Family/Parent and Agency members – click here to learn how to use the CareCalendar
As always, feel free to email us if you have any questions or need help getting started with the CareCalendar!
BONUS FEATURE

We were able to build in an amazing bonus feature in conjunction with the CareCalendar:
Member Search
I know so many members are going to use this because it allows you to search member profiles for specific pieces of information. Need a nanny that speaks Mandarin? Search member profiles for the keyword "mandarin". Looking for a provider who has experience with autistic children? Search profiles for "autism". Want to find a family in Ballard to work with? You guessed it – search "Ballard". Remember that we are launching the CareCalendar and Member Search today so allow some time for members to fill out their profiles.
Check out the Member Search feature by clicking here.
I hope you can take a few minutes to check out the CareCalendar (and Member Search) today. if you find anything that needs improvement, please don't hesitate to shoot me an email.
As always, I'd love to hear your thoughts on the next "tool" you think we should build to make it faster and simpler to make child care connections in the Puget Sound region. Thanks and have a wonderful weekend!!
P.S. Due to the costs associated with building the CareCalendar, you do need to have an active Family/Parent, Care Provider, or Agency membership to use. If you have one of these memberships, make sure to log in before accessing the calendar. If you'd like to sign up for a membership, please click here.