Hiring a new nanny? Don't forget to conduct a working interview!
A working interview can give parents a better sense of the nanny's work style and how they connect with your children before making a formal job offer. Remember to pay your nanny for the time they spend at your home during the interview.
Check out my latest video where I discuss all aspects of working interviews including:
– How to prepare for the working interview
– What to look for during the interview

– What to after the working interview if it goes well (or doesn't go well)
Click the button below to watch the video and I hope you find it helpful!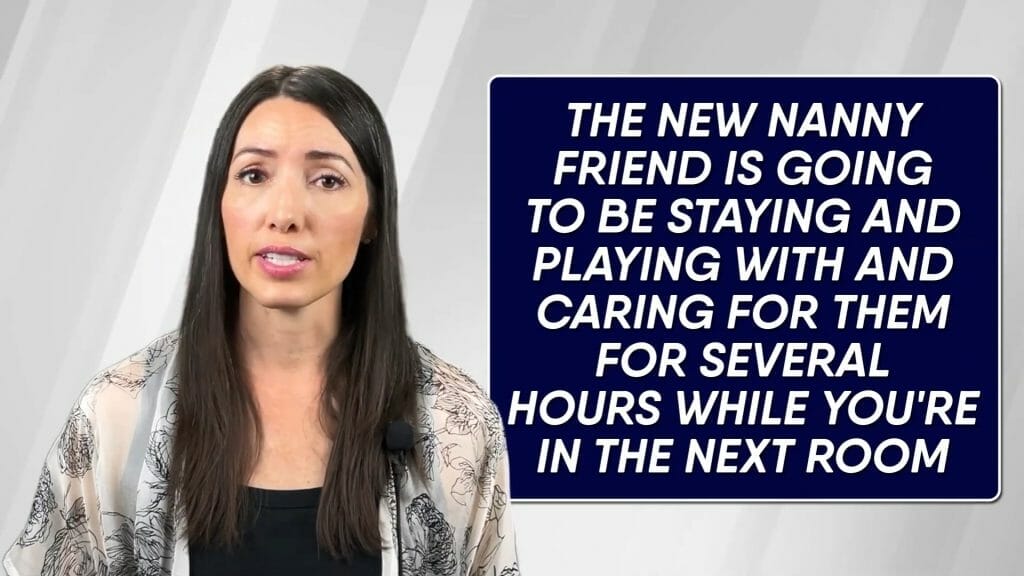 If you found this video helpful, please subscribe on YouTube and share it with your friends. Also, please take a moment to check out the other videos we have published on YouTube.
I'd love to hear any comments about how I can improve these videos as well as your ideas on topics you'd like to see me cover in the future. Just comment below!

If you aren't currently a member of our community, we'd love to have you join. Nannies can join our community totally FREE and our Family/Parent memberships start at only $8.99/month!
Don't forget, you can reach me directly via email by clicking here or by calling/texting (425) 243-7032 if I can help you.
A transcript of the video can be found below:
Hi everyone, Laura from Nanny Parent Connection here.
Today I'm going to talk about how to handle a working interview with your prospective nanny.
When you're interviewing nannies and you meet someone you really like, you should invite them over to your home for an in-person interview.
But, is this in-person interview enough for you to truly get a sense for what their work style is like and how they might engage with your child?
Many families do want to get a better sense for the nanny's work style as well as how they might engage with your child than an in-person interview can allow for.
Inviting the prospective nanny into your home for a working interview is a fantastic way to do this.
Here are my tips for best practices in order to help the whole process go as smoothly as possible.
Before the working interview
After a successful in-person interview with your prospective nanny, ask them if they are open to coming and doing a working interview.
So that you can see them in action with your child, and so that they can get a sense for what working with your family might be like.
Plan a time and day that works for everyone.
Agree upon a pay rate ahead of time and ask the nanny what their preferred method of payment will be. Yes, you definitely need to pay your nanny for a working interview!
If your child is of an age where they can understand, make sure to communicate with them that a new nanny friend will be coming over to care for, and play with them for several hours while mommy or daddy are home but in the other room.
During the working interview
I recommend starting off the working interview by doing an extended hand-off between your nanny and child.
A great way to do this is to begin with a home tour for your prospective nanny.
During the home tour
Make sure you cover any of the crucial information such as where the snacks are kept, where bottles are kept, where diapering supplies are, where any arts and crafts or activities are. If you have a Nanny Binder, make sure to show the nanny where that is at.
During this home tour, make sure to point out some of the child's favorite toys, games, or activities.
An experienced nanny will have questions they will ask along the way in order to gain clarification, and in order to be well equipped to perform their job at a high level.
Make sure to let your child know again that the new nanny friend is going to be staying and playing with and caring for them for several hours, while you're in the next room taking care of some things.
And of course, make sure to be available if the nanny needs to pop in and ask any questions.
This could also be done via text message so as not to disrupt the flow of the nanny and child's activities.
While your nanny and child are playing together, make sure to listen to how those interactions are going.
Did the nanny bring up and suggest engaging in any of the fun activities you mentioned on the home tour that were your child's favorites?
Does their approach to care that you've previously discussed with them match how the interactions are going in actuality?
As the working interview winds down and comes to an end, look for the nanny to give you a solid hand-off including what activities were done and when any diaper changes or snacks happen, and if anything else notable happened during the nanny's time with your child.
This type of good communication is key for a successful nanny-family working relationship.
After the working interview
Make sure to pay your nanny promptly.
Ideally, before they leave your home via the preferred method that you have previously agreed upon.
Also, plan a next step before they leave your home. Will you be in touch via email or phone call later that day or maybe the next day?
Maybe the working interview left you with full confidence that this is your next nanny.
If this is the case, let the nanny know that you enjoyed having them over and that you would like to extend an offer to them.
I do recommend making that job offer via email ideally after nanny leaves the home.
This will allow you time to sit down and outline the specific details of the job offer.
This will also allow the nanny to look over the job offer and follow up with any clarifying questions.
Perhaps this working interview has left you with full confidence that this is not your next nanny.
If this is the case, please follow up with the nanny as soon as possible to let them know that you are going to continue on with your search.
This will allow them to also continue on with their search for their next family.
If possible, provide the nanny some constructive feedback about the reasons they weren't a great fit for your family.
This will allow them to potentially grow from and improve on any areas where growth may be needed.
Alright everyone, that's it for today those are my tips on working interview with a prospective nanny.
I hope you found this information helpful.
If you like this video please click on the like button, ring the bell, subscribe to our channel so that you can be notified when more of these videos come out.
Thanks everyone, bye!