Did you know that the Pacific Science Center has three story times in the tots area every day of the week? Neither did I! The littles and I decided to check it out.
We arrived a bit early so everyone could play in the Tots Area.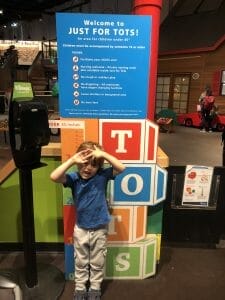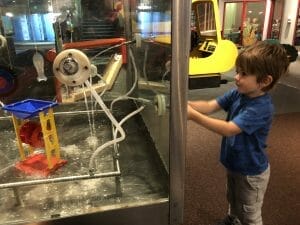 Story time commenced with the fantastic Lee putting down a blanket and inviting the children in the area to join in. She had several books about animal sounds, and sounds around town that the kids really enjoyed.
My 14 month old twins' attention was even captured momentarily before they remembered they were in a roomful of toys 🙂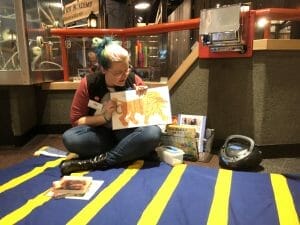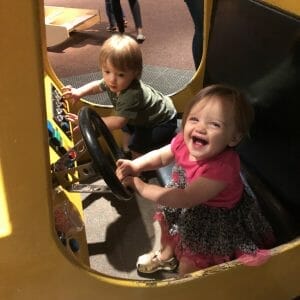 After the stories were finished there were some interactive activities. Lee laid a bunch of cards with pictures of different animals on them out on the blanket. She played different animal sounds, and asked the kids to find the picture of the animal that made the sound. This was a hit with all of the kids there (ages one through five).
The stories and activities lasted for about 15-20 minutes, which seemed to be the limit of my four year old's attention span.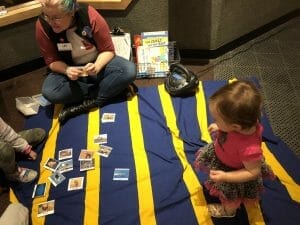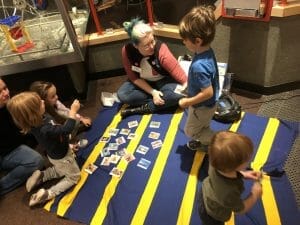 There is always so much to do at the Science Center, and we had fun checking out several other exhibits while we were there.
Next we headed over to the Planetarium to check out the Preschool show. I was excited about this until I realized that it wasn't going to be the easiest to keep two babies sitting during the show. As luck would have it one of the twins fell asleep almost immediately once the lights were dimmed!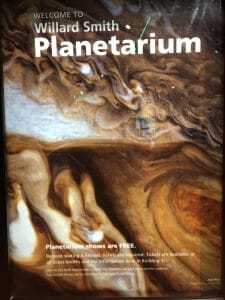 The preschool planetarium show was really fun. They read an interactive folktale about the moon that had the kids answering questions, sharing ideas, counting, making hand motions, and hopping around the room! I estimate the show lasted about 15 minutes, which again was perfect for short attention spans.
After the Planetarium we explored more exhibits. This included a mandatory stop to see the dinosaurs, moving cones around both on and off of giant checkerboard on a trip back from the restrooms, another trip to the Tots Area, and then a cart activity for using pipes to make sound on the way out.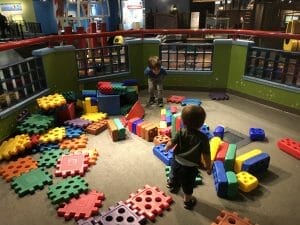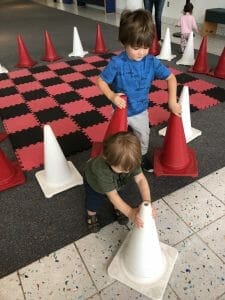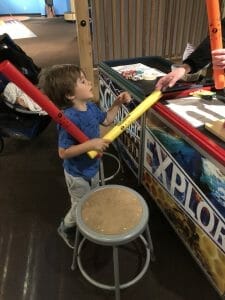 Story time at the Pacific Science Center means there is just one more reason to make the trip there regularly! The rainy season in Seattle will be upon us shortly, and the Science Center is a great place to take the kids to burn off some energy and have fun. It seems like they are always thinking up new activities to add to the mix!
Here is a comprehensive list of Preschool Activities at the Science Center from the Pacific Science Center website:
Looking for activities for you and your preschooler that are indoors and engaging? Look no further than Pacific Science Center. During the weekdays, we offer a variety of activities perfect for the littlest scientist in your family. Join us any day of the week to enjoy:
Story Times that feature monthly themes and rotating books that are read aloud in the Just For Tots area. Story Time is available at 11:15 a.m., 12:15 p.m. and 1:15 p.m.
Take a trip to space during our Preschool Planetarium shows.
Participate in a Live Science Stage Show and ignite your little one's curiosity about snakes, combustion or liquid nitrogen.
Stroll through our Tropical Butterfly House to see how many exotic butterflies you can spot.
Get up-close and in-person with a variety of animals including iguanas, turtles, naked mole rats and even touch sea creatures in our Salt Water Tide Pool.
Engage in hands-on cart activities with themes ranging from bubbles to surgery.
Bring your child's imagination to life in our Tinker Tank with "Tinker Tots", activities specific for preschool-aged children to let them create their own innovations.