As a former nanny, I find myself constantly brainstorming new tools for the care providers in our community to use to help offer their services.
Recently, I decided to ask the nannies and babysitters in our Facebook community what feature they would like to see us build next. There were some great ideas floated – community calendar, nanny database, and a Nanny Parent Connection Buy Nothing group among others.
Overwhelmingly though, the care providers up-voted a very novel idea…an instant message/text message system for when parents need last minute child care.
I am so excited to announce that yesterday, we launched our Last Minute Care Text Message Service!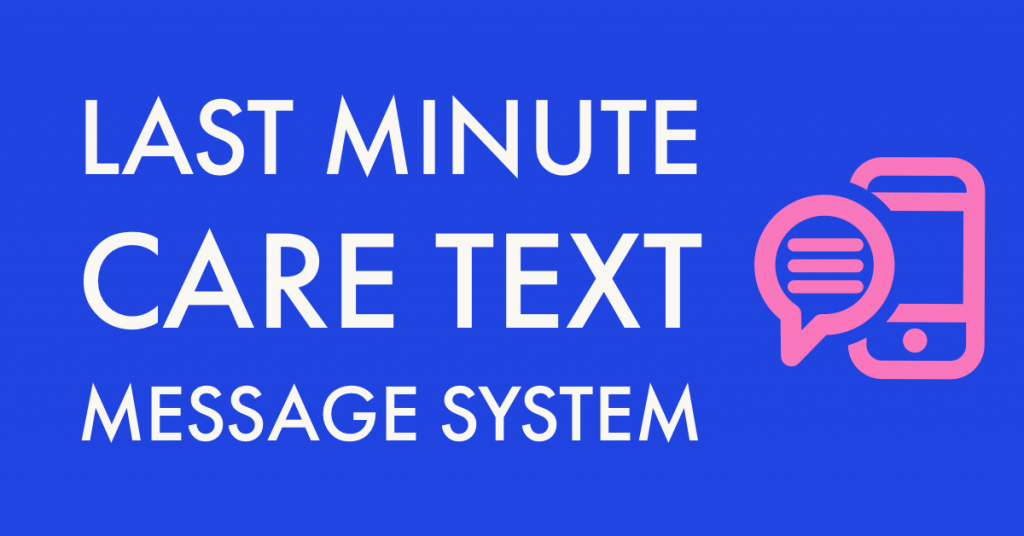 Thank you to all of the nannies and babysitters that signed up to help us test the system. We couldn't have done it without you 🙂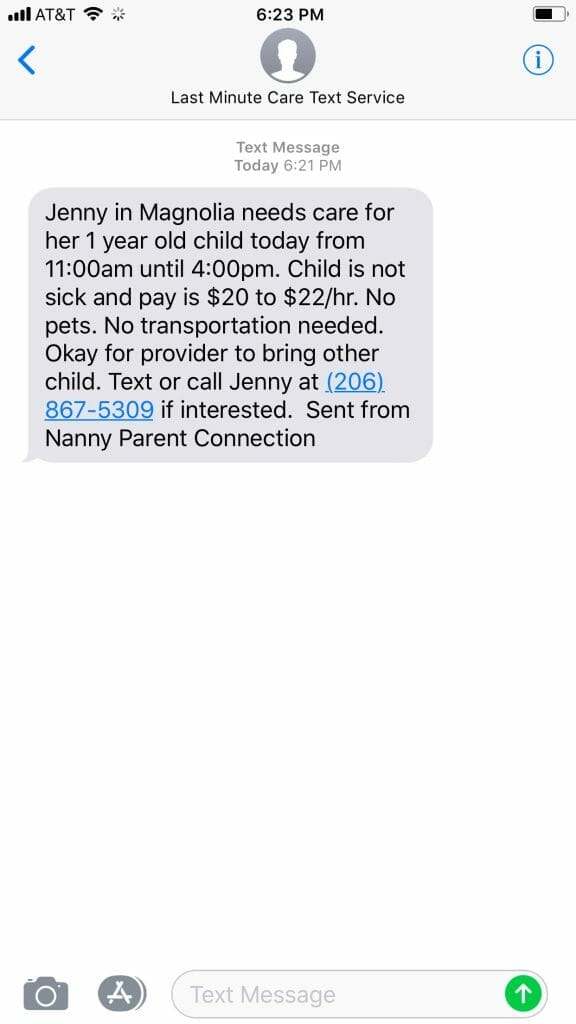 For Parents
If you need last minute child care now or in the next couple of hours/days, check out this new feature. Simply head over to the Last Minute Care Text Message Service webpage by clicking here, fill out the short form and click Submit. Within a few minutes, the details of your last minute care need will be text messaged to all care providers who have subscribed to this service.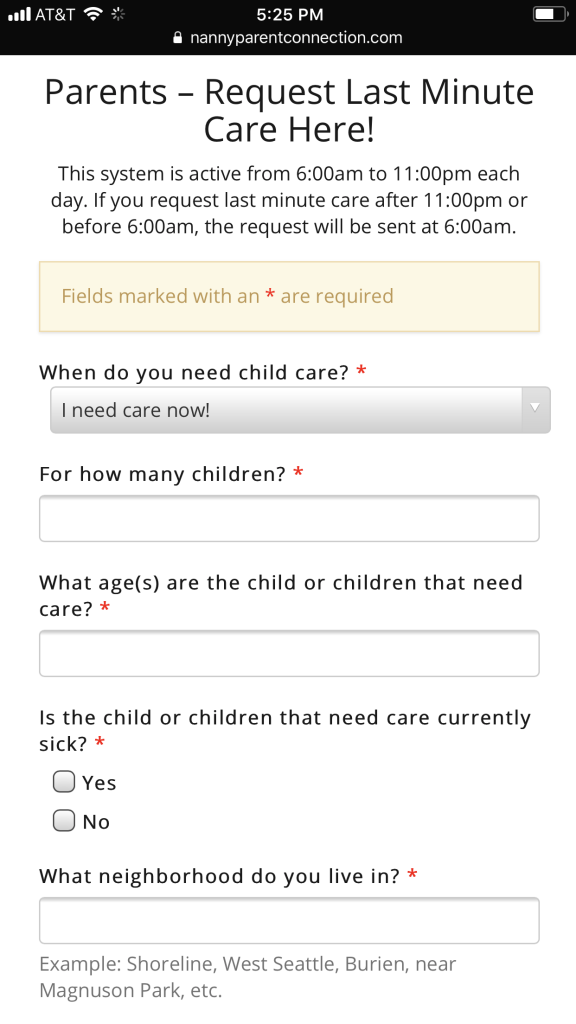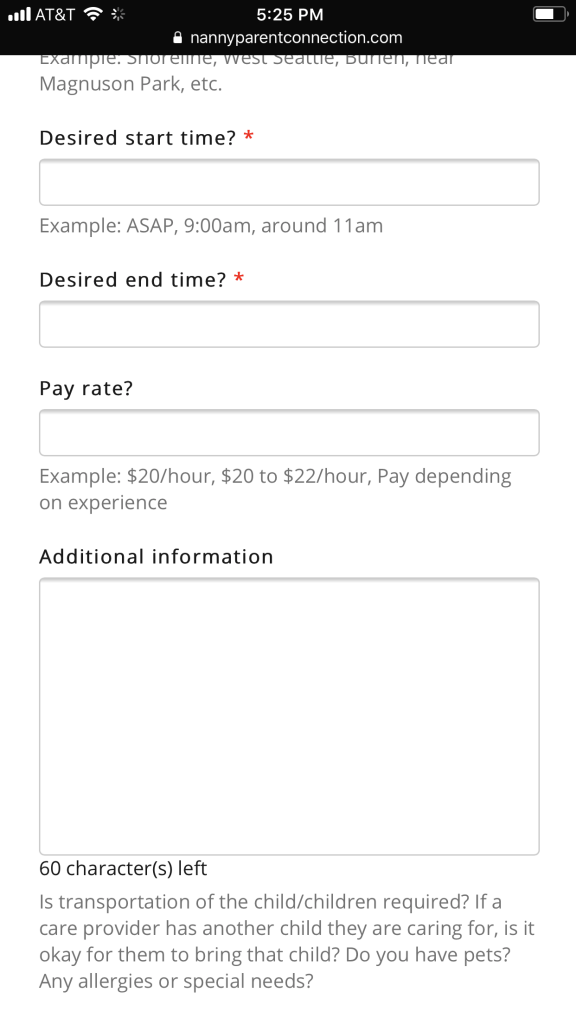 Once the message has been sent, interested nannies or babysitters can call or text you directly to help fill your need. Once you have found a care provider, we provide instructions on how to let other providers know that you have found someone (to stop additional calls and messages).
For Care Providers
If you have a free morning, evening, or day and want to earn some extra income, sign up to receive text messages when a parent needs last minute care. Just look for the below form on our Last Minute Care Text Service page and subscribe.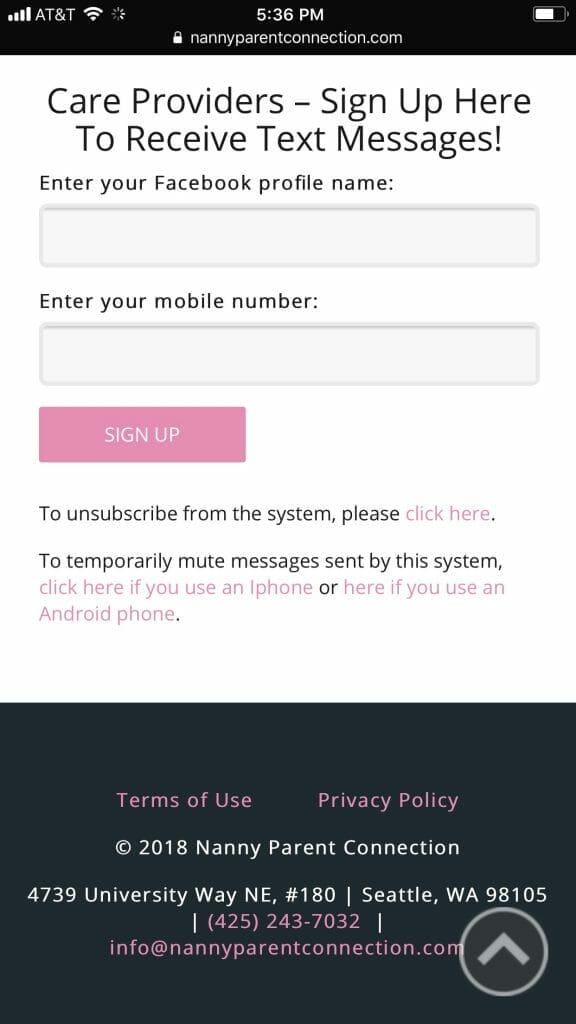 As you can see from the above screenshot, we also provide instructions on how to temporarily mute messages sent by the system if you are not interested in offering child care that day.
If this service proves to be popular, we will break it up into specific areas/neighborhoods so that a parent in say Ballard can message their needs only to care providers who have chosen to be part of the Ballard distribution list.
Due to the per message cost of the text message software we are using, this system is only available to parent and care provider members who have signed up for a paid membership on this site. Not a member yet? No worries – memberships are very affordable. Sign up by clicking here!

And don't forget that I am always here to help! Just shoot me an email by clicking here and let me know what kind of connection I can help you make.
Do you have an idea for a new feature we should start building? Comment below and let me know!