There may come a time when you have to part ways with your nanny. It may be because your kids are heading to daycare, the contract with your nanny is almost over, or things are just not working out for your family, your nanny, or maybe for both of you!
Parting ways with your nanny can be difficult for everyone. Many nannies and parents experience feelings of anger, frustration, confusion, and disappointment during the process. The kids can sometimes feel that it was their fault.
In my latest video, "How To Part Ways With Your Nanny (My Eight Tips) – Working With A Nanny From A-Z Series – Ep.15", I discuss how to part ways with your nanny (or with your family if you are a nanny) in a way to prevent some of these negative feelings I mentioned above.

New to our "Working With A Nanny From A-Z" videos? In this series, I am going to walk you through the entire process of working with a nanny. From deciding if nanny care is right for your family all the way through how to find, interview, hire and work with a nanny. Basically, everything you need to know from A-Z about the nanny world!
If you missed any of the first fourteen episodes, click the images below to check those out:
In today's video, I go over my eight top tips for how to end the relationship, tie up loose ends, and (hopefully) maintain some sort of relationship with your nanny moving forward. Most importantly, never hold back payment from your nanny due to a conflict. It can quickly lead to legal action and paying some seriously large fees to attorneys!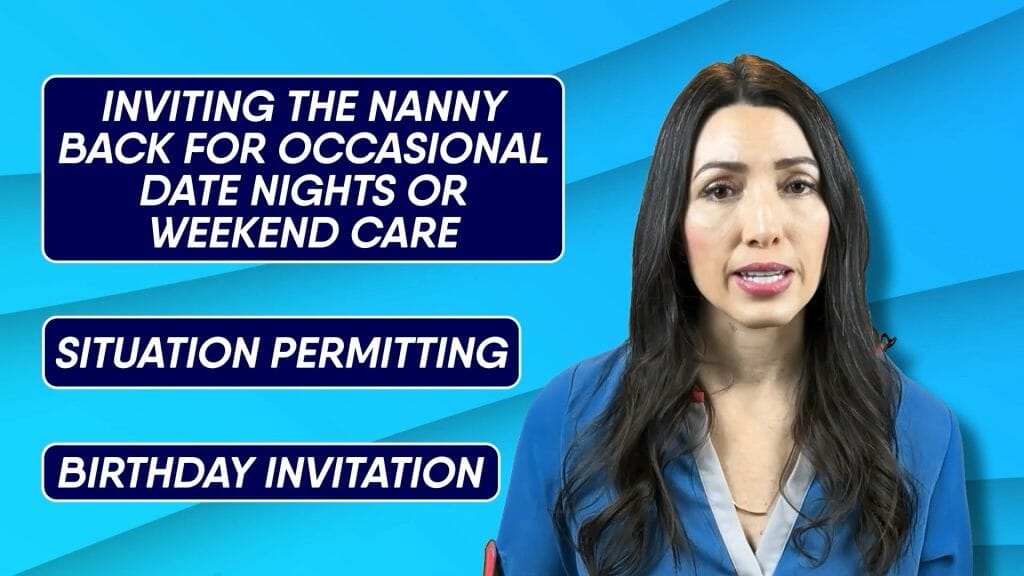 If you found this video helpful, please subscribe on YouTube and share it with your friends. Also, please take a moment to check out the other videos we have published on YouTube.
I'd love to hear any comments about how I can improve these videos as well as your ideas on topics you'd like to see me cover in the future. Just comment below!

If you aren't currently a member of our community, we'd love to have you join. Nannies can join our community totally FREE and our Family/Parent memberships start at only $8.99/month!
Don't forget, you can reach me directly via email by clicking here or by calling/texting (425) 243-7032 if I can help you.
A transcript of the video can be found below:
Hi everyone, Laura from Nanny Parent Connection here.
Welcome back to my final video in my Working With A Nanny From A to Z video series. So far in this video series, we've covered everything from "Is a nanny right for your family?" to "How to handle a problem with your nanny".
In Episode #14, we discussed "How to have a successful and productive annual review with your nanny".
In today's video (Episode #15), I discuss "How to part ways with your nanny".
Ending the relationship with your nanny is never easy, whether it's the end of your working agreement because you no longer need nanny care, or it's a situation where you need to terminate your nanny immediately.
With any luck, you're parting ways with your nanny because you don't actually need nanny care anymore. But unfortunately, this is often not the case.
Now, I can't guarantee that this process will be completely painless, but here are my eight tips for how to part ways with your nanny.
Tip #1: Evaluate your options
Is replacing your nanny the best way to move forward? Perhaps remediation is an option. If you didn't catch the video "How to handle a problem with your nanny", make sure to check it by clicking here so you can get an idea of how to navigate that process.
Remember, there's a real cost and time commitment with finding and hiring another nanny. If you're parting ways with your nanny over something like a raise, take a really good look at what that might mean as far as keeping your nanny could go, and what that might mean in order to replace your nanny care.
Tip #2: Make a plan

Of course, you need someone who can ensure the safety and well-being of your child on a day-to-day basis, and so if your current nanny is not doing that, it may be better to end the relationship sooner rather than later.
And, of course, if safety is an issue, you may need to terminate your nanny immediately.
If possible, lay some groundwork before letting your nanny go, make sure you do some research on what it might take to find a new nanny and try to have a plan in place if possible, whether that's for backup care, or whether that's planning for a new nanny search.
As of the making of this video (March 2022), it remains a very tight nanny market because nanny care is still in high demand. So, keep in mind that finding your nanny's replacement may take longer than average.
Tip #3: Consider the contract
Hopefully, you've been working with a contract in place with your nanny. If so, there are likely provisions in place with how to end the working agreement. And if this is the case, certain stipulations will need to be followed as far as how much notice is required to be given, and if any payouts are required as a result.
And, I'll just quickly mention that if you do need a contract, you can download one from us. Nanny Parent Connection offers a fantastic, comprehensive nanny contract that is updated on a regular basis.
Tip #4: Give as much notice as possible
You may have been notified that you have a spot in a daycare or a preschool for your child. Or you and your spouse may have decided that one of you is going to take a break from work to care for the kids. Whatever the case, give as much notice to your nanny as possible, even if it's more than what is contractually required. This will allow your nanny to begin on their own search to find a replacement family when their work with your family is coming to an end.
Tip #5: If possible, have a face-to-face conversation
I recommend having these conversations in person ideally so that you can give your nanny feedback, your nanny has a chance to ask questions, etc.
If you are able to have this face-to-face conversation with your nanny, please send a summary email to memorialize the conversation about what was discussed afterwards.
If it's not possible to have this conversation with your nanny in person, I recommend sending a well-thought-out email that sticks to the facts and leaves emotions out of the conversation.
Tip #6: Give your nanny feedback

I mentioned this briefly in my last tip but I'm saying it again here, and I will go a step further and say invite your nanny to also share feedback about their experiences working with your family.
Having this exit interview of sorts with your nanny will allow both sides to share and receive feedback in order to improve situations moving forward, depending on what the exact circumstances are.
Tip #7: Wrap up loose ends with your nanny
You could coordinate giving your nanny their last paycheck with them returning any possessions of yours that they may have. This could include things like house keys, credit cards or car seats.
It's really important to mention that you should never hold back payment to your nanny because of a conflict. This type of situation could really get ugly, and there could be some legal ramifications involved.
Tip #8: Talk to your children about why the nanny is leaving
This will likely be a difficult transition for your child, or children as well. Make sure you explain to them that they didn't do anything wrong. You can ask your nanny permission to write letters or otherwise stay in contact if the situation is appropriate to do so.
This could even include inviting the nanny back for occasional date nights, or weekend care, again situation permitting or extending an invitation for your nanny to join at the child's next birthday celebration. Giving your child a photo of the nanny and the child together might also be a great way to help ease this transition.
Alright, everyone, that's it for my Working With A Nanny From A to Z video series.
Thank you so much for joining me over these past fifteen episodes. If you have any questions about any of the topics I covered, or perhaps a topic I didn't cover, please feel free to reach out via our website.
If you like this video or found it helpful please make sure to click on the like button, subscribe (click here to sub with a single click!), or ring the bell so that you can be alerted when more of these helpful videos come out next time. Thanks, everyone, bye!