The Mr. took our three year old boy and our 11 month old twins (boy and girl) to the Woodland Park Zoo earlier this week. He wrote this great post about what the kids enjoyed the most, and what they found to be kind of "meh". Enjoy!
Our three year old boy has been asking me to go to the zoo for the past couple of weeks. Earlier this week, we loaded up the twins and trekked up to the zoo.
If you have ever visited the zoo, you know there are dozens of activities and exhibits to visit. It's hard to see it all if the zoo is busy or it's getting close to nap time. For this visit, I wanted to put together a list of what the kids enjoyed the most so that next time we visit, I know what to prioritize.
To accomplish this, I enlisted the help of my three youngest children. I explained to the three year old boy that I wanted him to tell me what exhibits/activities he liked the best via thumbs up. We came up with the following scale:
👍👍 – Awesome, amazing, "the coolest ever"
👍 – Pretty cool, "I'm tired of this Dad. Let's go see the elephants"
🖐 – Okay, meh, "Wow, look at this – a leaf!"
Note: I know that there are no longer elephants at Woodland Park Zoo but he didn't believe me. Despite about 17 attempts.
The twins don't talk yet so no "thumbs up scale" with them. Instead I determined their level of interest in an exhibit/activity based on whether it seemed to capture their attention or not.
Without further ado…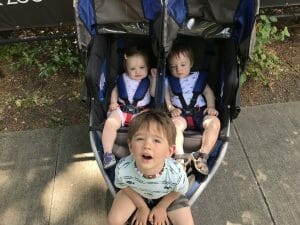 We arrived at about 12:15pm and amazingly enough, were able to visit every exhibit and activity. The zoo wasn't that busy. We skipped the Raptor Show and the Up Close Giraffe Experience as we weren't around those areas when the events occurred. We left at 3:45pm. It was about 80 degrees out (more on this later).
#12 – Porcupine
Three Year Old Boy: 🖐
Twins: No reaction
Comments: "Dad, what is a porky pine?" "Dad, the porky pine is hiding in his hole because he didn't put sunscreen on!"
Comment from Dad: You could barely see the porcupine as he was way deep in his little cave. Spent about 15 seconds there.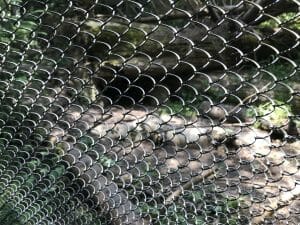 #11 – Warty Pigs
Three Year Old Boy: 🖐
Twins: No reaction
Comments: "Daddy, those pigs are taking a night night" "Those pigs are so small, where are the BIG pigs?"
Comment from Dad: I'm hungry.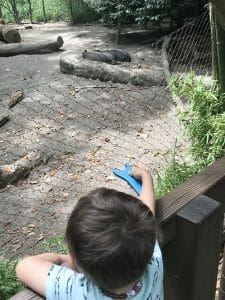 We eventually found the "big" pigs over in the Family Farm. By that point, cotton candy was in hand and the pigs were just a distraction. "Daddy, let's feed the pigs some cotton candy!"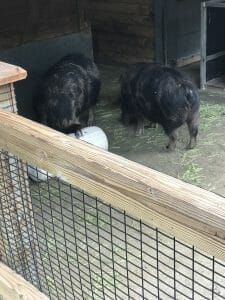 #10 – Lions and Tigers
Three Year Old Boy: 🖐
Twins: No reaction
Comments: "Where are these silly lions (tigers)?" "Dad, let's watch Moana when we get home"
Comment from Dad: No pictures as could barely see them. I believe they were all having their afternoon nap. We have watched Moana everyday this week so far 😭
#9 – Penguins
Three Year Old Boy: 👍
Twins: Somewhat interested
Comments: "Dad, go get some ice cubes for the penguins – they look hot"
Comment from Dad: Despite the warm day, a couple of penguins were swimming in their pool. The vast majority were standing around (probably complaining about the heat like all Seattle natives). All of the kids enjoyed watching the penguins swim back and forth.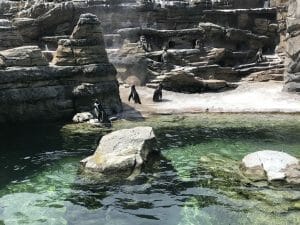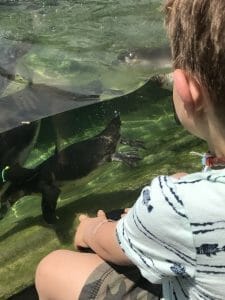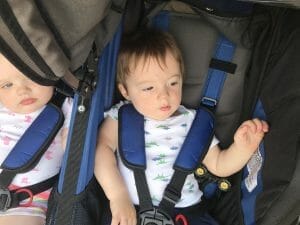 #8 – Rhinoceroses
Three Year Old Boy: 👍
Twins: Somewhat interested
Comments: "Daddy, that rhino just pooped in the water!" "Eww…now he is swimming through it!"
Comment from Dad: I was really looking forward to this exhibit as it is new and I haven't seen it before. Frankly, I was disappointed. We only saw one rhino and it was just doing a bit of wading. There are several viewpoints to see the rhinos though – looks like they converted the elephant exhibit. Definitely was the busiest exhibit that day.
Now, before the Top 7, a cotton candy break! Only $4.95…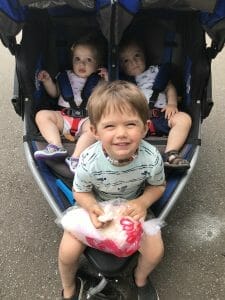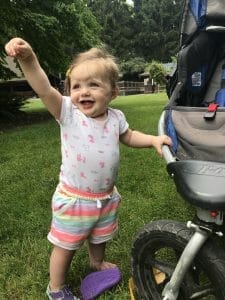 #7 – Wolves
Three Year Old Boy: 👍👍
Twins: Somewhat interested
Comments: "Dad, there are no wolves at the zoo! They only live in the forest!"…(three seconds later)… "Daddy, look! Wolves!"
Comment from Dad: Maybe it's just me but every time I come to the wolf exhibit, they are pacing back and forth and shooting dirty looks at the people watching. I'm thankful for the big moat between them and me.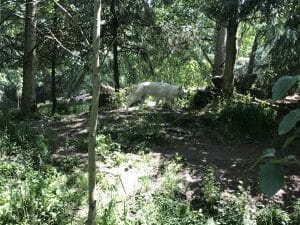 #6 – Orangutans
Three Year Old Boy: 👍👍
Twins: Somewhat interested
Comments: "What is that monkey doing to his bottom?" "Dad, make the monkeys do something!"
Comment from Dad: I love watching the orangutans. They always seem to be as interested in us as we are with them. As mentioned several times already, it was pretty hot out – the orangutans were pretty lethargic. With the floor to ceiling viewing window, the twins were able to see well and seemed pretty interested. Definitely hit this exhibit on your next visit.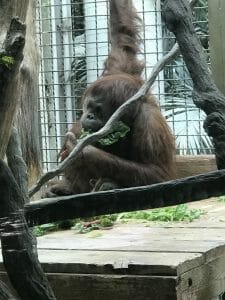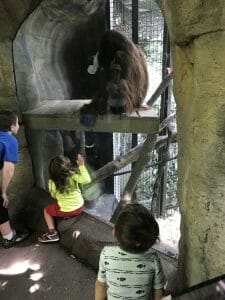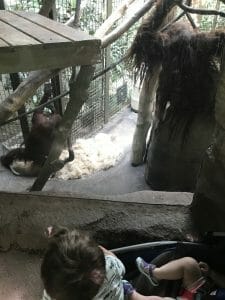 #5 – Otters
Three Year Old Boy: 👍👍
Twins: Interested
Comments: "Dad, THAT IS THE BIGGEST RAT EVER!!!"
Comment from Dad: Just like with the orangutan and penguin exhibits, the otter exhibit has floor to ceiling viewing windows which I was quickly realizing was the key to all of the kids taking an interest. We only saw one otter (perhaps the others were sleeping?) but he was active and the kids enjoyed watching for about five minutes.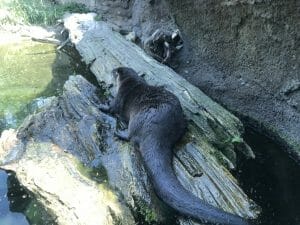 #4 – Grizzly Bears
Three Year Old Boy: 👍👍
Twins: Very interested
Comments: "Oh my gosh Dad, that's a MONSTER bear!" "Dad, don't let the bear eat sissy (girl twin)"
Comment from Dad: This was one of the highlights of our day. All of the kids were very interested in the bears – one bear was sleeping but the other was moving around. One of the advantages of this exhibit is the multiple viewpoints including the little cave that kids can go into and see the bears sleeping. You can also get right up to the glass where the bears like to sleep which all of the kids found exciting (well, as you can tell by the picture below, the twin girl wasn't so sure). This exhibit is a "can't miss".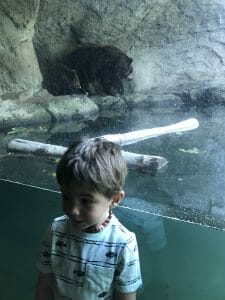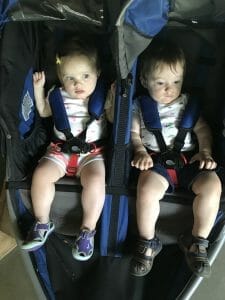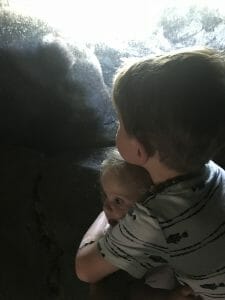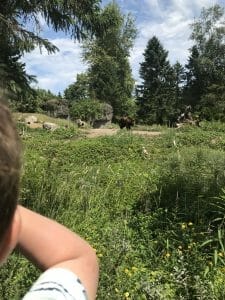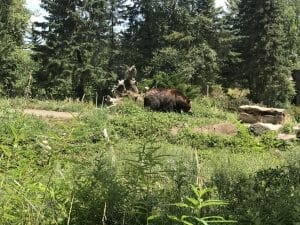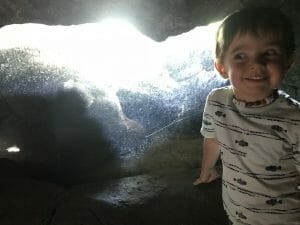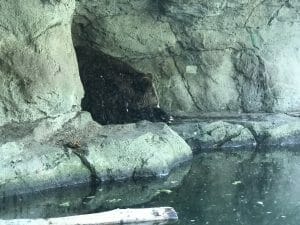 #3 – Kangaroos and Kangaroo Baby
Three Year Old Boy: 👍👍
Twins: Very interested
Comments: "Ohhhhhh!" "Ahhhhhh!" "Look at the little baby!" "DAD! That baby just went inside the mommy!" (baby kangaroo climbed into momma's pouch)
Comment from Dad: Another highlight of the day. The kangaroos were all in their indoor exhibit making it easy to see them. They weren't really doing much – but there was a baby kangaroo that captivated everyone. It climbed and hopped around, nursed, and finally climbed into the mom's pouch (which confused all of the little kids standing around watching). Definitely visit this exhibit on your next visit.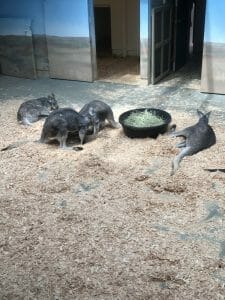 #2 – Various Statues around the Zoo
Three Year Old Boy: 👍👍
Twins: Very interested
Comments: "Dad, can I touch that monkey? He won't bite right?" "DAD!!! That lion is out of his cage!!"
Comment from Dad: This was a surprising revelation – all of the kids really enjoyed checking out and playing on the various statues around the zoo. Maybe it was due to the real animals they were seeing (or just wanting to stretch their legs) but we spent almost 30 minutes interacting with the various statues found around the zoo. Definitely take the time to stop by these on your next visit.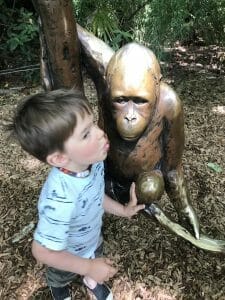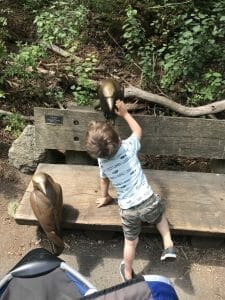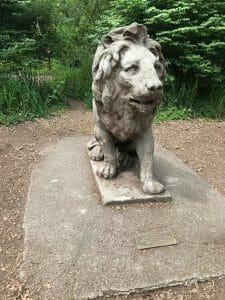 #1 – Habitat Discovery Loop
Three Year Old Boy: 👍👍
Twins: Very interested
Comments: While my three year old boy was climbing on the spider web, a girl started climbing up, turned to him and declared, "Girls are spiders and boys are just PREY!" (The girl's mom and I couldn't stop laughing!)
Comment from Dad: While it appears that this activity has been here for awhile, I have never seen it. It's kind of tucked away by the Family Farm. This was the highlight of the day for all of the kids (besides the cotton candy). There were leaves, sticks, and dirt for the twins to eat and about eight different activities (slides, climbing tree, some strange bird nest with fake eggs, spider web, etc.) for the three year old boy. We spent about 45 minutes here and none of the kids wanted to leave. Stop by the loop for lunch or if you need to let the kids blow off some steam.
Pro Tip: If you visit the zoo on a hot day, this is a great area to get out of the sun as it is almost 100% shaded by large trees.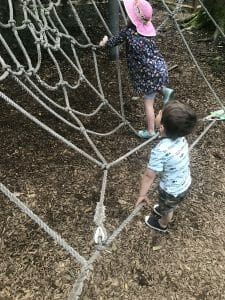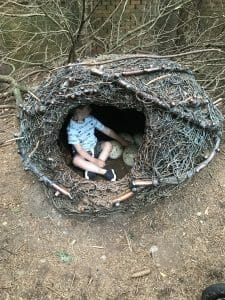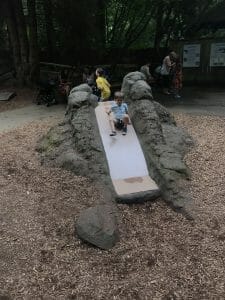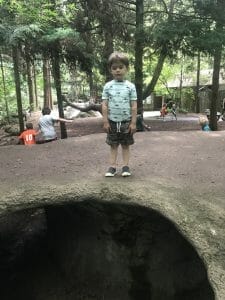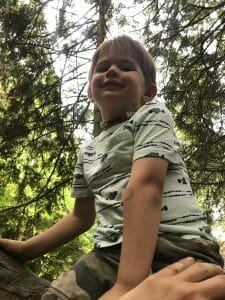 Honorable Mention: Random Crows and Seagulls
Comments: "Dad, there are so many eagles around here!"
Comment from Dad: We saw dozens of crows and seagulls around the zoo. They are all pretty bold and will come pretty close to people. All of the kids enjoyed watching them skirt around looking for food. I had to explain to the three year old about a dozen times that a seagull is not an "eagle". I finally realized that he thought they were eagles because "seagull" sounds like "eagle" (minus the "s"). Duh Dad.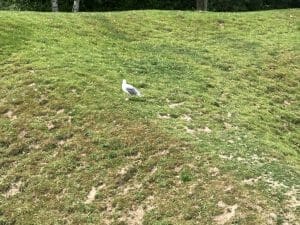 Final Thoughts
As a Seattle native, I have probably visited the Woodland Park Zoo more than 50 times in my life. It's truly a great place to visit for all age levels. Here are my takeaways from this visit:
Cost
For one adult, one three year old and two babies under one year old, the cost was $33.00. I found this to be reasonable for the 3.5 hours of entertainment that was provided to the kids and myself. You can buy annual passes if you plan on visiting multiple times per year – which makes it even cheaper. We only bought cotton candy which was surprisingly, only $5.
Too Commercialized?
It's been maybe a year or so since I was last at the zoo. I was somewhat disappointed by what feels like the "commercialization" of the zoo. We entered through the west entrance (by the penguins) and as soon as we walked in, a photographer was trying to take our picture for us to purchase. She was pleasant and not pushy but nonetheless, it left a bad taste in my mouth.
Also, there seems to be so many more kiosks scattered around the zoo selling everything from face painting to "your name in animal letters". Most of the vendors didn't actively solicit us but a few did. I understand that sales from these kiosks help support the zoo's budget but I felt that they took away from the overall experience of the zoo. The zoo is about discovery, learning, family, and relaxation – not trying to have your kids cajoled into having their face painted.
Don't. Go. On. A. Hot. Day.
This was my fault and I realized it after the first exhibit – don't go on a hot day. Most of the animals are hiding from the heat or are just lethargic. Even the African Savannah was pretty boring – the giraffes and zebras were all just standing around. Visit on a day that is Seattle typical – a bit cloudy and under 70 degrees.
"Don't Miss" Exhibits and Activities
In addition to the list above, make sure to check out the flamingos (especially during feeding time) and the various aviaries. The multicolored birds and their ability to buzz you and the stroller makes for an exciting time for the kiddos (and a lot of ducking for us adults). Also, a ride on the merry go around is only $3 and they only charge the rider – parents can stand on the merry go round with their kids at no cost.
Note from Laura: Several months ago, we asked the community what discounts they would most like to see me negotiate. One of the top discounts voted for was the Woodland Park Zoo. Despite repeated attempts, I have been unable to convince the zoo to engage in a conversation about a member discount. If you work at the zoo (or know someone that does) and can help, please email me and let me know!
What do your kids enjoy the most at the Woodland Park Zoo? Comment below!