Hi everyone! It's Laura back with Episode #3 in our "Top Seven Issues Nannies Care About Most" series.
In Episode #1, we discussed fair pay. Watch that by clicking here.
In Episode #2, the topic was job security. Find that by clicking here.
Today, let's dive into the subject of recognition and respect in the nanny industry. Nannies want to be respected as professionals and recognized for the valuable work they do in our society.
I will discuss steps nannies can take to ensure they are recognized and respected as well as steps that parents should be taking as well.
Remember nannies, you are not "just a nanny"!
Thanks for watching and check back next week for Episode #4!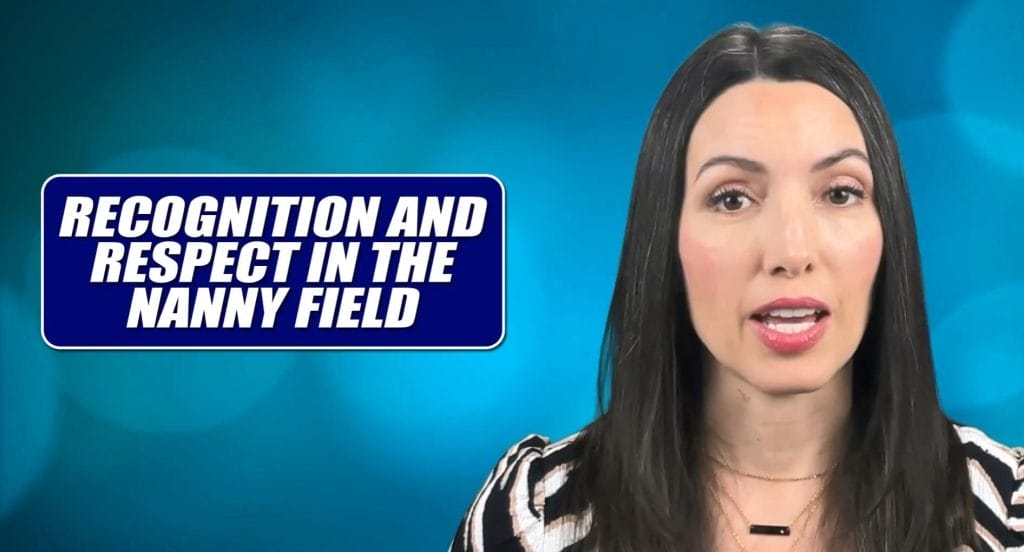 If you found this video helpful, please subscribe on YouTube and share it with your friends. Also, please take a moment to check out the other videos we have published on YouTube.
I'd love to hear any comments about how I can improve these videos as well as your ideas on topics you'd like to see me cover in the future. Just comment below!

If you aren't currently a member of our community, we'd love to have you join. Nannies can join our community totally FREE and our Family/Parent memberships start at only $8.99/month!
Don't forget, you can reach me directly via email by clicking here or by calling/texting (425) 243-7032 if I can help you.
A transcript of the video can be found below:
Hi everyone, Laura from Nanny Parent Connection here.
What makes a nanny tick? What issues are the most important to nannies these days?
I have been discussing the top seven issues nannies care about most over the past few weeks.

Those issues include fair pay, job security, respect and recognition, clear communication, benefits, workplace safety, and continuing education.
Last week in Episode #2, I discussed the topic of job security for nannies.
Today in Episode #3, I will be discussing recognition and respect in the nanny field.
Nannies want to be respected as professionals and recognized for the valuable work they do in the childcare field.
You are not just a nanny! Nannies play very important roles in our society.
Here are some of the steps that nannies can take to help gain and propagate respect and recognition within the nanny industry.
#1: Nanny and Child Care Positions Should Absolutely Be Included on Your Resume
Include it, even if you don't feel it's necessarily relevant. Any nanny or child care positions SHOULD be listed on your resume.

Nanny positions require skill sets that are relevant in many other Industries such as attention to detail, trustworthiness, and reliability.
Employers who don't value a nanny/child care position on a resume likely will not be valuing you as an employee much either.
#2: Have a Resume!
This helps you to convey that you are a professional from your first interaction with any potential employers.
If you haven't already seen it nannies, please check out my video on how to create a great nanny resume by clicking here.

#3: Always Conduct Yourself in a Professional Manner When Interacting With Potential Employers
This includes having good communication, follow-up and follow-through, returning messages in a timely manner, and being on time for interviews.
#4: Educate Yourself on Workplace Laws in Your Areas
Many big cities have domestic workers' laws that pertain to nannies. Get familiar with those laws and make sure those laws are being followed within your working environment.
#5: Work With a Contract
Having a working agreement in place allows everyone to discuss and agree upon, and list out all of the details of the position so that everybody is on the same page.
#6: Insist on Legal Pay
Being paid legally allows you to file your taxes properly. It allows you to apply for loans if needed, or to apply for places to rent, it also allows you to be eligible for unemployment, should you be laid off from your nanny position.
Does anybody remember the COVID shutdown? This is really important nannies!
#7: Know What the Nanny Industry Standards Are For Compensation In Your Area
This includes what the average going rates are as a nanny, family assistant or a household manager as well as compensation package.
The compensation package should include benefits such as guaranteed hours, paid time off, paid sick leave, paid federal holidays, mileage reimbursement, and potentially even a healthcare stipend.
#8: Know What Those Job Duty Differences Are Between a Nanny, Family Assistant, and Household Manager
Different job duties of course come with different pay rate levels.
You should familiarize yourself with the different job levels as well as the commesurate pay rate levels for each position.
If you're not sure which job title covers which job duties, make sure to check out my video "Are you a nanny or a household manager?".
#9: Become A Member of a Local Facebook Nanny Community Group or a Nanny Association

Stay on top of industry standards! As I mentioned, this could be a local community Facebook group, this could also be an association such as the International Nanny Association or US Nanny Association.
#10: Further Your Education in Your Field
This could be training in early childhood education, this could be newborn care specialist, this could even mean staying on top of that CPR/First Aid certification.
True professionals never stop learning!
Now, here are some steps that families can take to ensure their nannies are feeling respected and recognized.
#1: A Nanny Position Is Like Any Other Employment Position
Nannies should be paid legally and receive benefits.
#2: Respect Professional Boundaries
A nanny family should not be calling/texting their nanny incessantly during their time off, nor should a family be dictating when a nanny is able to use their paid time off.
#3: Plan On Quarterly and Annual Reviews
This is a chance to come together with your nanny to discuss what's working, or to collaborate on a plan for anything that might not be working as well as you'd hoped.
If you're not sure how to conduct an annual review, make sure you check out my videos on annual review tutorials. I've got videos for both parents and for nannies!
Alright everyone, that is it for today!
If you like this video, please click on the like button, subscribe, or ring the bell so that you can be notified when more of these videos come out in the future.
And, if you haven't done so already, make sure to browse around on our YouTube channel, where we cover topics relevant to nannies and families.
Thank you everyone, bye!